You will not believe how easy it is to make this recipe for vegan stuffed shells with ricotta and spinach. I promise you that you'll be amazed when you read this recipe. The best thing about it is that it will always turn out well and be a showstopper if you serve it at home or take it to a friend's house.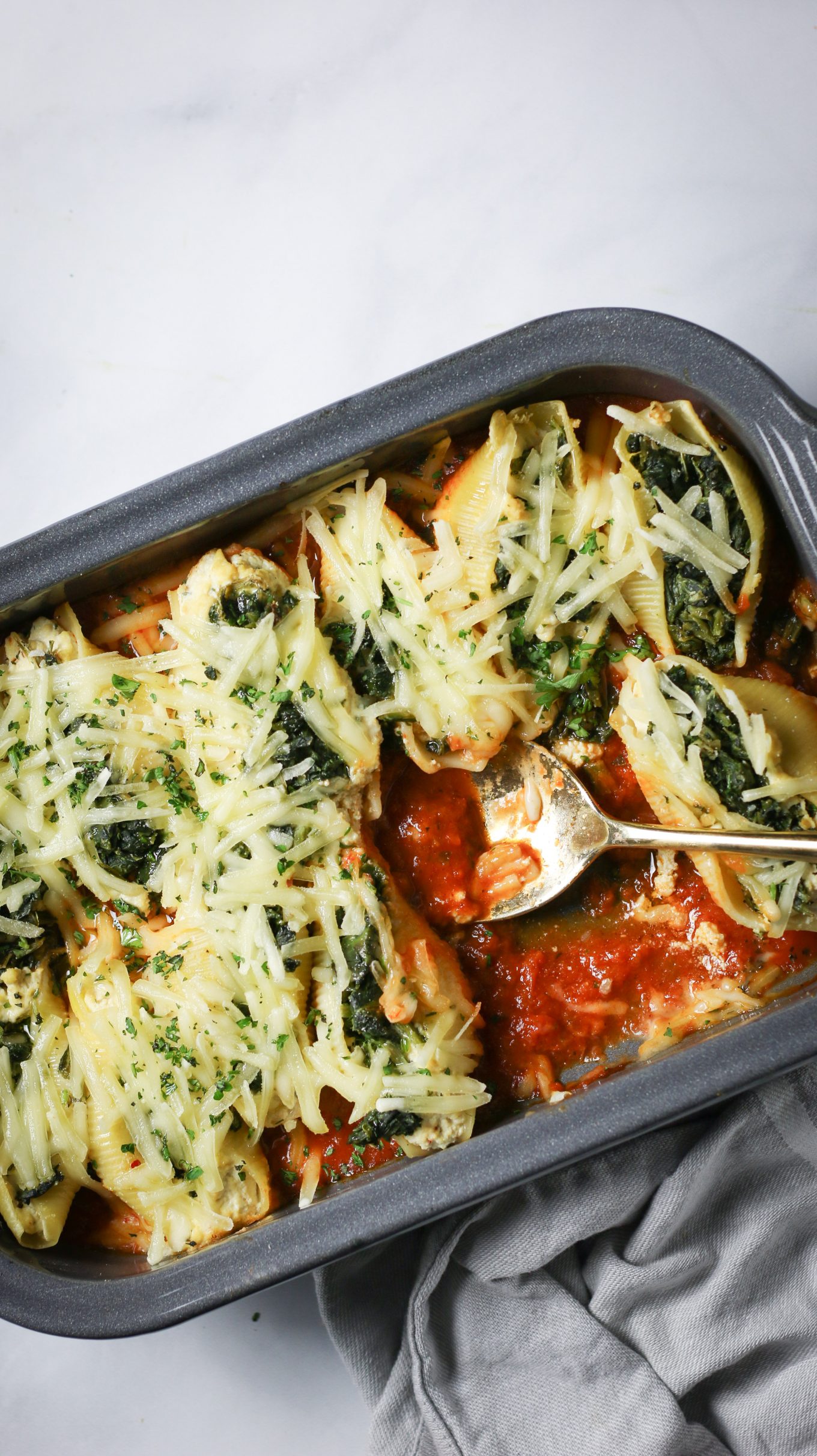 Stuffed shells recipe ingredients
Tomato sauce, marinara sauce. It is possible to use either store-bought or homemade tomato sauce.
Jumbo pasta shells, the Barilla brand is good, and if you want gluten-free pasta, this from the Jovial brand is good.
Ricotta cheese, I use homemade tofu ricotta cheese and like to season it. My ricotta cheese recipe has all the seasoning you need.
Spinach, You can use either frozen spinach or fresh spinach that you have cooked yourself. Using frozen spinach is quicker and easier.
Mozzarella. Cheese that melts, such as Violife brand which is vegan.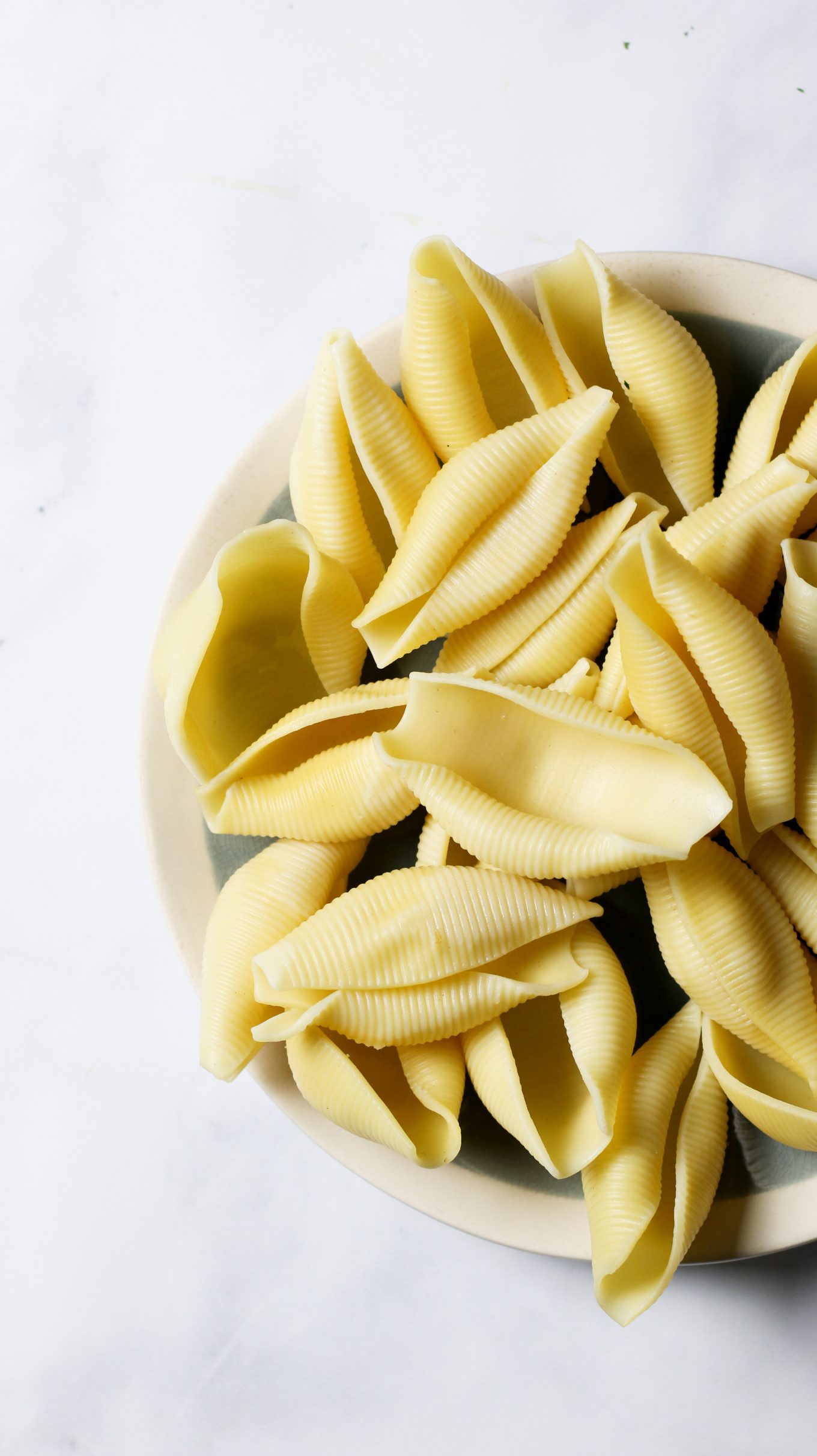 How to season vegan ricotta
Garlic and herbs: Add minced garlic, dried herbs such as parsley, basil, and oregano, salt, and pepper to the ricotta. Mix well to distribute the seasonings evenly.
Lemon zest: Grate the zest of a lemon and add it to the ricotta. This will add a fresh and citrusy flavor to the filling.
Parmesan cheese: Stir in some grated Parmesan cheese into the ricotta. It will give the filling a slightly salty and nutty taste.
Spinach and artichoke: Sauté some spinach until wilted and chop it finely. Drain and chop some canned artichoke hearts as well. Mix them into the ricotta along with salt, pepper, and a pinch of red pepper flakes for some heat.
Pesto: Mix a spoonful or two of pesto to the ricotta. This will infuse the filling with a rich and herby flavor.
Sun-dried tomatoes: Chop some rehydrated sun-dried tomatoes and stir them into the ricotta. They will add a sweet and tangy taste to the filling. Remember to taste the seasoned ricotta and adjust the seasonings according to your preference before using it to stuff the shells.
HOW TO MAKE THEse STUFFED PASTA SHELLS?
To cook pasta that will be baked in the oven, follow the instructions on the package and cook it al dente, which means a minute or 30 seconds before it's fully cooked. This will help the pasta keep its shape while baking.
To prepare the baking pan, generously spread some marinara sauce on it.
Place a tablespoon or two of vegan tofu ricotta into each pasta shell and arrange them over the marinara sauce.
After stuffing all the shells, proceed to add 1 tablespoon of spinach to each one.
Top the shells with shredded cheese. Cover the baking dish (affiliate link) with aluminum foil and place it in the preheated oven. Bake for about 25-30 minutes, or until the edges of the shells are bubbly and the cheese is melted and slightly browned. Remove the foil and continue baking for another 5-10 minutes, or until the cheese is fully melted and golden. Once cooked, remove the dish from the oven and let it cool for a few minutes before serving.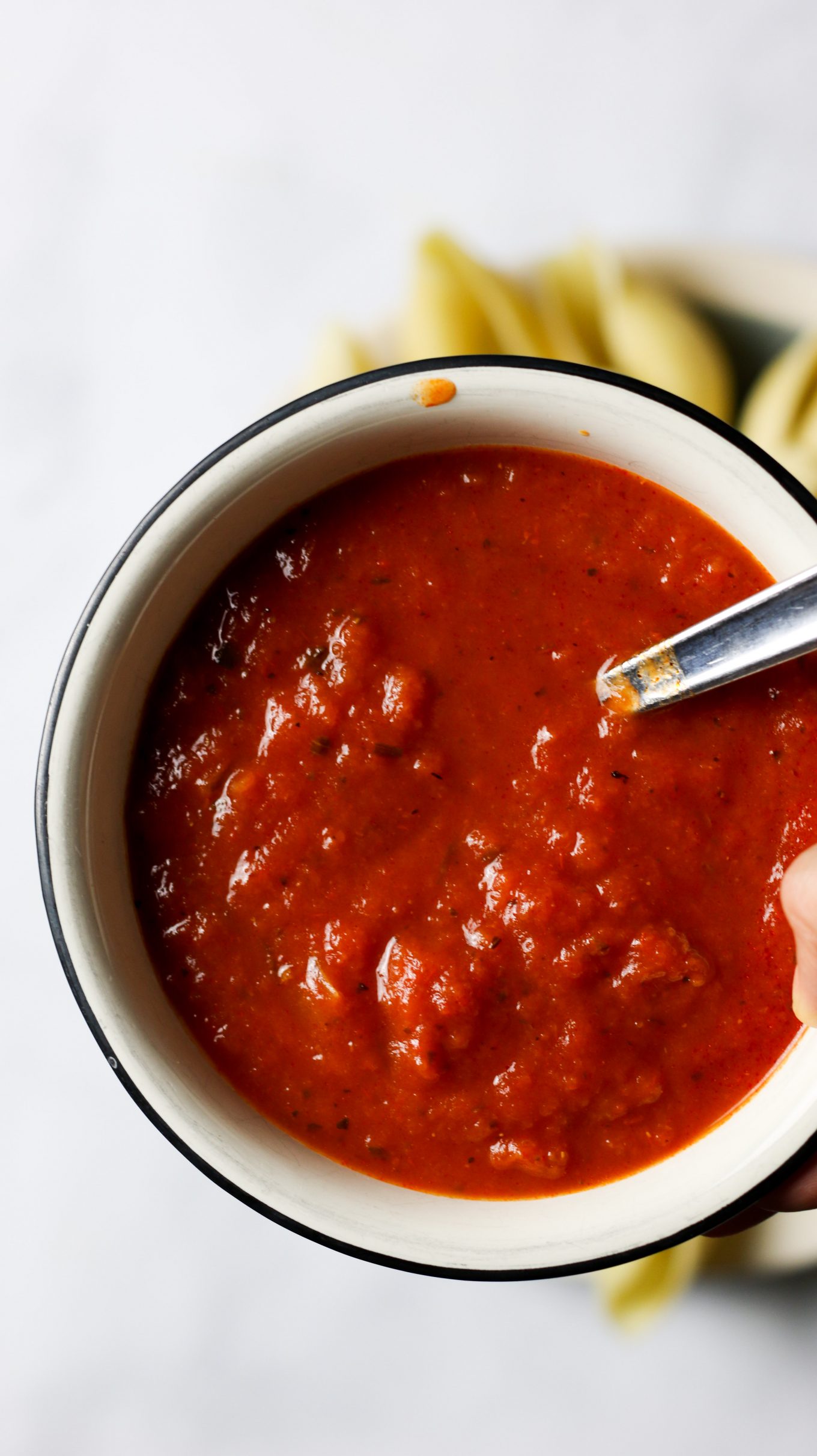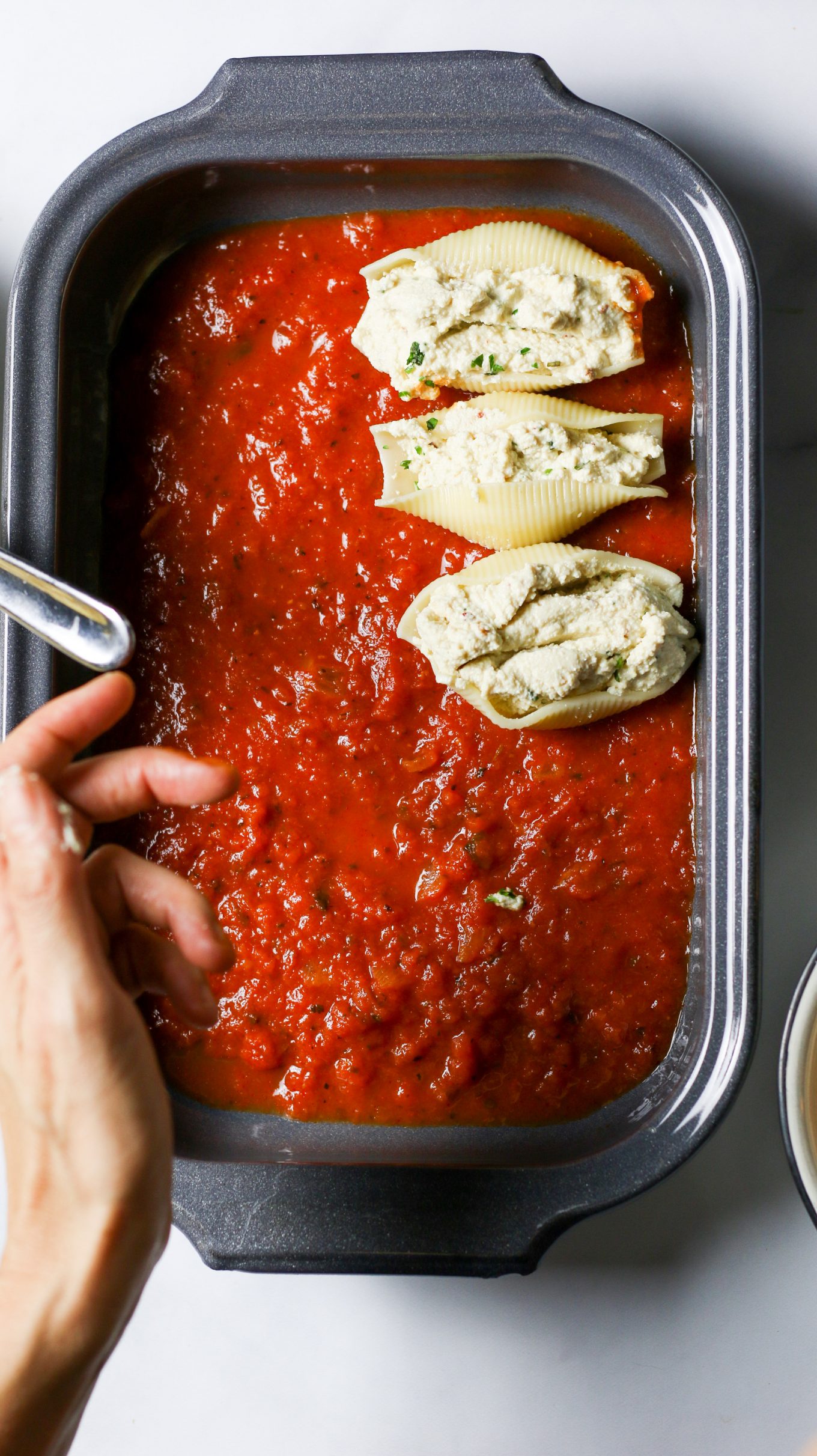 Tips and tricks to make the perfect vegan stuffed shells
Ricotta. It is important to properly season both the ricotta cheese and marinara sauce to enhance the flavors of your dish. Taste the ricotta cheese and add salt, pepper, or any other desired seasonings to suit your taste. Similarly, taste the marinara sauce and adjust the seasonings such as salt, pepper, oregano, basil, or garlic powder to achieve the desired flavor.
Pasta shells. Additionally, when cooking pasta, it is crucial to add salt to the boiling water. This helps to season the pasta itself, giving it a more flavorful taste. Experts recommend using about 1-2 tablespoons of salt for every 4-6 quarts of water. Remember to adjust the amount of salt based on personal preference.
Add more. This recipe provides a great opportunity to incorporate more vegetables into your meal. Whether you decide to mix them into the sauce or use them to fill the pasta shells, the possibilities are endless. Carrots, cauliflower, or even pumpkin puree are all excellent options to consider when adding more flavor and nutrition to your dish.
Stuffed shells serving suggestions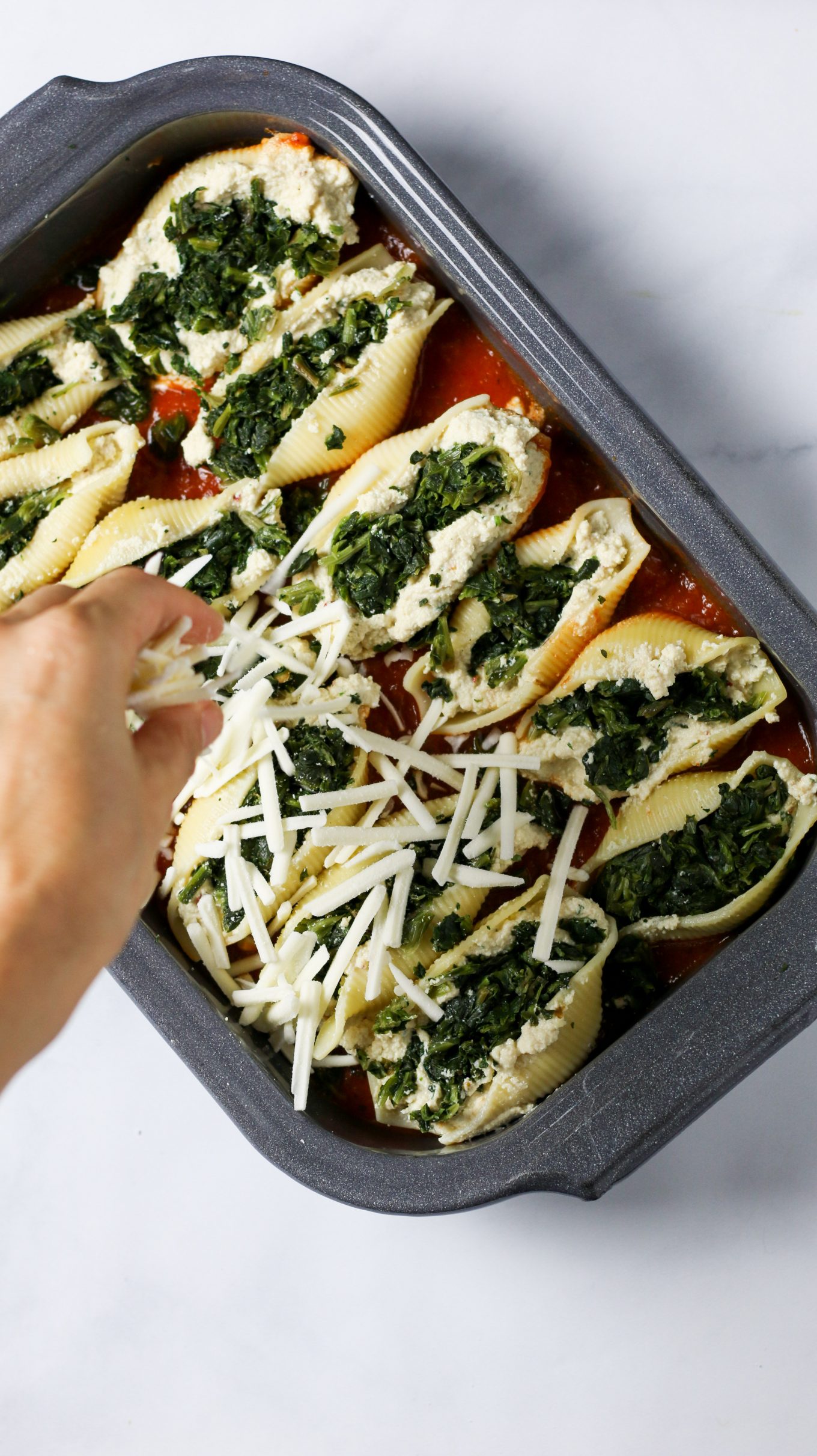 Best way to store
Bake and store in the fridge or freezer. Before storing, always let your dish cool down to room temperature. If you're planning to store the whole baking dish (affiliate link) in the refrigerator: Use a layer of plastic wrap to cover the top of the dish, ensuring there are no gaps.
Add a layer of aluminum foil over the plastic wrap. This gives an added layer of protection and can also prevent strong odors from other foods in the fridge from permeating your stuffed shells.
Refrigeration. Once wrapped, place the baking dish in the refrigerator. The shells should be eaten within 3-5 days for the best quality.
Freezing for Longer Storage. If you want to store your stuffed shells for an extended period, consider freezing them. Before freezing, make sure the dish is wrapped tightly, as explained in step 2. The double wrapping helps prevent freezer burn. Label the dish with the date of storage, so you remember when you stored it.
Stuffed shells can be frozen for up to 2-3 months for best quality. Beyond that, they might still be safe to eat but could lose some of their flavor and texture.
Reheating
From the fridge: Preheat your oven to 350°F (175°C). Remove the plastic wrap and foil from the baking dish, and cover it loosely with the foil again. Bake for about 20-30 minutes, or until heated through.
From the freezer: It's best to thaw the stuffed shells in the refrigerator overnight. Once thawed, follow the same reheating instructions as if they were in the fridge. If reheating directly from the freezer, it will take longer, so you might want to add an additional 15-30 minutes to the baking time.
Pasta recipes that you may like:
Made and loved this recipe? Give it a ⭐️⭐️⭐️⭐️⭐️ rating below. Let me know if you have questions about this recipe in the comment section or DM me on Instagram. Follow me on Facebook and Pinterest to stay in touch, and don't forget to subscribe to my newsletter.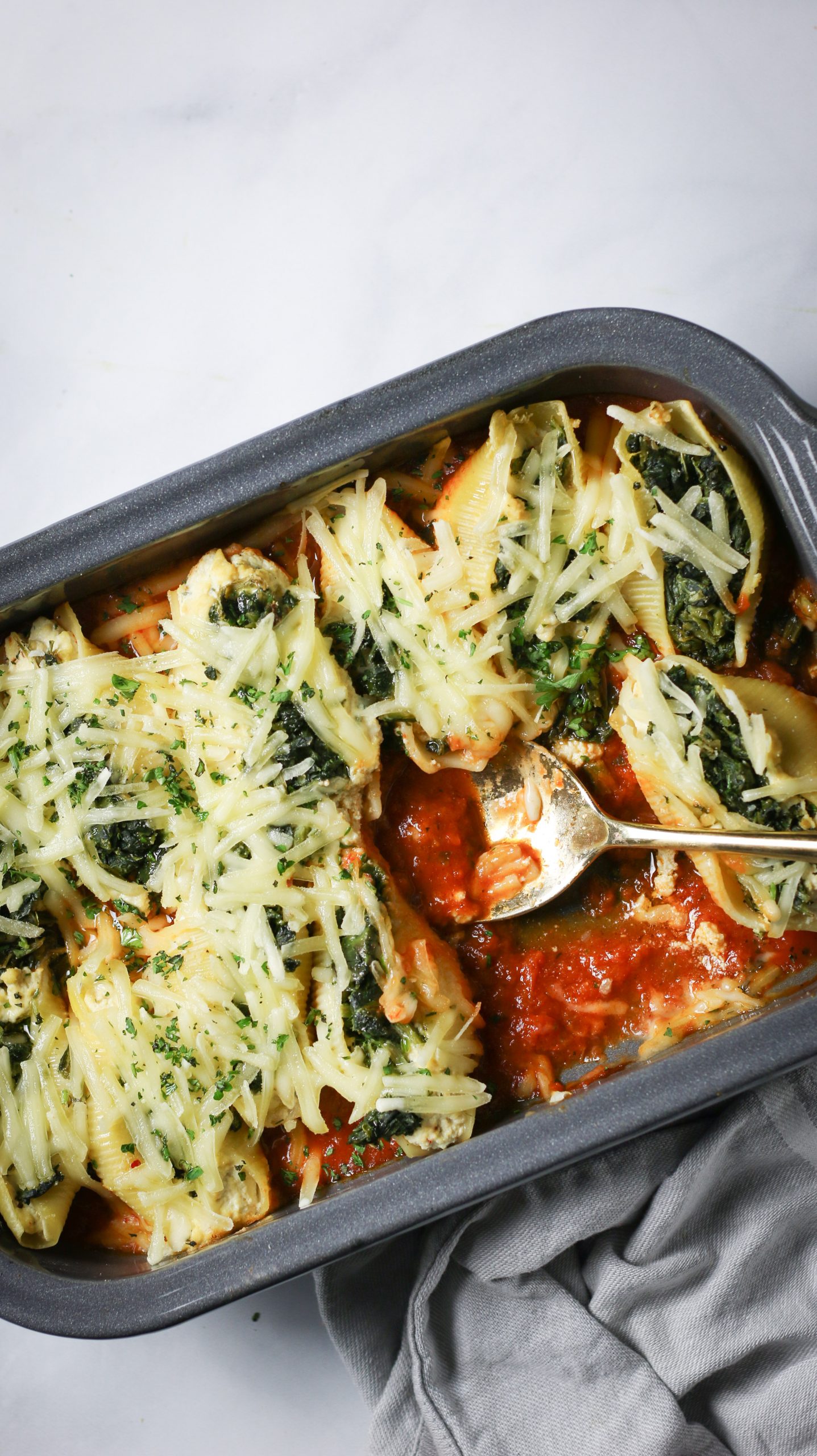 VEGAN STUFFED SHELLS
This recipe for pasta shells stuffed with ricotta cheese and spinach is a recipe that you can assemble in 15 minutes; it is always delicious and will soon become your house's favorite.
Ingredients
16

jumbo pasta shells

3

cups

tomato sauce or one jar of store-bought marinara sauce

1

cup

frozen spinach

2

cups

seasoned ricotta cheese

1

cup

mozarella cheese

I use vegan
Instructions
Preheat the oven to 350ºF.

Cook the pasta following directions of the package.

Prepare the baking dish with a good layer of marinara sauce.

Scoop a couple of tablespoons of ricotta cheese into the shells, then divide the spinach among all the shells.

Finish with the mozzarella cheese on top and bake for 25 minutes.
Nutrition
Serving:
4
pieces
Calories:
315
kcal
Carbohydrates:
27
g
Protein:
19
g
Fat:
16
g
Saturated Fat:
9
g
Cholesterol:
57
mg
Sodium:
848
mg
Potassium:
643
mg
Fiber:
3
g
Sugar:
6
g
Vitamin A:
4070
IU
Vitamin C:
10
mg
Calcium:
318
mg
Iron:
2
mg
information
Nutritional information of this recipe is only an estimate, the accuracy for any recipe on this site is not guaranteed.

Latest posts by Alejandra Graf
(see all)