This hearty Vegan Lentil Mushroom Ragu is the perfect dish for a romantic dinner, special celebration, or to have in the freezer for busy weeknights.
This recipe is a delicious protein-rich pasta sauce perfect for spaghetti, gnocchi, lasagna, or over polenta.
About this Lentil Mushroom Ragu
This vegan ragu recipe is delicious, full of flavor, and super nutritious. It is an Italian sauce that you will love. The ingredients are easy to find, and the steps are straightforward to follow.
The traditional ragu alla bolognese is made with minced pork and beef. I make mine with lentils and mushrooms.
Ingredients for the vegan ragu
Olive oil, I love a good cold press olive oil.
Vegetables, finely chopped onion (you could substitute with shallots), bell pepper (prefferably red and fresh; you can also use canned), sliced garlic,
Mushrooms, chopped or sliced. If you are in a hurry, use the sliced store-bought mushrooms.
Cooked lentils use jarred lentils or home cooked, but strain them first before adding them.
Spices, dried basil, dried oregano
Tomato puree, chopped tomatoes or homemade tomato sauce, you can add a little tomato paste to enrich the flavor.
how to make Vegan Lentil Mushroom Ragu?
In a large dutch oven, add the olive oil, onion, and sauté over medium heat for about 5-7 min. add the sliced garlic.
Add the garlic and red bell pepper with a pinch of salt. Let them sautee and occasionally stir until the red bell pepper is soft. Add the mushrooms, lentils, oregano tsp, basil, and tomato puree.
Cover and leave it for about 20 min. over medium heat. Let it simmer, do not bring it to a boil.
Add salt and black pepper, check for seasoning and serve.
Can you store vegan ragu?
Like any good Italian sauce, it tastes delicious the day you make it and a little better the day you reheat it. So if you double the recipe and freeze it, the day you thaw this vegan Italian sauce, you will have a delicious super meal. If you plan to leave it in the refrigerator, use an airtight container.
How to serve vegan ragu?
I served this vegan version of ragu with gnocchi, but you can serve it with pasta, pappardelle, polenta, brown rice, quinoa, or whatever you like best. It is also delicious if you serve it with zucchini noodles.
tips & tricks
How to add more umami flavor. Lentils and mushrooms together are the best. They both have that umami flavor that makes each bite a dream. But if you feel you are missing that umami-ness from the ground beef, add a couple of tamari or soy sauce tbsp.
Mushrooms. If you don't like mushrooms in big pieces, you can chop them quickly in the food processor (affiliate link). Put them in the container and pulse several times until they are small. Be careful that they do not become a paste.
Lentils. If you use precooked lentils, check the label and ensure they do not contain anything but lentils.
Vegan parmesan cheese. Serve this vegan ragu with homemade walnut parmesan cheese.
Give this recipe a twist. You can use vegetable broth (affiliate link) , and add more vegetables, such as carrots or celery. Or you can add red wine, which will give incredible results.
Garlic. It is important that it's thinly sliced, so it does not burn. Burnt garlic can make the sauce bitter.
Serving suggestions
Other recipes you might like
I hope you make the recipe and that you like it a lot. Tell me if you made it for a romantic dinner, as comfort food, or as soup. Here is the recipe for this vegan ragu with mushrooms and lentils. When you make it, take a picture and share it on Facebook, Instagram, and Pinterest. Don't forget to rate this recipe with five stars.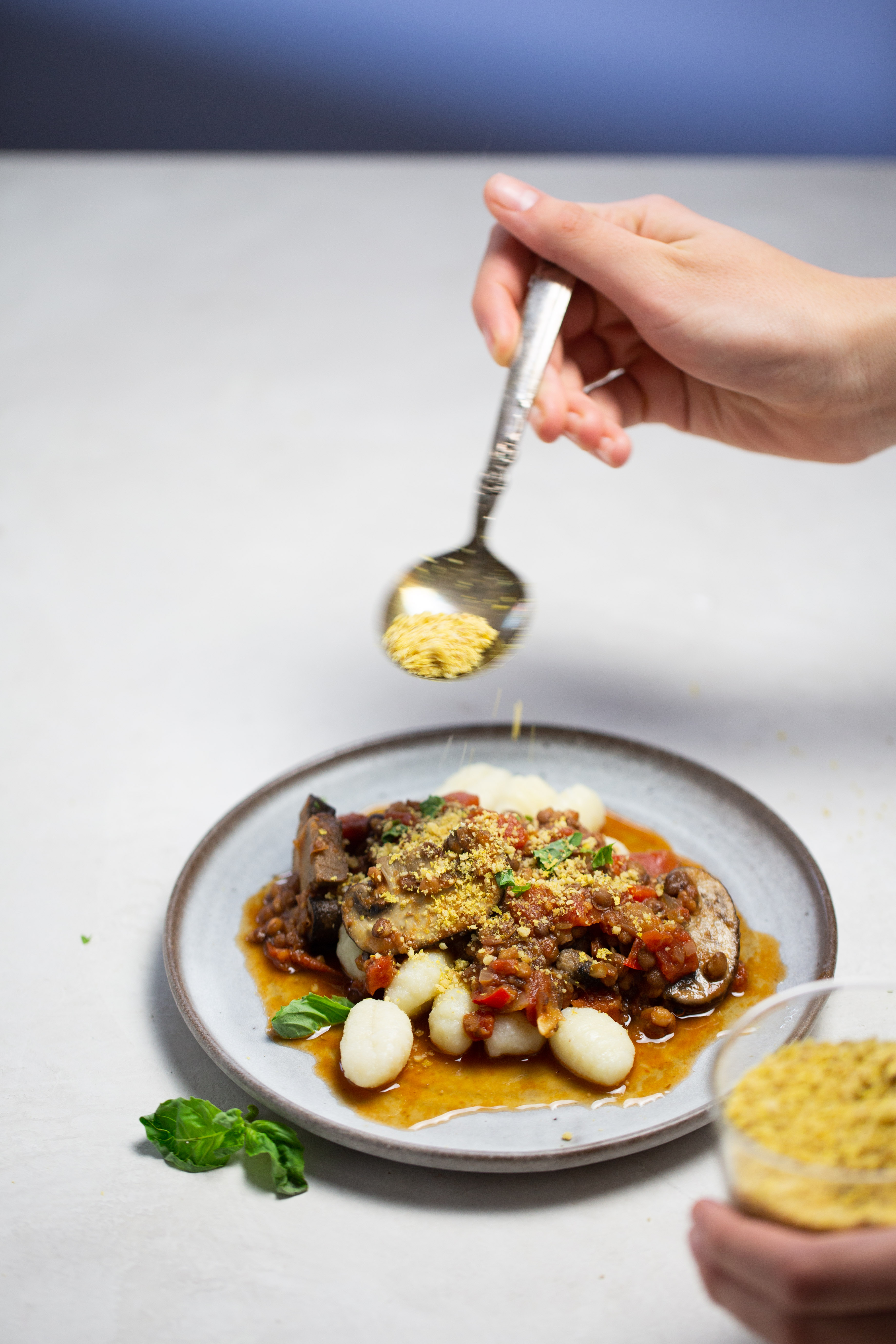 Lentil and Mushroom Ragu
Vegan ragu made with lentils and mushrooms, this ragu goes perfect with pasta, quinoa, rice, or gnocchi.
Ingredients
2

tablespoons

olive oil

1

cup

finely chopped onion

1/3

cup

diced red bell pepper

2

sliced ​​garlic cloves

2

teaspoons

salt

3

cups

chopped or sliced ​​mushrooms

3

cups

cooked lentils

without liquid

1

teaspoon

of dried basil

1

teaspoon

of dried oregano

2

cups

of canned tomato

freshly ground black pepper to taste

fresh basil leaves to serve

*optional

vegan parmesan cheese
Instructions
In a large pot with lid, preferably thick bottom put olive oil and onion over medium heat.

When the onion is soft, about 5-7min. Add the garlic and red pepper with a pinch of salt. Let them sautee and occasionally move until the red pepper is soft.

Put the mushrooms, lentils, oregano, basil, and tomato puree.

Cover it and leave it for about 20 min. over low -medium heat. Do not bring it to a boil.

Add salt and black pepper.

Serve on top of quinoa or pasta.
Notes
This sauce is delicious on top of quinoa or pasta, even better if you get quinoa pasta.
You must use sliced garlic not to burn; it can burn if you cut it into tiny pieces.
To cook the lentils (for 3 cups of cooked lentils, put 1 1/2 cup of dry lentils), just put them in a large pot covered with water. Leave them for a while until they are soft.
If you make the tomato puree at home, just liquefy a few tomatoes with a bit of water, just enough to run the blender well.
Nutrition
Serving:
1
serving
Calories:
180
kcal
Carbohydrates:
25
g
Protein:
10
g
Fat:
5
g
Saturated Fat:
1
g
Polyunsaturated Fat:
1
g
Monounsaturated Fat:
3
g
Sodium:
781
mg
Potassium:
596
mg
Fiber:
9
g
Sugar:
4
g
Vitamin A:
275
IU
Vitamin C:
14
mg
Calcium:
43
mg
Iron:
4
mg
information
Nutritional information of this recipe is only an estimate, the accuracy for any recipe on this site is not guaranteed.

Latest posts by Alejandra Graf
(see all)