Want a mouth-watering homemade tomato sauce? Try this easy oven recipe! It's perfect for pasta, soups, and any dish with canned tomatoes. Make it ahead and enjoy it anytime!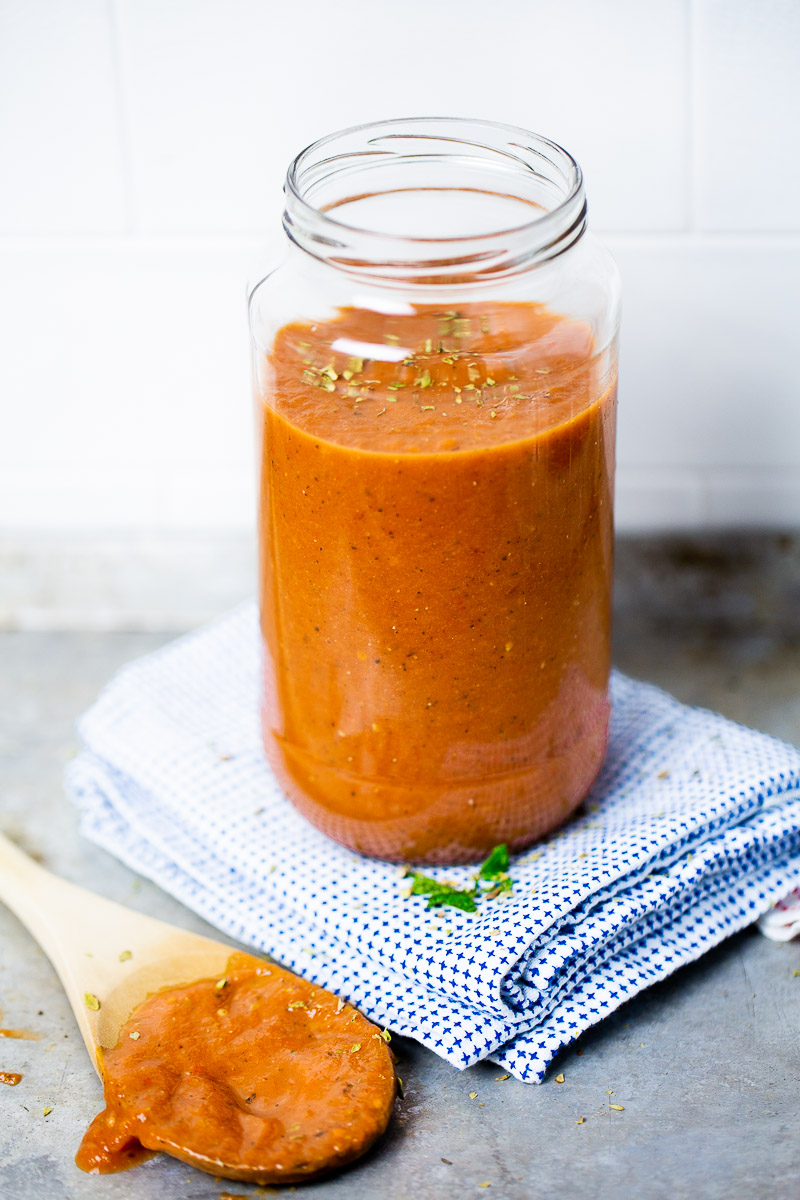 About this recipe
Tomato sauce, regardless of origin, begins with fresh tomatoes and adds versatile flavors for global cuisine.
Why make tomato sauce at home
Versatility: With a base of fresh tomato sauce, one can tweak it to fit any culinary need, be it vegan, vegetarian, gluten-free, or low-sodium.
Control: Making your own sauce means you're in charge. You decide what goes in, ensuring it's as healthy and delicious as you desire.
Ingredients for homemade tomato sauce
Tomato. Use Roma tomatoes, cherry tomatoes, san Marzano tomatoes, or any type of whole tomato that you like. I usually do it with whichever tomato is on sale or in season. I even mix different tomatoes and the flavor is always outstanding.
Garlic. Onion.
Fresh Herbs are optional; sometimes I add them, and sometimes I do not; other times I add oregano, basil, or other fresh herbs like parsley, rosemary, and thyme.
---

How to choose the best tomato
When it comes to making tomato sauce, not all tomatoes are created equal. The ideal tomatoes for a rich and flavorful tomato sauce are those that are ripe, have low water content, and are full of natural flavors. Some of the best tomato varieties for making a delicious tomato sauce are:
Roma tomatoes: These tomatoes are great for making all-purpose sauce since they are meaty and have a low water content, resulting in a thick and flavorful sauce.
San Marzano tomatoes: Many people consider these tomatoes grown in Italy's volcanic soil of Mount Vesuvius to be the best for tomato sauce due to their unique flavor and texture.
Cherokee Purple tomatoes: These tomatoes have a deep purple color and a rich, sweet flavor. Although they are not as meaty as Roma tomatoes, they can still be used to make a flavorful and unique tomato sauce.
Plum tomatoes: These tomatoes are ideal for tomato sauce due to their low water content and meaty texture. They are similar to Roma tomatoes, but have a more elongated shape and are slightly smaller.
Tips for buying the best tomatoes
For delicious tomato sauce, choose firm and deep red tomatoes, avoiding green or soft ones.
Buy tomatoes that are in season. Tomatoes that are in season will be more flavorful and have a better texture.
Look for tomatoes that are locally grown. Locally grown tomatoes will be fresher and have a better flavor than tomatoes that have been shipped long distances.
Avoid tomatoes that have been bruised or damaged. Bruised or damaged tomatoes will not taste as good and may be unsafe to eat.
HOW TO MAKE TOMATO SAUCE AT HOME?
Making this sauce is incredibly easy and versatile. While the recipe is simply a starting point, the number of tomatoes, onions, and garlic can be adjusted to your liking. But don't worry, the taste will always be delicious, even if the flavor varies.
To make the sauce, simply place all the ingredients in a baking dish (affiliate link), bake in the oven, blend, and store in a jar or use right away. It can be refrigerated or frozen for future use.
🔥TIP

Use an immersion blender, food processor or your blender to make this sauce. 

Puree it or make it as chuncky as you want, it is delicious.
HOW TO FREEZE THE TOMATO SAUCE?
You can put it in special freezable containers.
You can put it in ice molds and thus gradually remove what you need.
You can also freeze it in freezer bags. If you're using this method, let the sauce cool before putting it in the bag. Don't fill the bag; fill about 3/4 of the bag and lay it flat so it is flat. It's easier to freeze them like this.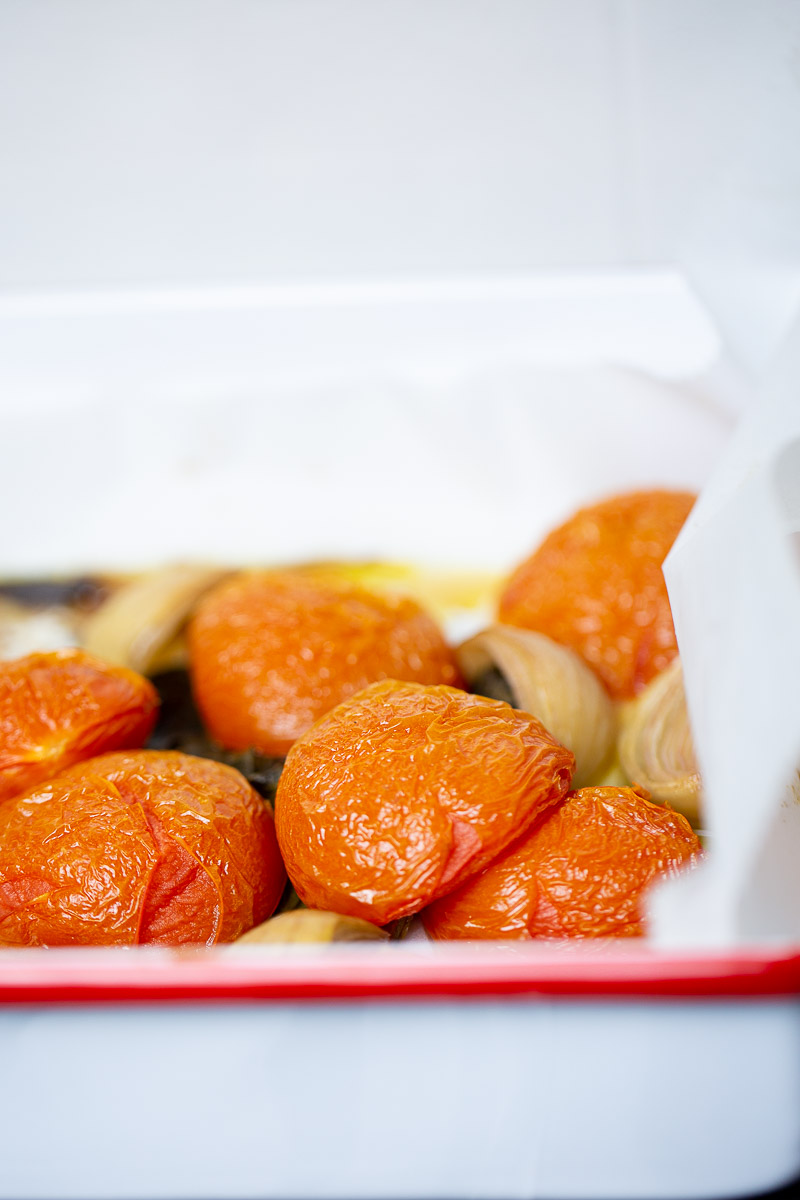 HOW TO USE THE healthy HOMEMADE TOMATO SAUCE?
This sauce can be used in any recipe that requires tomato puree. For example, Pasta with tomato sauce and onion in a single pot, Puttanesca pasta, Ricotta stuffed shells, Pizza
Make marinara sauce, or spaghetti sauce, or use it on top of your favorite meatballs or homemade pasta. You can also use it as-is and pour it over cooked pasta for a very simple pasta recipe.
You can serve it as a soup with a vegan quesadilla or a grilled cheese sandwich.
You can also use it as a base to make a vegetable soup or, if you make it without basil, for any vegan Mexican recipe.
Tips for a Perfect Sauce Every Time
Troubleshooting: Too Watery: Allow it to simmer for a longer time. Too Thick: Add vegetable broth (affiliate link) or filtered water to reach your desired consistency.
Flavoring: Herbs, spices, and a variety of vegetables can elevate your sauce. Whether it's the tang of basil or the earthiness of roasted bell peppers, there's no limit to the flavor profiles you can achieve.
Make it spicy by adding red pepper flakes.
Make a soup by adding celery and carrots
Make it super-rich by adding butter ( I use vegan butter) and a drizzle of olive oil.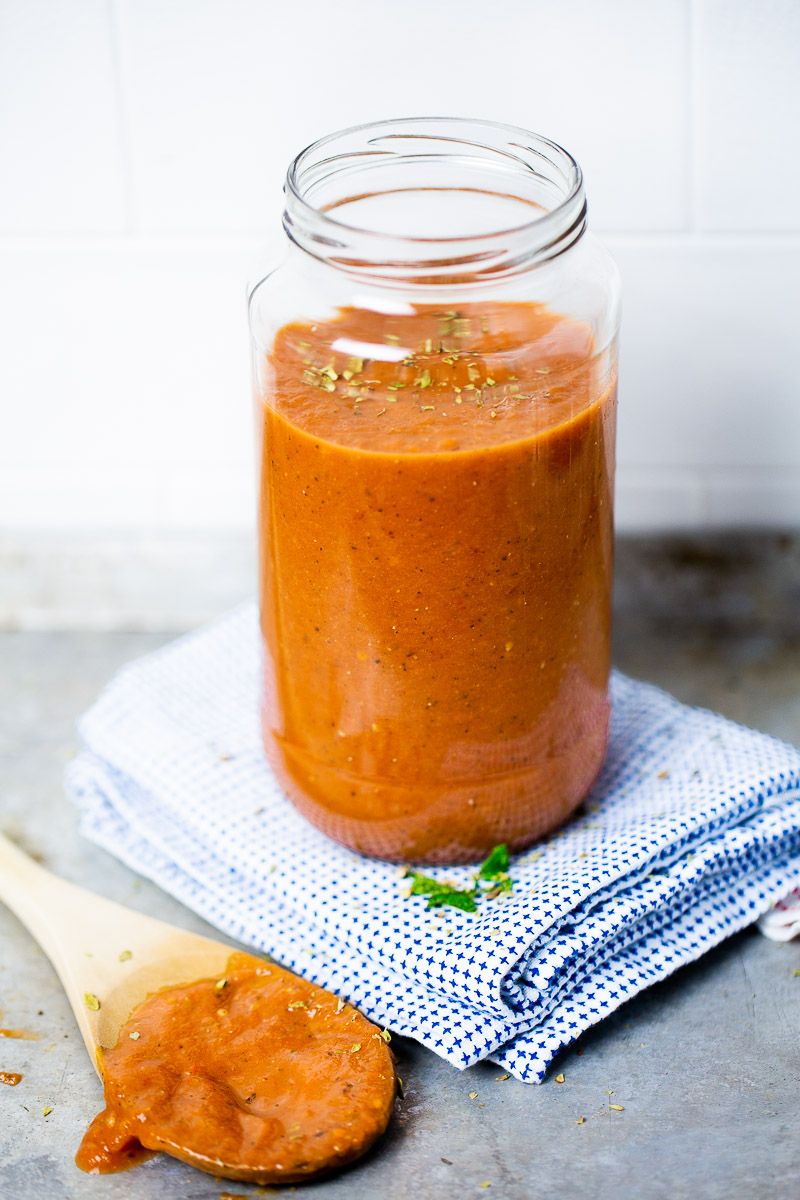 Health benefits of homemade tomato sauce
Making tomato sauce with fresh tomatoes only needs four ingredients, and all with tons of nutritional properties. The one that never ceases to amaze me is basil. It is an excellent protector of our DNA, protects our heart, and has the same enzyme as anti-inflammatory medicines, but naturally. That is why I say that it is the best tomato sauce in the world.
The tomato has a lot of vitamin A which helps our vision. Tomato also helps our circulatory system, cares for the skin, prevents constipation (fiber), is a diuretic, and is an excellent antioxidant.
Pasta recipes that you may like:
Made and loved this recipe? Give it a ⭐️⭐️⭐️⭐️⭐️ rating below. Let me know if you have questions about this recipe in the comment section or DM me on Instagram. Follow me on Facebook and Pinterest to stay in touch, and don't forget to subscribe to my newsletter.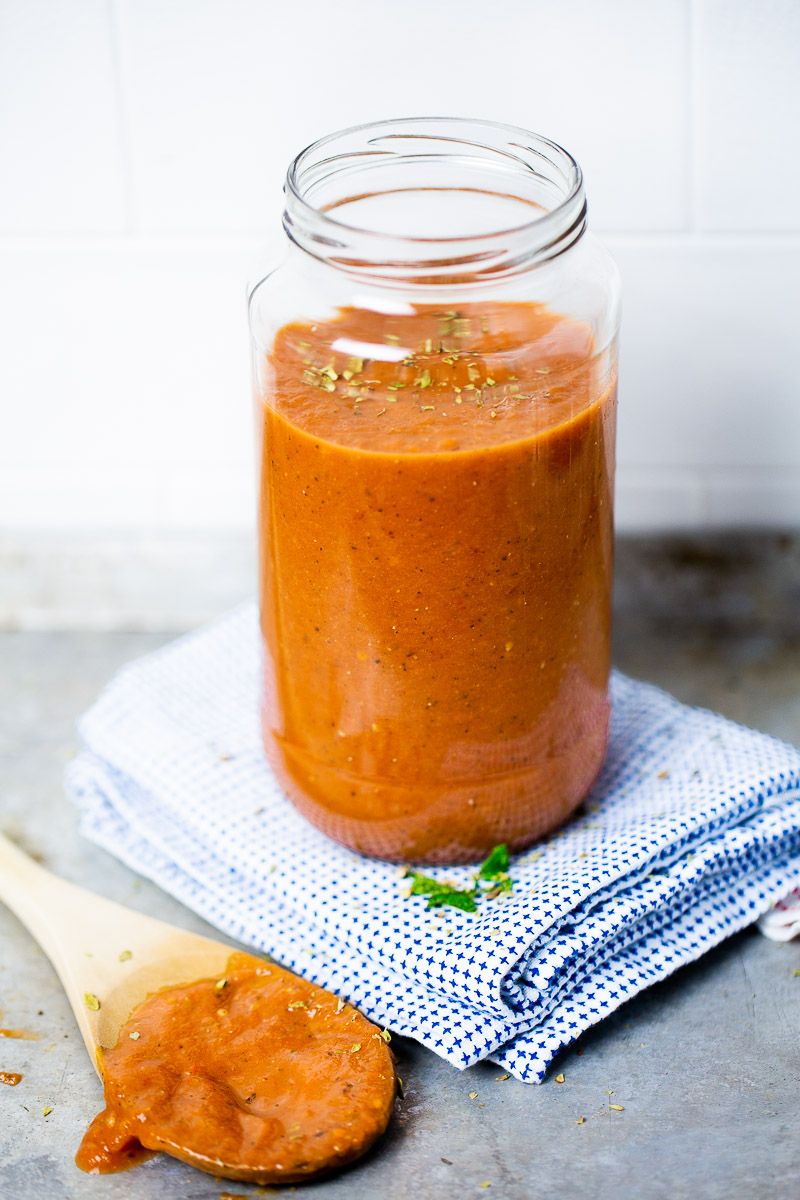 Homemade tomato sauce (oven recipe)
This tomato sauce recipe is perfect for pasta, soups, or any dish requiring canned or pureed tomatoes.
Equipment
Baking dish

Blender, immersion blender or food processor
Ingredients
6

tomatoes

1

Onion

4

cloves

garlic

olive oil

1

teaspoon

Salt

Pepper

A bunch of basil

optional
Instructions
To begin, set the oven to preheat at 300 degrees Fahrenheit. Next, take a baking dish and place the basil in the center of it (if you are using it). Then, proceed to cover the basil with a layer of onion and tomato. Make sure to cut the tomato into large pieces or halves, whichever you prefer. This will help to distribute the flavors evenly throughout the dish and ensure that each bite is full of deliciousness.

Peel the garlic cloves and insert them into the tomatoes, concealing them inside.

Drizzle with olive oil, be generous.

Place the tomato in the oven and bake it until the skin becomes dry and the flesh inside appears cooked. The tomato will appear dehydrated and the juices will have spread out onto the plate, indicating that it is fully cooked.

Blend until smooth or your desired consistency.
Notes
Storing Homemade Tomato Sauce
Cooling: It's important to let homemade tomato sauce cool to room temperature before storing it to prevent early spoilage due to condensation inside the container.
Choosing the Right Container:

Glass Jars: These are ideal for storing tomato sauce because they don't absorb flavors or odors. Ensure they're cleaned and sterilized.
Plastic Containers: If using plastic, ensure it's food-safe and BPA-free. Tomato sauce is acidic, and you want to avoid chemicals leaching into your sauce.
Vacuum-Sealed Bags: These are great for freezing and can save a lot of space.

Refrigeration:

If you plan to consume the tomato sauce within 5-7 days, refrigerating it is the way to go.
Pour the cooled sauce into your chosen container, leaving about an inch of space at the top for expansion.
Seal the container tightly to prevent air (and potential contaminants) from getting in.
Always use a clean spoon when serving to prevent introducing any contaminants.

Freezing:

For more extended storage, freezing homemade tomato sauce is an excellent option.
Divide the sauce into portion-sized containers or vacuum-sealed bags. This way, you can thaw just the amount you need.
Label each container or bag with the date. Homemade tomato sauce can be stored in the freezer for 4-6 months.
When ready to use the sauce, transfer it to the refrigerator for thawing, ideally a day before you need it. You can use the defrost setting on your microwave for a quicker method.
Nutrition
Serving:
1
cup
Calories:
49
kcal
Carbohydrates:
11
g
Protein:
2
g
Fat:
0.4
g
Saturated Fat:
0.1
g
Polyunsaturated Fat:
0.2
g
Monounsaturated Fat:
0.1
g
Sodium:
592
mg
Potassium:
490
mg
Fiber:
3
g
Sugar:
6
g
Vitamin A:
1538
IU
Vitamin C:
28
mg
Calcium:
31
mg
Iron:
1
mg
information
Nutritional information of this recipe is only an estimate, the accuracy for any recipe on this site is not guaranteed.
This recipe appeared first in 2013.

Latest posts by Alejandra Graf
(see all)