These roasted sweet and spicy brussels sprouts are a total delight. Every time I prepare them, I double the recipe. If not, none of them will make it to the table. The sauce is sweet and spicy, and different; it is the perfect mix of flavors that excites you and makes you want to keep eating.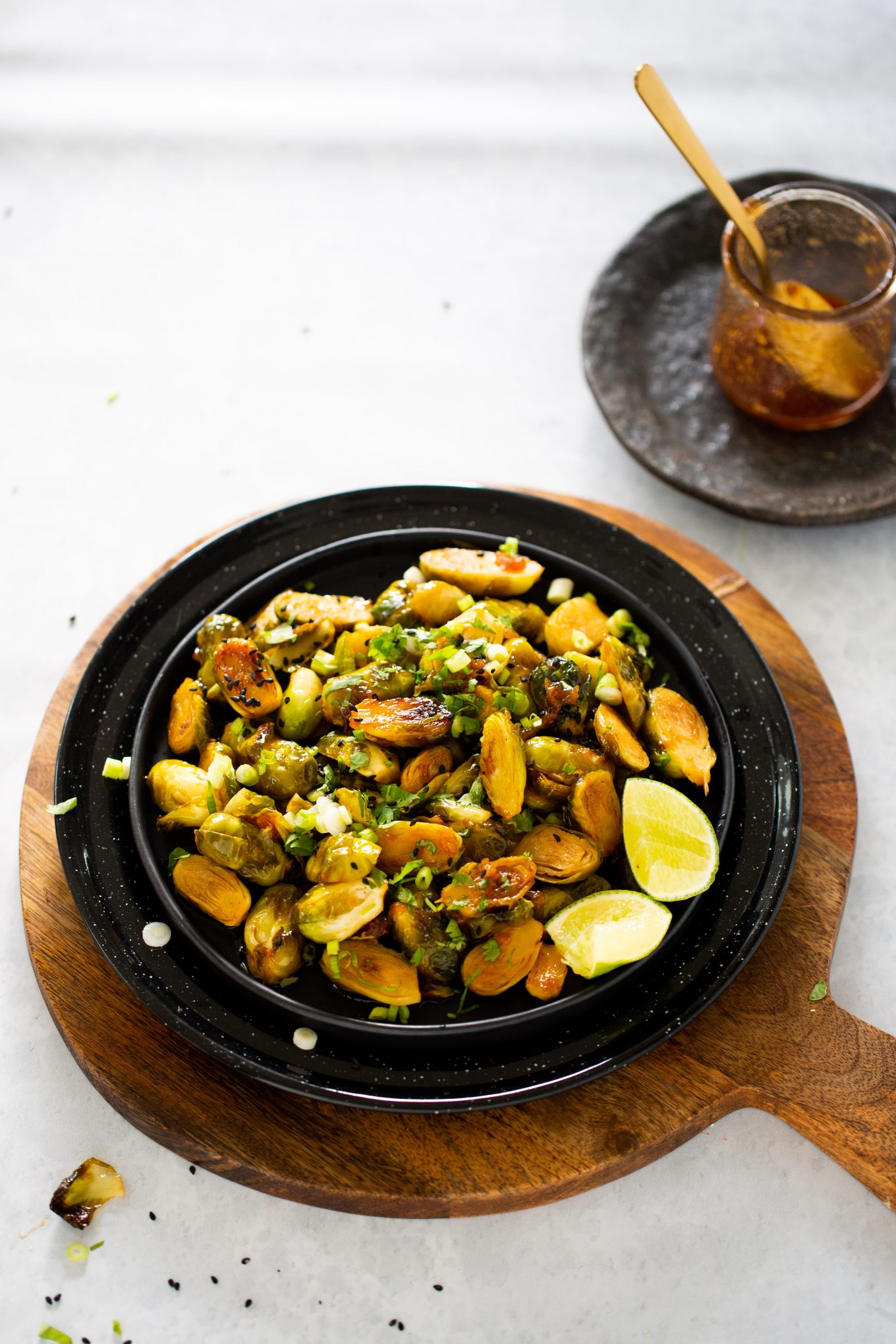 And isn't it perfect that what you want to eat and eat are BRUSSEL SPROUTS? That is such a healthy craving!
What's the best way to eat Brussel sprouts?
RAW. In a salad, the brussels sprouts shine for their crisp texture, which gives to whichever salad you add. They are a perfect match in salads with pomegranate seeds, seeds or nuts, or even fruits, such as apples or pears.
The peppery flavor of the sprouts pairs perfectly with simple vinaigrettes or with balsamic vinegar, white balsamic vinegar, or lemon juice-based dressings.
💡RAW BRUSSEL SPROUTS TASTE💡

For some people raw brussel sprouts are very peppery or even spicy. 

This is because they are part of the brassica oleracea family. Same family as mustard greens, turnips and horse radish. 

Brussel sprouts are safe to eat raw, I love them shaved with lemon dressing or a dressing with a little sweetness in there, maple syrup or honey if you do not follow a vegan diet.
ROASTED. You can roast them on the stove on a heavy bottom skillet or in the oven on a baking sheet. Also, air-fried Brussel sprouts are a dream! They are so tasty that you can just roast them with extra virgin olive oil, salt, and pepper or dress them up with a delicious dressing. Just be sure to place them in a single layer.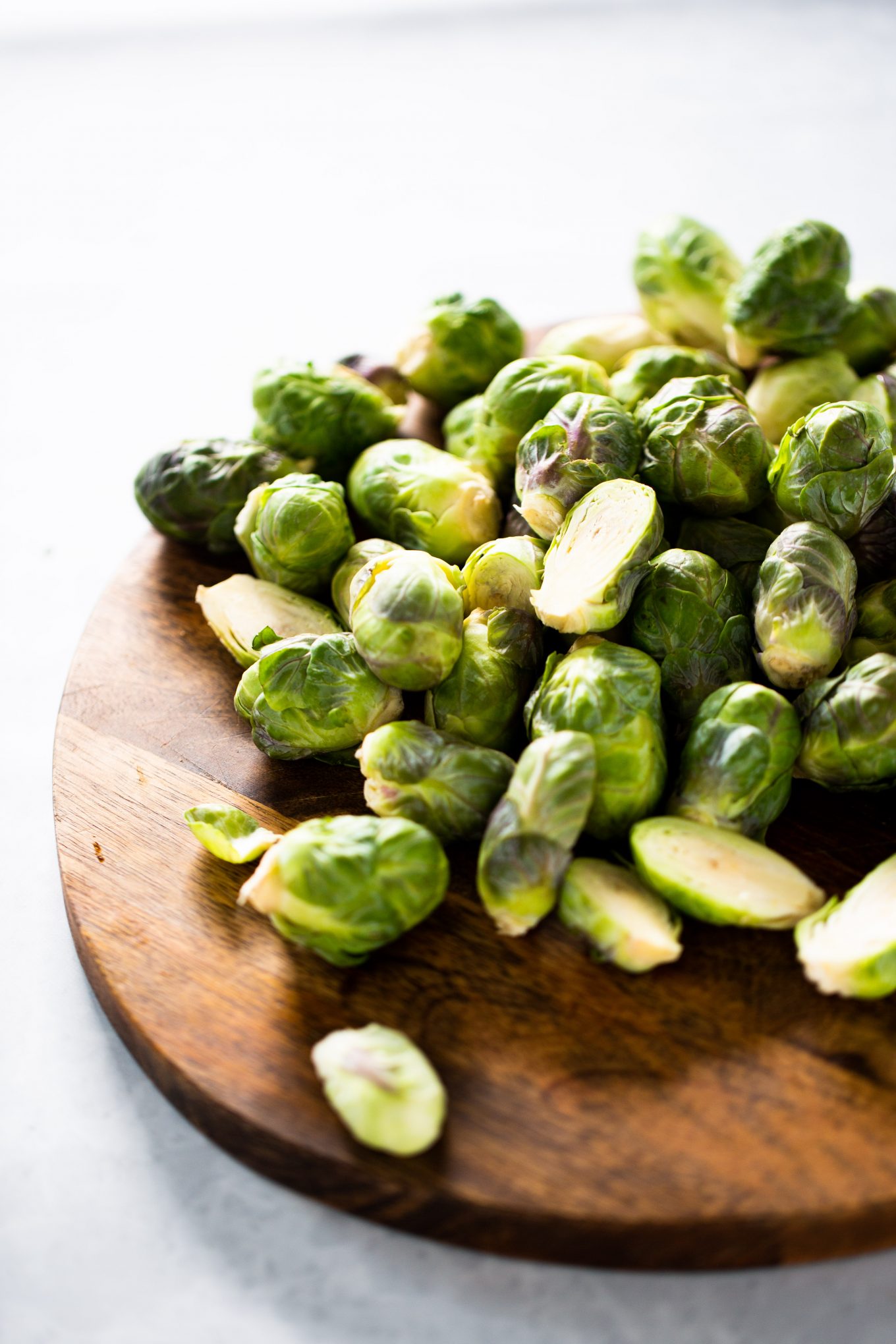 How to make the perfect roasted Brussel sprouts in the oven?
First, you have to cut them in half, remove the withered leaves or parts that are not good.
Second, put them on a tray and add oil and salt. You can use olive oil or avocado oil or whatever you like best. Put a good pinch of salt ( I use kosher salt) on them, and with your hands or a wooden spoon toss them around and, make sure they are all well coated.
Third. Put them in a 425ºF preheated oven until they start to brown. Rotate the baking sheet several times and make sure they brown evenly.
Lastly. When they are beginning to brown in the center, but the edges are starting to show the golden color, add the sauce.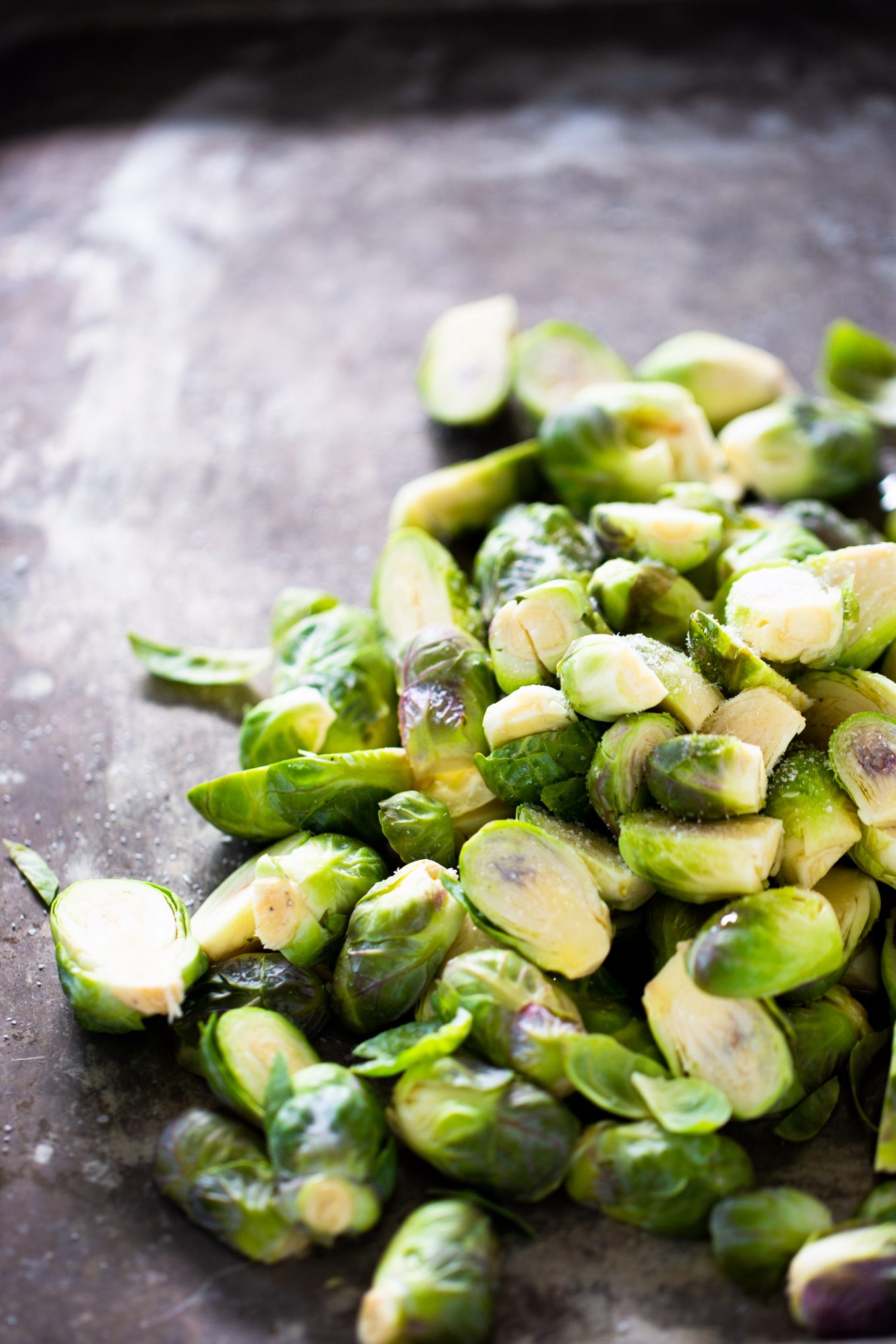 How to make the vegan sweet and spicy sauce?
To finish the tiny cabbages, this sauce recipe is super easy to make and is sweet, spicy, salty, and with an Asian flavor profile touch. It is perfect for finishing baked Brussels sprouts or any other roasted vegetables. Just mix the ingredients and pour it over.
💥To make the sweet chili sauce mix the ingredients:

2 tablespoons of apricot jam (you could easily sub with maple or agave syrup)

+2 tablespoons of soy sauce

+2 tablespoons Sriracha sauce

a pinch of salt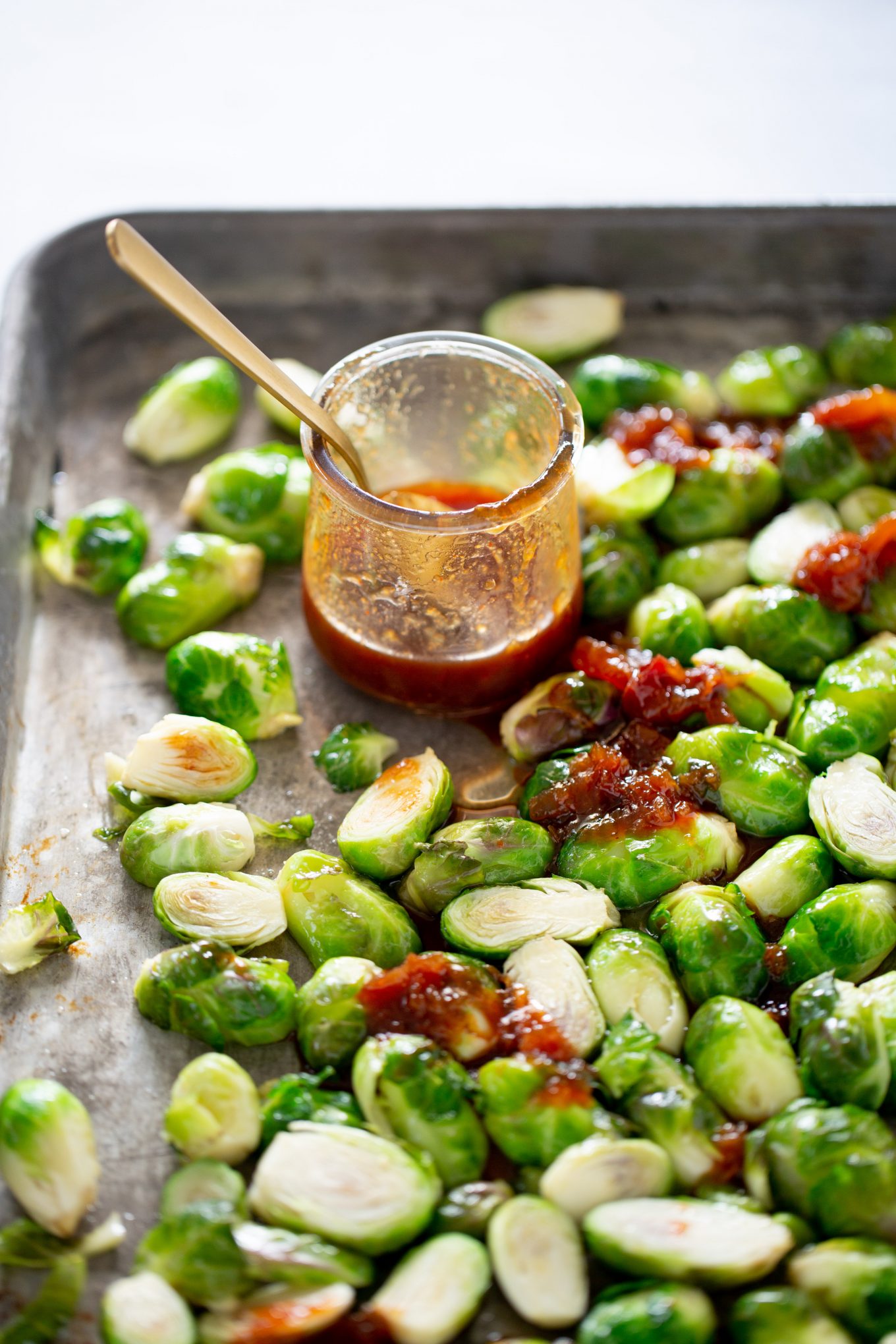 ✨GIVE  IT A TWIST✨

•If you don't want to make these sweet and spicy brussel sprouts in  the oven, prepare these brussels sprouts in an air-fryer or a non-stick frying pan. It is best if you use a cast iron pan.

•If you are making the roasted brussels sprouts on the stove, drizzle the oil in a pan and when hot add the brussel sprouts.
Let them roast long enough to get golden on one side, turn them over and put them to roast on the other side.

•Add  the sauce and when it starts to boil a little bit, turn the heat off. 
How to finish the sweet and Spicy Brussel sprouts?
Once they are crispy fully coated with the sweet and spicy sauce, put them on a plater and finish with chopped cilantro, super-thin sliced chives, sesame seeds, and some freshly squeezed lemon juice.
When to serve the these brussel sprouts?
These are perfect for any lunch or dinner. You can dress them up and serve them on a beautiful platter for a fancy dinner, Thanksgiving, or even Christmas for a fun flavor twist on the menu. Here are some recipe ideas to serve the spicy and sweet Brussel sprouts: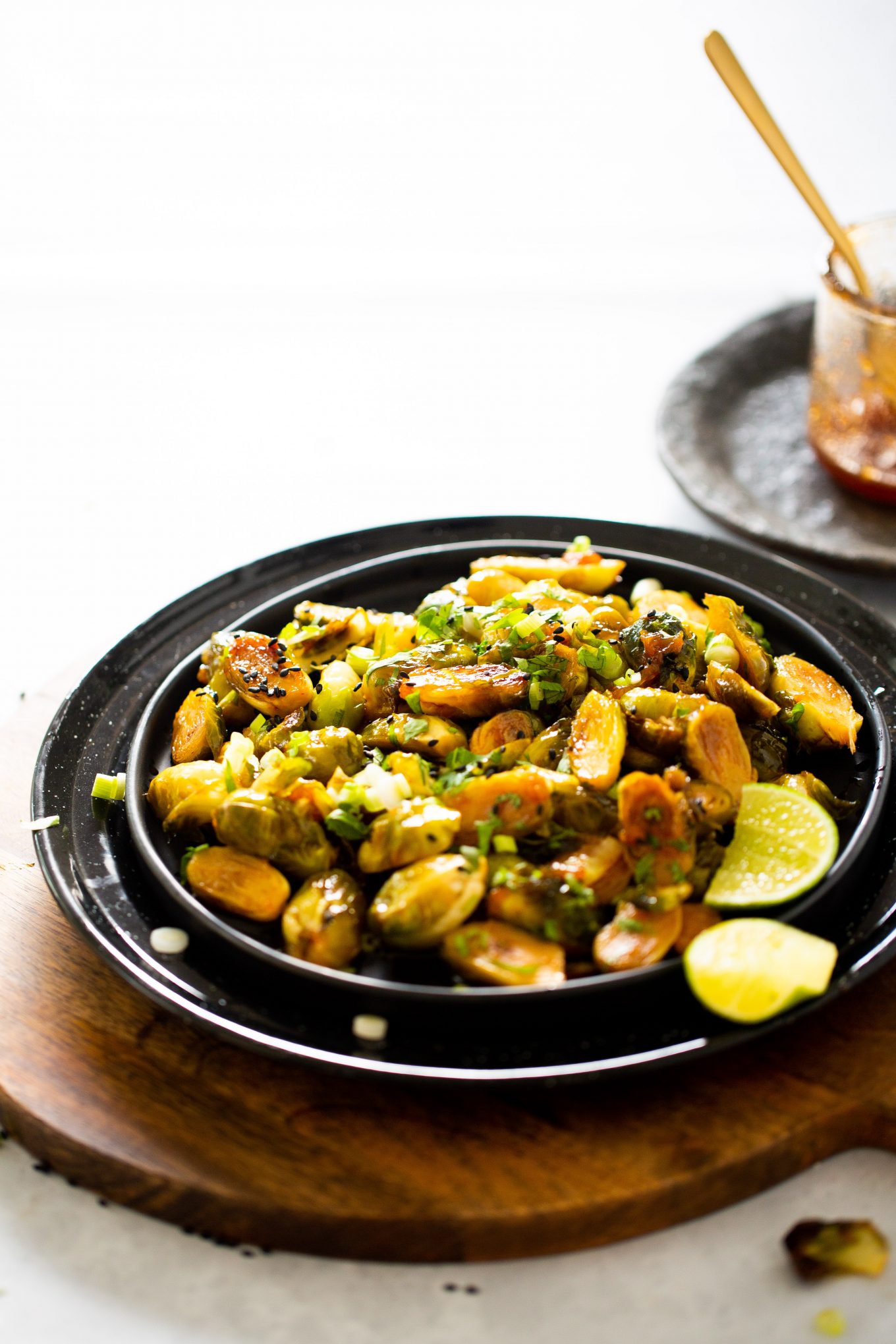 Here is the recipe for making sweet and spicy Brussel sprouts, and I hope you like it as much as I do. This recipe is easy to make, full of flavor, and perfect for the whole family.
Don't forget to take a picture of your Brussel sprouts and share a photo of your dish on Instagram, FB, or save the recipe later on Pinterest. If you like it a lot, please give it five stars, thanks.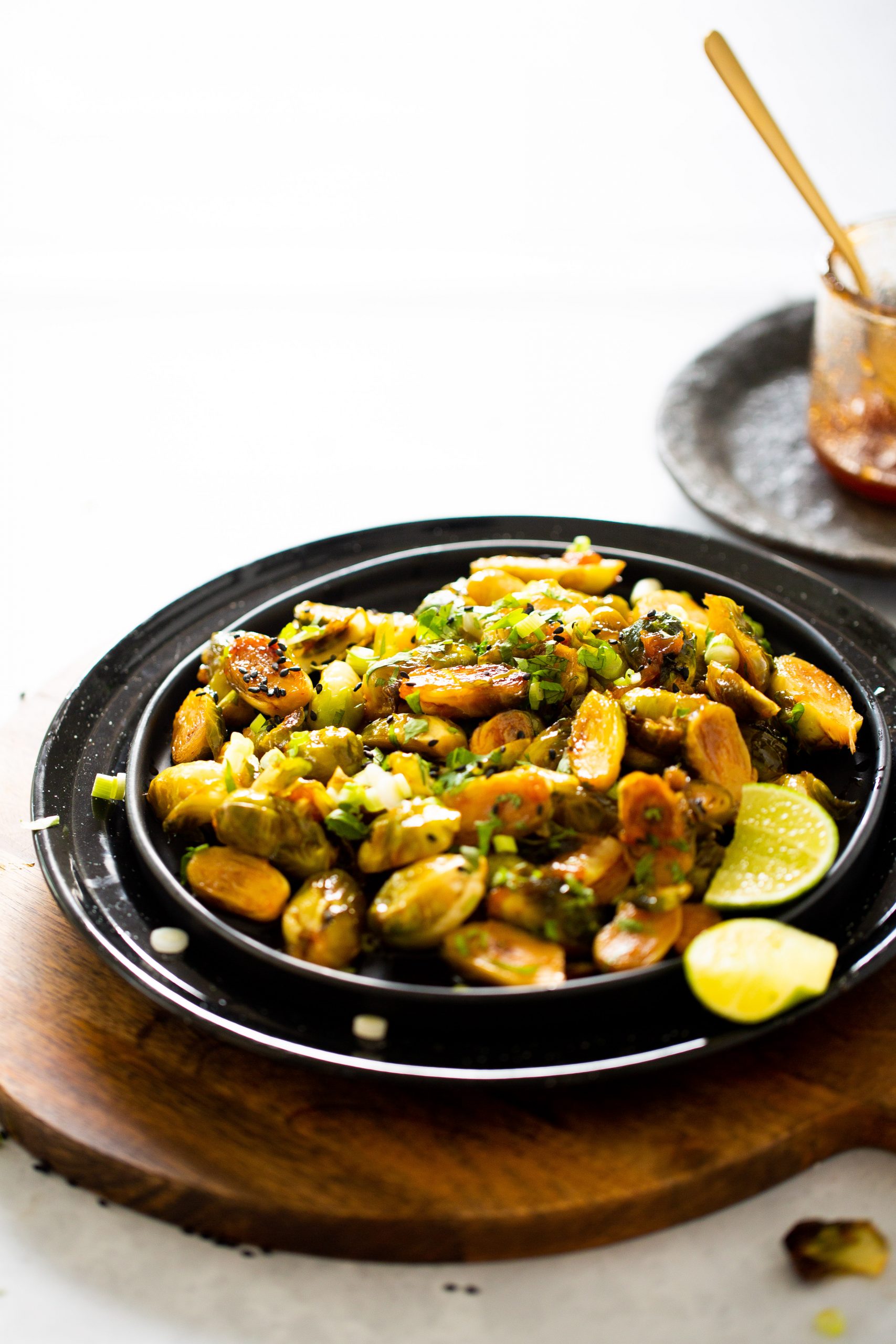 Sweet and Spicy roasted brussel sprouts
This recipe for sweet and spicy Brussel Sprouts it's easy, delicious and perfect for the whole family. I guaranty you'll have to double the recipe, they are so good they disappear.
Ingredients
4

cups

halfed brussels sprouts

4

tablespoons

olive oil or avocado
Sweet and spicy sauce
2

tablespoons

apricot jam

2

tablespoons

soy sauce

2

tablespoons

Sriracha

1

pinch

of salt
To finish
chopped cilantro

chopped chives

lemon juice

Salt
Instructions
Preheat oven to 425-450ºF

Cut brussels sprouts in half and place on a cookie sheet. Add the oil and salt, mix and put in the oven for 15 minutes.

Turn every 5 minutes to make them roast evenly.

To make the sauce, mix everything in a bowl and taste.

Take the cabbages out of the oven, empty the sauce on top and mix until all are covered.

Return to the oven for 5 more minutes or until you see that the sauce begins to boil.

Scoop out the cabbages on a platter and finish with cilantro, chives, sesame seeds, and freshly squeezed lemon juice
Nutrition
Serving:
1
serving
Calories:
192
kcal
Carbohydrates:
15
g
Protein:
4
g
Fat:
14
g
Saturated Fat:
2
g
Polyunsaturated Fat:
2
g
Monounsaturated Fat:
10
g
Sodium:
711
mg
Potassium:
379
mg
Fiber:
3
g
Sugar:
7
g
Vitamin A:
695
IU
Vitamin C:
81
mg
Calcium:
41
mg
Iron:
2
mg
information
Nutritional information of this recipe is only an estimate, the accuracy for any recipe on this site is not guaranteed.

Latest posts by Alejandra Graf
(see all)