This recipe for roasted red bell pepper and potato soup with spices is a soup that will make you feel loved, nourished and happy. It is so good and easy to prepare.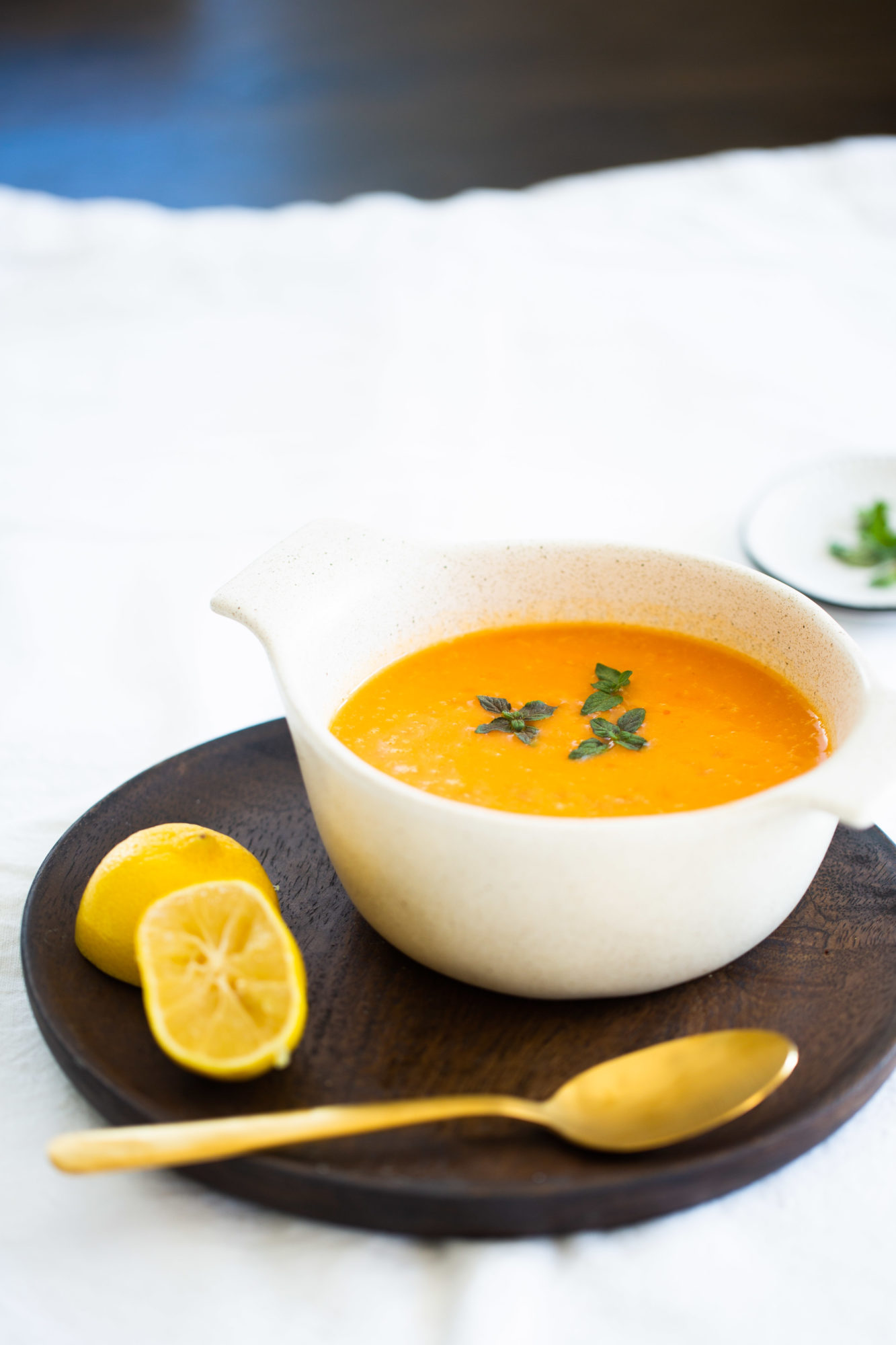 One of the things that I get asked the most is that if I don't miss eating "normal" when they find out that I follow a plant-based diet. The truth is that no because for me, the normal way of eating is the way I eat. I like to eat deliciously, I like to eat healthily, I love to feed my family healthy and clean food.
I know that what they mean is that if I don't miss cheese or other animal products … the truth is, NO. Many people believe that when you take animal products off your diet, your food options reduce, you start to eat poorly, or you go on a diet. The truth is that it is all the other way around. The flavors, ingredients, and food combinations that we start tasting grow exponentially.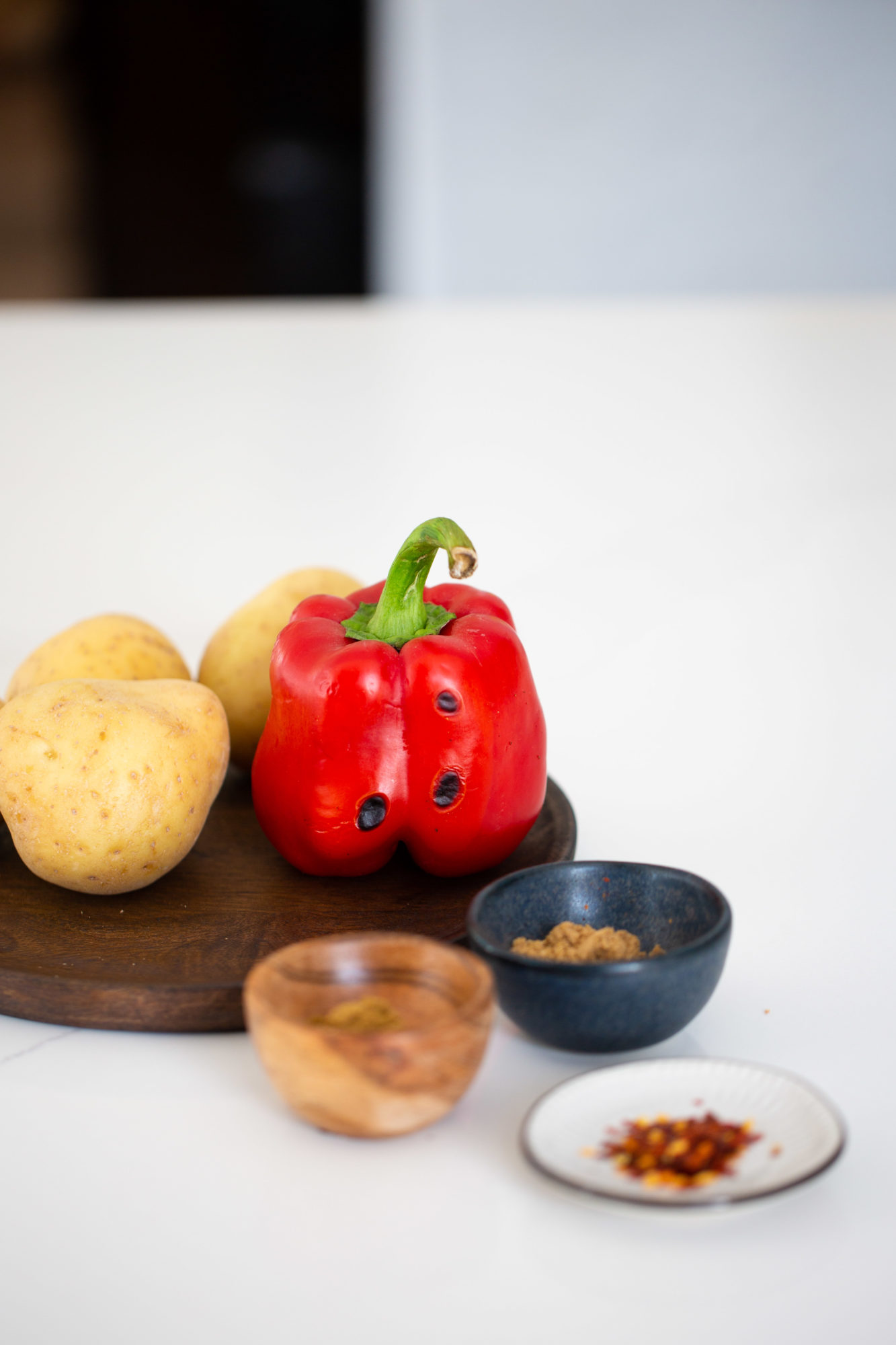 When you decide to include more and more fruits, vegetables, legumes, and cereals into your diet, gradually, you begin to discover more options. You discover some ingredients with exciting flavors, textures, new ways of eating them, preparing them, and highlight their flavors with aromatics or spicies. And listen, spices make everything taste delicious, right? And they have a ton of benefits to our health. Think of pepper, cinnamon, turmeric, etc.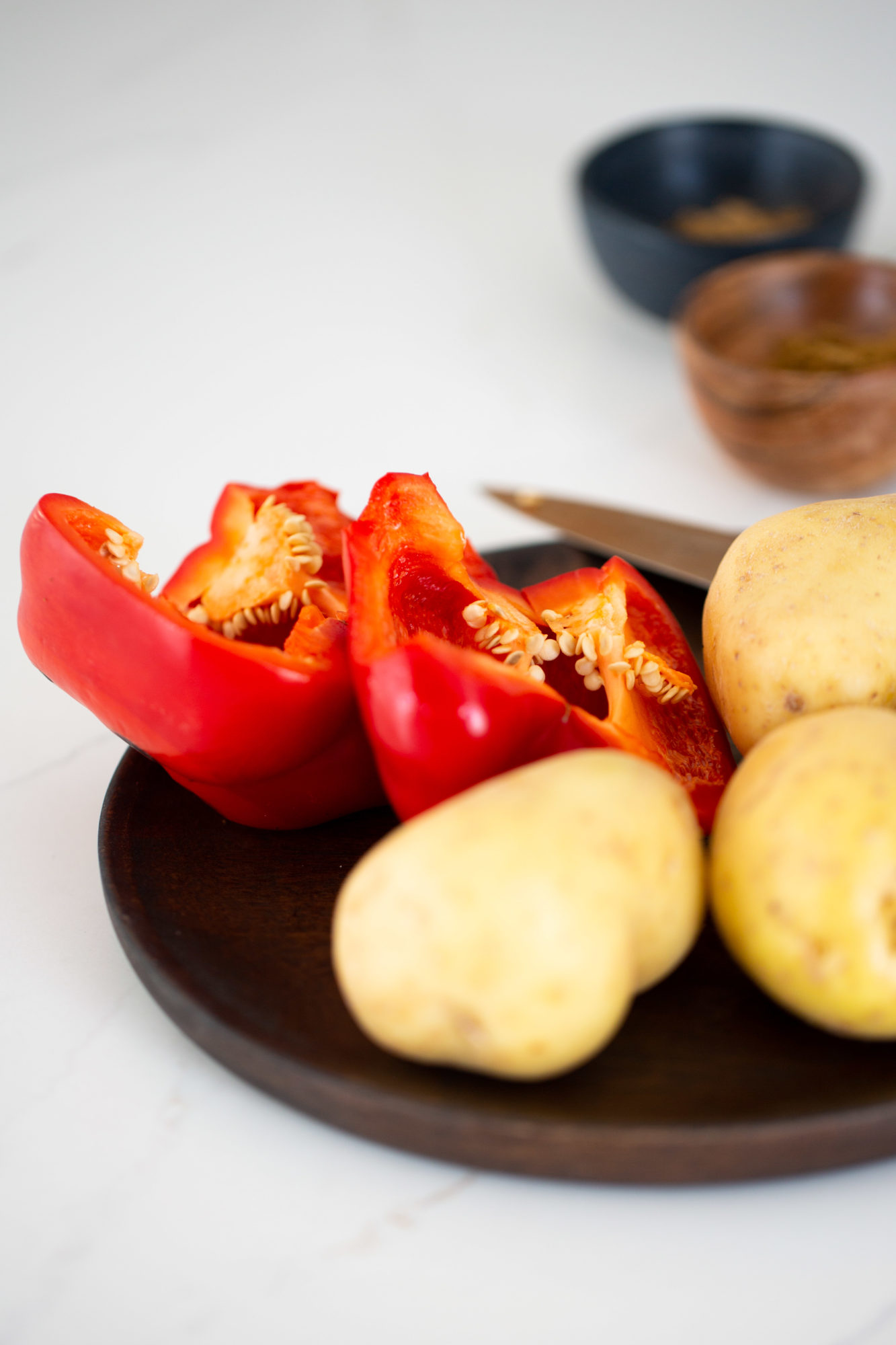 This roasted red bell pepper and potato soup has cumin, which for example, helps the pancreas to produce the enzymes necessary for proper digestion and absorption of nutrients. It is also full of magnesium, manganese, and calcium.
The recipe also calls for dried red chili pepper, and chilies are full of vitamin C, to mention one of the many benefits they have.
So yes, this is how I like to eat: meals full of flavor, ingredients with bright colors, and I also like to try new things. I love to cook with herbs and species and always try the ones they use in other country's cuisines. This potato and pepper soup has some spices, and they take it up a notch.
Tips, tricks & other recipes:
A good idea when preparing soup is to start with very little liquid, just enough to cover the vegetables. If needed add more.
Probably with this vegan potato soup you'll need more liquid than usual because of all the starch of the potatoes.
If you are serving this soup with spices to young kids, don't add the red chilli pepper while cooking the soup. Add it when serving the delicious soup.
Here are other vegan recipes with potatoes that are extremely delicious: crispy potato tacos, potato and cilantro creamy soup, the best picnic salad, smashed potatoes and many more in the recipe section.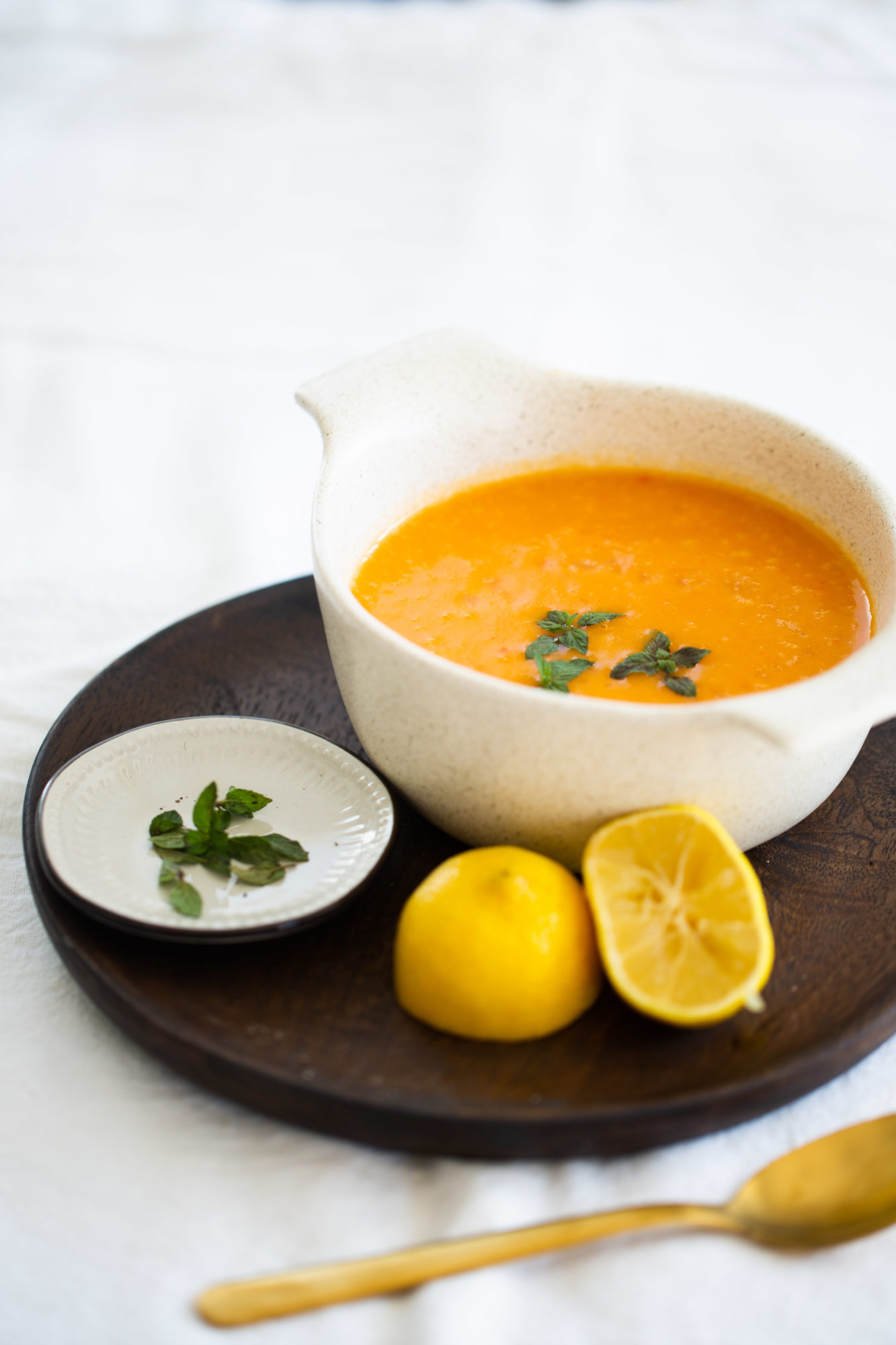 So here is the recipe for this ROASTED RED BELL PEPPER AND POTATO SOUP WITH SPICES. That I'm pretty sure you are going to love and will make you start using more spices in your meals. And if you do please let me know! Send me a message on instagram, FB or save this soup for later on Pinterest.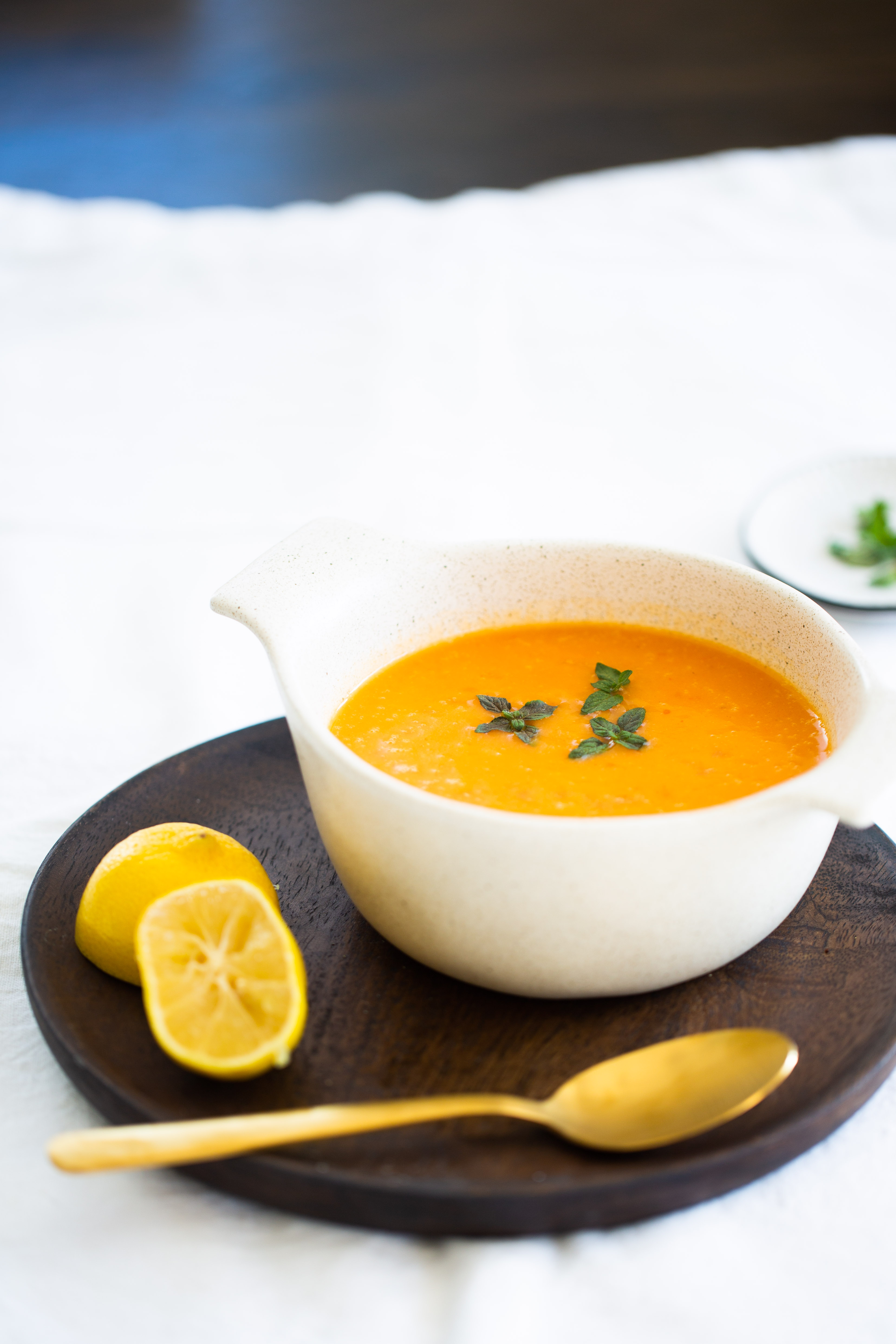 ROASTED RED BELL PEPPER AND POTATO SOUP WITH SPICES
Potato, roasted red bell pepper, and delicious spices make this vegan soup perfect for a cozy everyday meal. It is so flavorful, easy to prepare, and healthy that I'm pretty sure it will become one of your favorite soups.
Ingredients
2

tablespoons

neutral flavor oil

I use avocado oil

1/2

onion cut into large pieces

1½

teaspoons

salt

1

teaspoon

ground cumin

1

teaspoon

ground coriander seeds

1/2

teaspoon

ground dried chili pepper

2

cups

of potatoes

diced

1

large roasted red bell pepper

stemmed and seeded

3-4

cups

of water or vegetable stock
To serve (optional)
lemon juice

cilantro or fresh mint
Instructions
In a large dutch oven or soup pot, add the oil and the onion. Let it brown for 3-5 minutes.

Add the species and brown them for 30 seconds to a minute or until they start to smell delicious. Add the salt.

Put the rest of the ingredients and the water or vegetable broth, cover, and cook until the potatoes are soft.

Blend the vegetables and water until you have a creamy consistency. Test for seasoning, adjust if needed. Add more liquid if its to thick.

Serve with lemon juice and mint or cilantro leaves.
Nutrition
Calories:
99.95
kcal
Carbohydrates:
12.63
g
Protein:
2.21
g
Fat:
4.94
g
Saturated Fat:
0.38
g
Sodium:
1060.24
mg
Potassium:
350.29
mg
Fiber:
2.46
g
Sugar:
2.25
g
Vitamin A:
871.26
IU
Vitamin C:
34.58
mg
Calcium:
28.57
mg
Iron:
2.63
mg
information
Nutritional information of this recipe is only an estimate, the accuracy for any recipe on this site is not guaranteed.

Latest posts by Alejandra Graf
(see all)