Paletas de melon with mint are a delicious and refreshing summer dessert. These popsicles are made with ripe melon, usually of the cantaloupe or honeydew variety, and fresh mint leaves.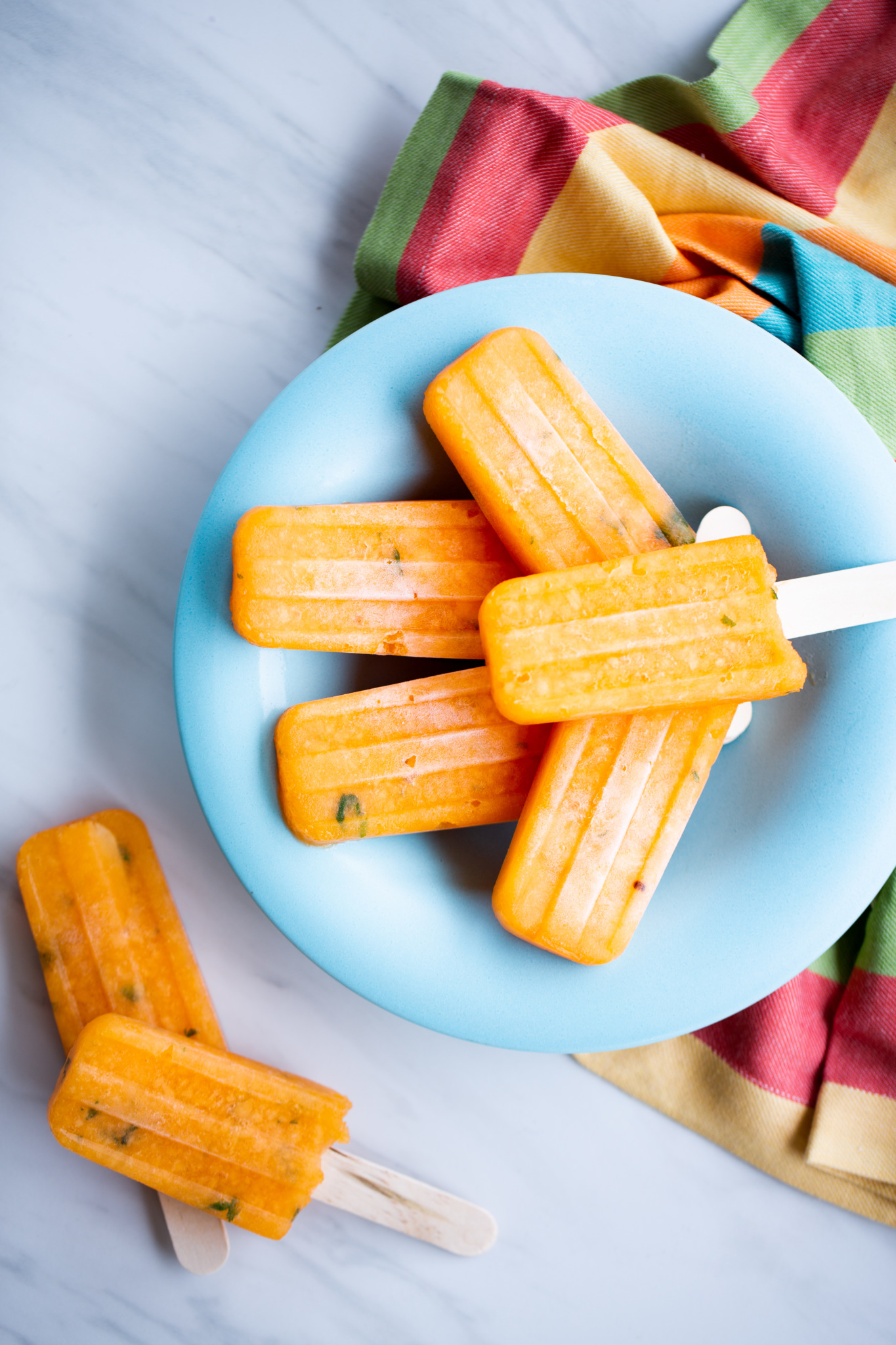 About this recipe
These refreshing melon and mint paletas are the ultimate in simplicity, made with only two ingredients: melon and mint. Surprisingly, they contain no added sugar, making them quite remarkable, wouldn't you say?
How to make paletas de melón?
To prepare them, first peel, seed, and coarsely chop the melon. Then, use a blender or food processor (affiliate link) to pulse everything until it's finely chopped. Finally, add some mint to the mixture. Personally, I prefer my paletas to have a bit of texture.
If you don't like fruit chunks in your paletas, you can also put everything in the blender with a bit of water to make it run well, and that's it. Pour the mixture into the popsicle molds, and put them in the freezer until they are 100% frozen.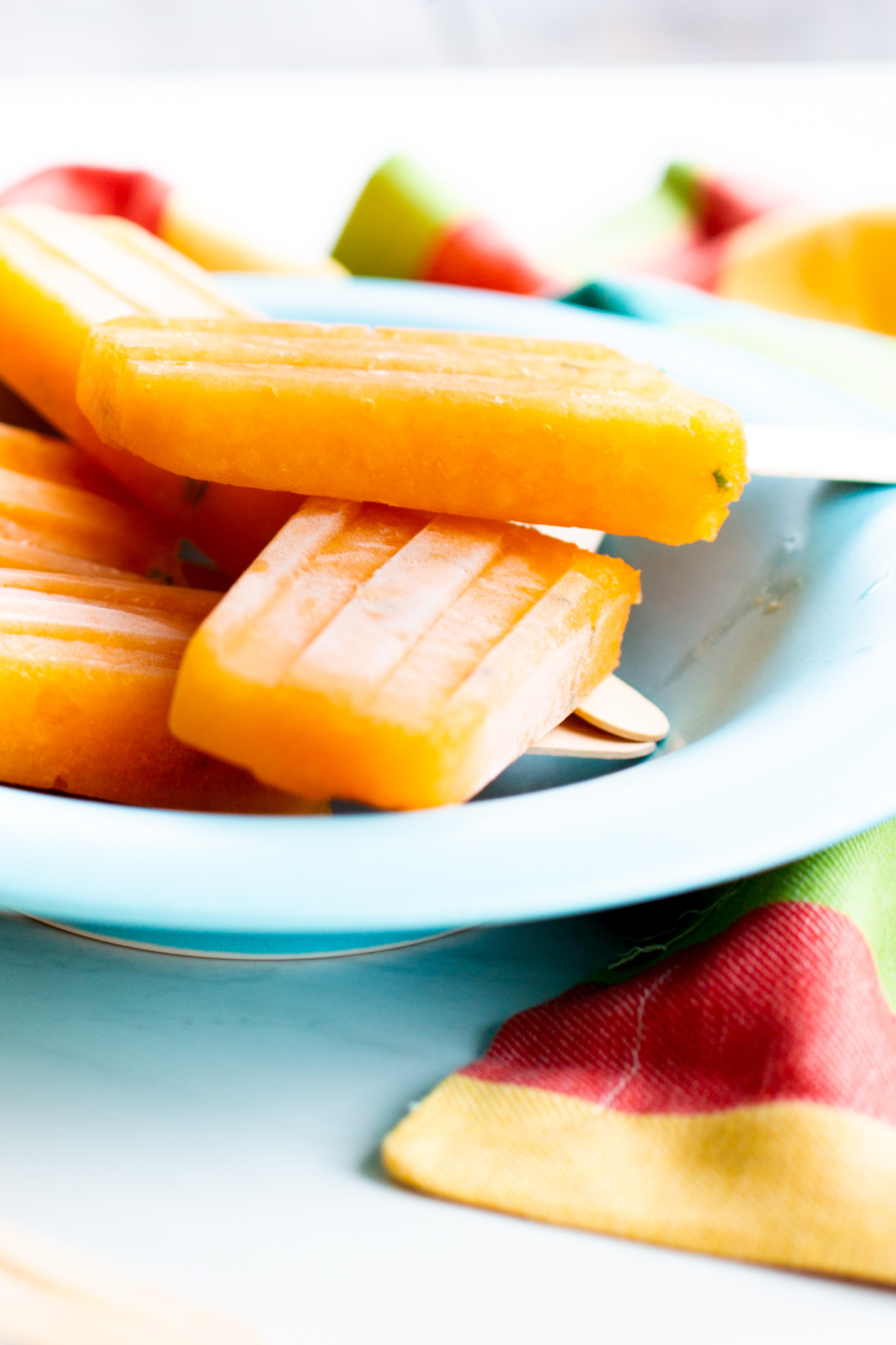 Tips to make the best paletas de agua
Use fresh and seasonal fruits: Fresh fruits will always taste better and make your popsicles more delicious. In addition, seasonal fruits are usually sweeter and cheaper.
Adjust the sweetness to your taste: Although many recipes do not use sugar, you can add it to your liking. Remember that once frozen, the sweetness is somewhat attenuated.
Try different flavor combinations: The sky is the limit when it comes to flavor combinations or other types of melon.
Use quality popsicle molds: Quality popsicle molds will ensure that your popsicles are in the correct shape and will be unmold easily. If you don't have popsicle molds, you can use small plastic cups and wooden sticks.
Freeze properly: Be sure to freeze your popsicles for at least 4-6 hours, or preferably overnight. Do not attempt to unmold the popsicles before they are completely frozen, as they may break.
Carefully unmold: To unmold the popsicles, you can run the mold under hot water for a few seconds. This should make the paddles slide easily.
---

How to peel a cantaloupe
Wash the cantaloupe: Always start by washing the cantaloupe thoroughly. This removes any bacteria that may be on the skin and prevents it from getting into the fruit when you cut it.
Cut off the ends: Place the cantaloupe on a sturdy cutting board and slice off both ends of the cantaloupe. This will create a flat base on both ends and make the cantaloupe more stable for the next steps.
Peel the cantaloupe: Stand the cantaloupe on one of its flat ends. Using a sharp knife, start at the top and cut down, following the curve of the fruit, to remove the rind. Rotate the cantaloupe and repeat until all the rind is removed.
Cut the cantaloupe in half: Once the cantaloupe is peeled, lay it on its side and cut it in half from end to end.
Scoop out the seeds: Use a large spoon to scoop out the seeds from the center of each half. Discard the seeds or save them for another use if you prefer.
Slice and dice the cantaloupe: Now you can slice the halves into wedges if you want to serve them in larger pieces. If you want smaller pieces, lay each wedge flat and cut it into smaller cubes.
When to eat these melon popsicles
You can eat them for breakfast. They're perfect for those days when you're running around like crazy and have to leave early.
For dessert. These popsicles are perfect for after lunch on a summer day.
How to drink. Another idea to make these popsicles is to serve them at a dinner party as a welcome drink. Serve white wine in a large glass and put a paleta inside; it tastes delicious. I love this idea for a summer night or a night at the beach.
Other recipes you may like:
Made and loved this recipe? Give it a ⭐️⭐️⭐️⭐️⭐️ rating below. Let me know if you have questions about this recipe in the comment section or DM me on Instagram. Follow on Facebook and Pinterest to stay in touch, and don't forget to subscribe to my newsletter.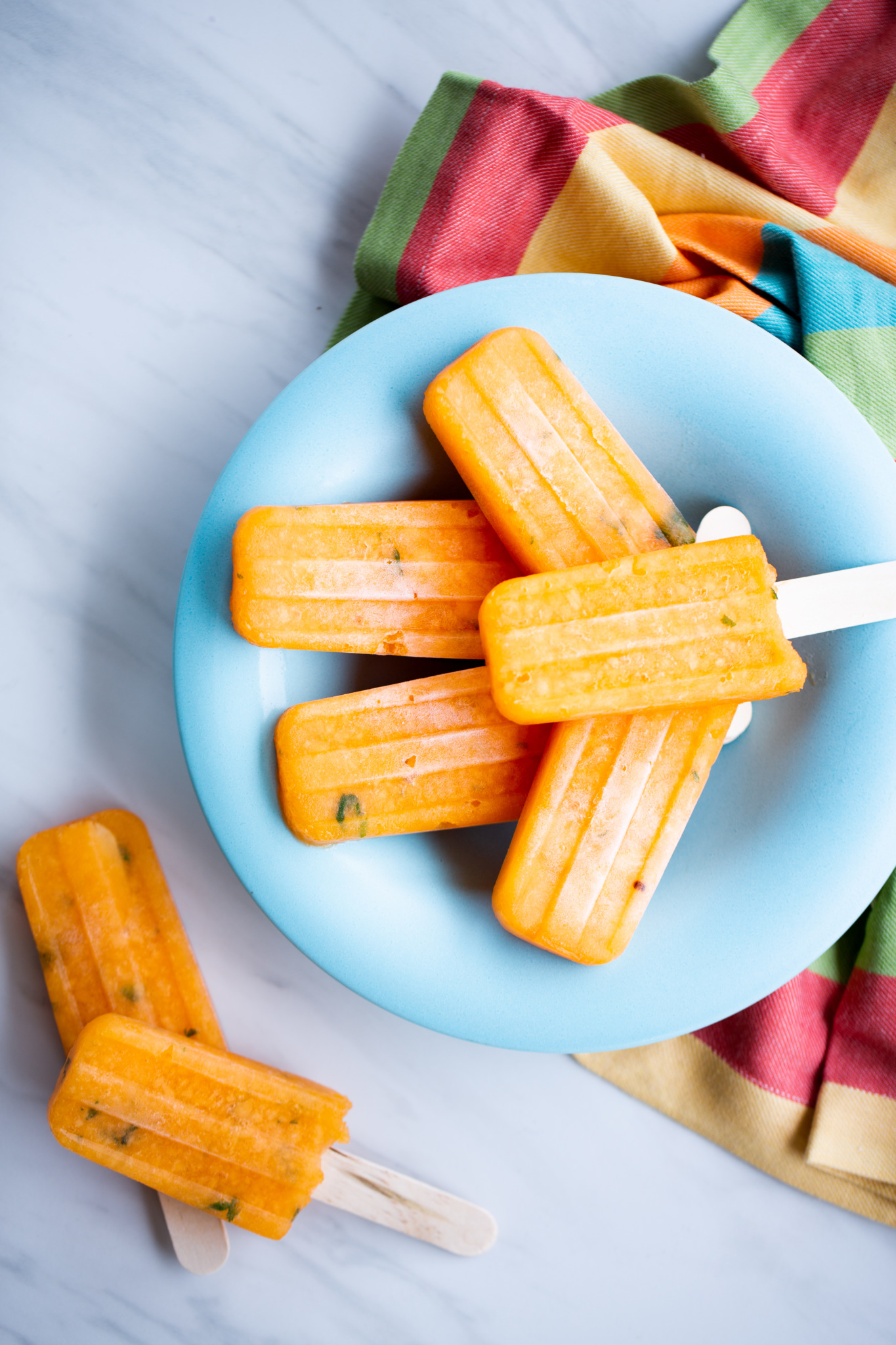 Paletas de melón with mint
This recipe for how to make Mexican melon popsicles with mint is the easiest in the world. It only takes two ingredients and can be used for breakfast, as a snack or even with white wine.
Equipment
Food processor or blender

Popsicle mold
Ingredients
1

medium melon

peeled, seeded and in large chunks

10

mint leaves
Instructions
To make popsicles with a bit of texture, finely chop the melon in a blender or food processor without fully grinding it. Alternatively, to achieve smooth popsicles, blend the melon with 1/4 cup of water. Add some mint leaves and pulse once more before pouring the mixture into popsicle molds.

Freeze for 8 hours or until firm.
Notes
Feel free to add your preferred sweetener to your liking. Options include cane sugar, agave honey, or maple syrup.
Nutrition
Serving:
1
paleta
Calories:
1
kcal
Carbohydrates:
0.2
g
Protein:
0.05
g
Fat:
0.01
g
Saturated Fat:
0.003
g
Polyunsaturated Fat:
0.01
g
Sodium:
0.4
mg
Potassium:
7
mg
Fiber:
0.1
g
Sugar:
0.01
g
Vitamin A:
57
IU
Vitamin C:
0.4
mg
Calcium:
3
mg
Iron:
0.1
mg
information
Nutritional information of this recipe is only an estimate, the accuracy for any recipe on this site is not guaranteed.

Latest posts by Alejandra Graf
(see all)