Avocado toast is undoubtedly one of the most delicious ways to enjoy toast. However, this kimchi avocado toast takes the flavor to another level of deliciousness. Each bite of this toast bursts with an explosion of flavors that will leave you wanting more. It's important to note that not all kimchi is vegan, so be sure to double-check and read the labels before purchasing.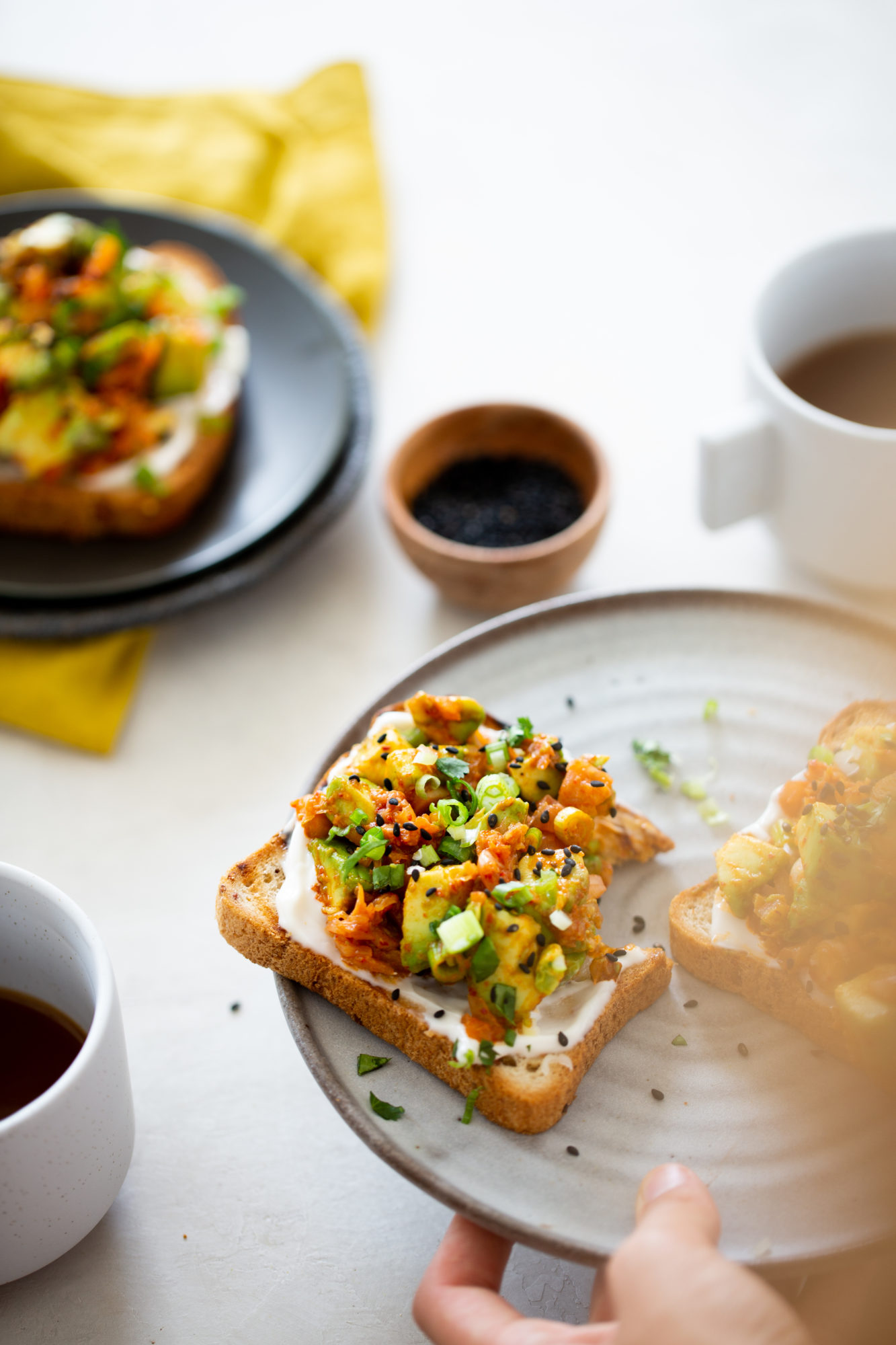 What is kimchi?
Kimchi is a traditional Korean dish that is considered a staple in Korean cuisine. The dish is made by fermenting vegetables, such as cabbage, with a variety of seasonings like carrots, scallions, ginger, garlic, and more. It is important to note that not all types of kimchi are vegan, so it is advisable to check the labels before purchasing it.
Besides being delicious, kimchi is also incredibly nutritious due to its fermentation process, which promotes gut health and aids in digestion.
Why are going to love this recipe
Since this is not a typical avocado toast, it's not made the same as everyone else's. However, this makes it unique; every bite provides a full experience of flavor and deliciousness.
Kimchi and avocado complement each other perfectly in terms of flavor. The creamy texture of the avocado balances the spiciness of the kimchi, providing a strong yet harmonious taste. If you make an avocado toast with a gluten-free bread like the one from Little Northern Bakehouse, it becomes a complete and highly nutritious meal that is simply amazing.
Is kimchi good for you? Kimchi, a staple in Korean cuisine, is made with fermented vegetables, providing gut-friendly benefits.
Is kimchi good for breakfast? Kimchi is one of my favorite foods because of its versatility. Whether it's for breakfast, lunch, or a quick snack, I find it to be a delicious and satisfying option. The combination of spicy, savory, and tangy flavors make it a perfect addition to any meal, and it's a great way to add some variety to my diet. Personally, I love to mix it with rice or noodles, or eat it straight out of the jar for a quick and easy snack.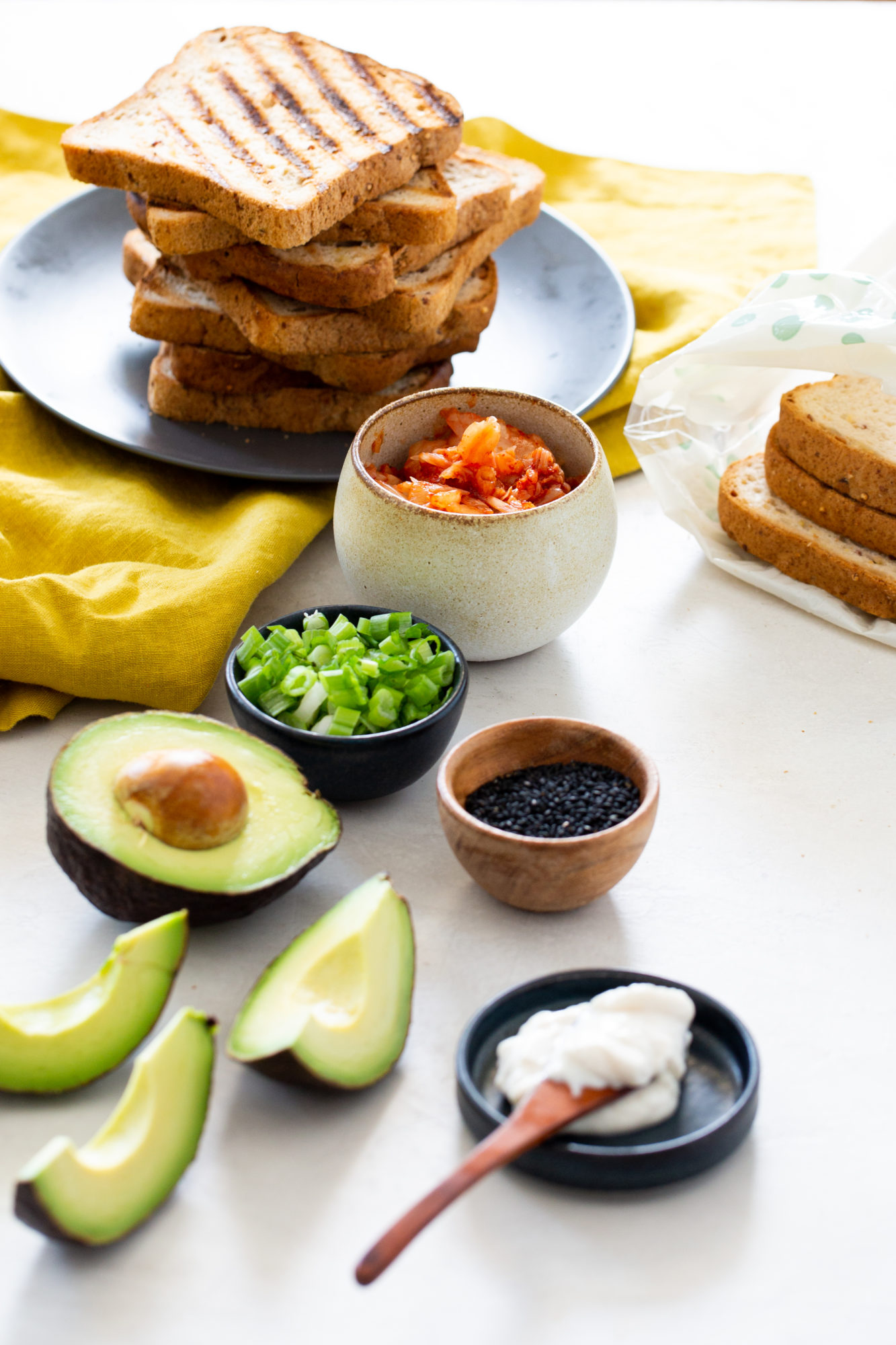 INGREDIENTS TO MAKE THE BREAD WITH AVOCADO AND KIMCHI
Kimchi, I buy kimchi, I do not prepare it at home. I always check that the kimchi jar I'm buying is vegan. I chop it really small with a well-sharpened knife, it usually comes in large pieces. You can chop it by hand with a knife and board or with a food processor (affiliate link).
Scallions. I like to use the white and dark green parts. Each one has a different flavor and texture that add to the dish.
Toasted sesame oil, I recommend you have it at home, it is very good for many recipes.
Large avocado cut into cubes
Sesame seeds, black or white
Mayonnaise and bread.
How to prepare the kimchi avocado mix?
When you have all the ingredients prepped and ready, toast your bread. You can use a toaster or over a grill.
Combine chopped kimchi, and sesame oil, toss the scallions, and the sesame seeds in a medium-small bowl, and mix carefully with a fork.
At last and being very careful not to over mix add the chopped avocado.
Put a thin layer of mayonnaise on each slice of bread and finish with a tablespoon of the avocado and kimchi mixture. Finish with a pinch of kosher salt, drizzle chili oil, toasted sesame oil or sprinkle with black or white sesame seeds.
Tips, tricks & other recipes:
I love love kimchi, especially the spicy one. But if it is your first time eating kimchi start with a mild one. Usually, I will buy it, as it is quite complicated to make.
Again, if it is your first time eating kimchi keep in mind that it is a fermented food, it can be a little smelly when you open the jar. The smell will pass, no worries.
What does kimchi taste good with? Kimchi goes great with rice, stew, and pretty much everything that could use an extra bit of kick.
Kimchi usually comes in big chunks; I chop it to have a more even bite.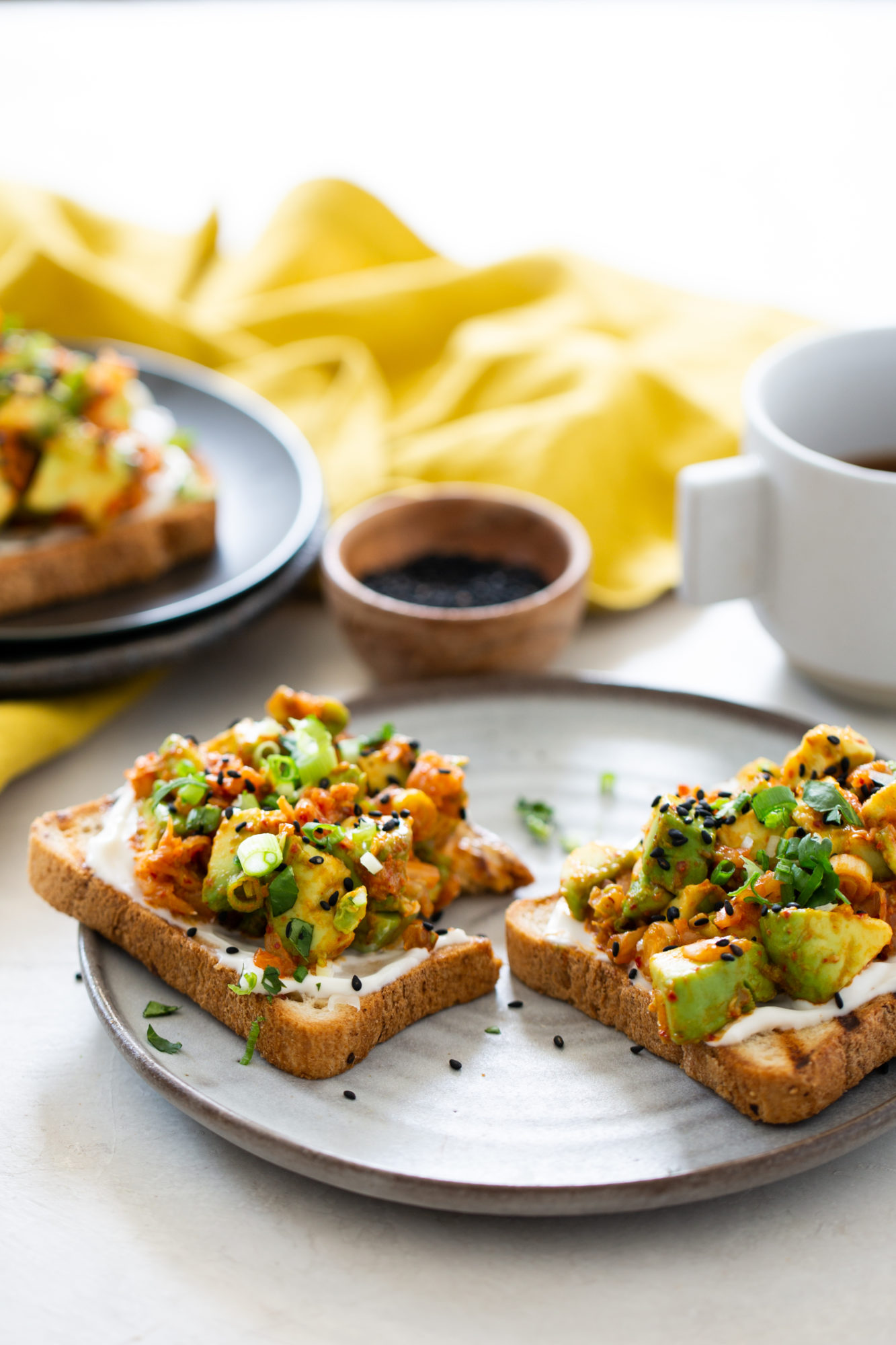 Give this recipe a twist
Instead of vegan mayo you can use vegan cream cheese or mix cream cheese with the chopped kimchi and spread it over large slices of country bread for appetizers. If the mix is too thick add a little kimchi juice to thin it out.
Add some cilantro for a fun fresh twist or green onions.
Add soy sauce if you like more of an umami flavor or minced garlic cloves if you want more of a bite in your avocado mix.
Other recipes that you may like:
Made and loved this recipe? Give it a ⭐️⭐️⭐️⭐️⭐️ rating below. Let me know if you have questions about this recipe in the comment section or DM me on Instagram. Follow on Facebook and Pinterest to stay in touch, and don't forget to subscribe to my newsletter.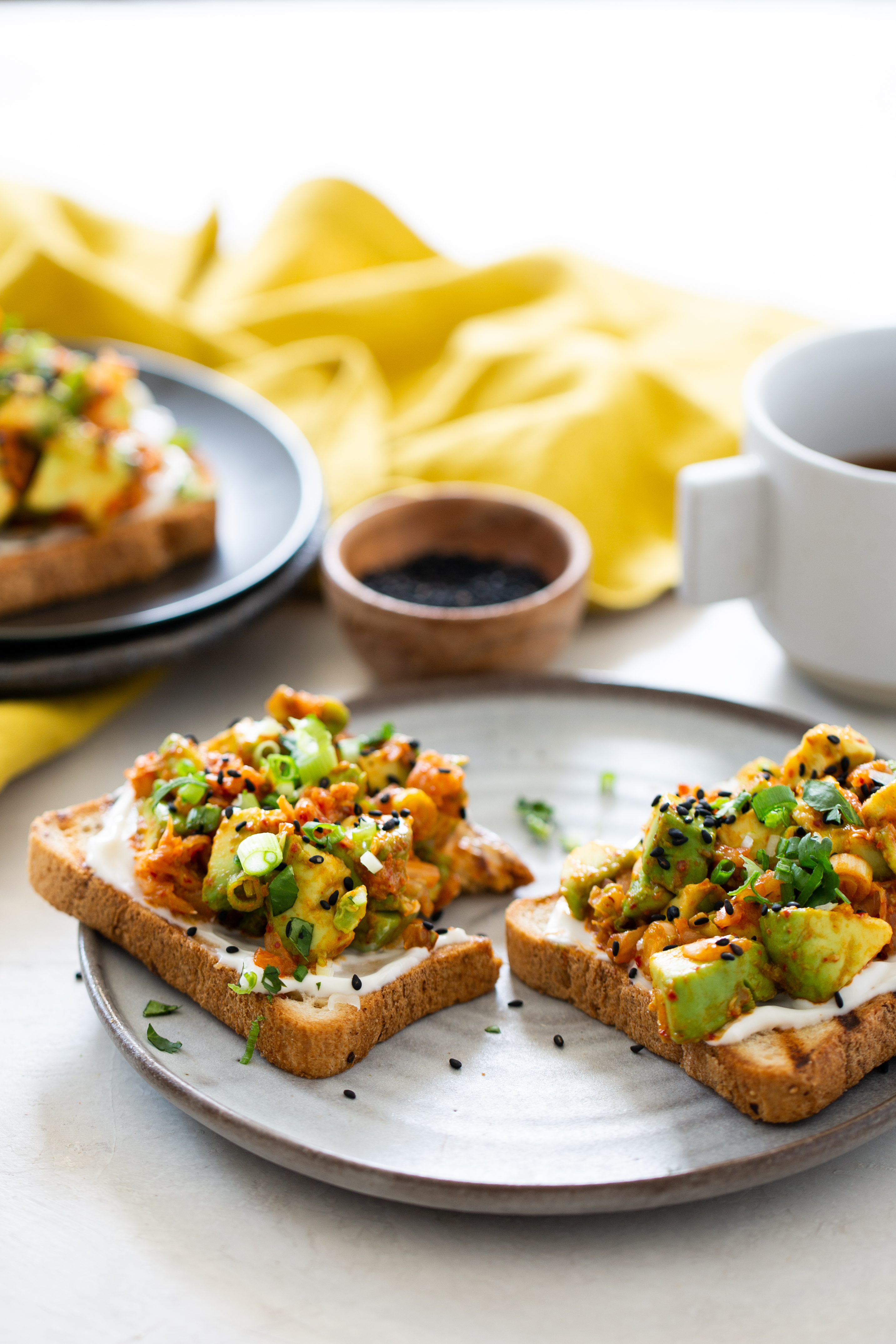 Avocado Kimchi Toast
Avocado-toast is one of the best ways ever invented to eat toast. But this gluten-free kimchi avocado toast is another level of deliciousness. This toast is an explosion of flavor in every bite.
Ingredients
½

cup

kimchi

chopped

¼

cup

sliced scallions

2

teaspoons

toasted sesame oil

Pinch

of sea salt

1

avocado

large

1

tablespoon​ black sesame seeds

4

teaspoons

vegan mayonnaise

4

slices

Bread, box bread is best
Instructions
Would you like me to add more details to the instruction on how to toast the slices of bread?

Take a ripe avocado and mix it gently with some tangy and spicy kimchi, finely chopped scallions, toasted sesame oil, and a pinch of salt. Ensure that all the ingredients are mixed thoroughly and carefully to create a delicious and flavorful dish.

Spread 1 teaspoon of vegan mayo on each slice. Top with kimchi avocado mix and finish with black sesame seeds.
Nutrition
Serving:
1
serving
Calories:
412
kcal
Carbohydrates:
37
g
Protein:
9
g
Fat:
27
g
Saturated Fat:
4
g
Polyunsaturated Fat:
5
g
Monounsaturated Fat:
12
g
Trans Fat:
0.01
g
Sodium:
463
mg
Potassium:
647
mg
Fiber:
10
g
Sugar:
4
g
Vitamin A:
299
IU
Vitamin C:
13
mg
Calcium:
105
mg
Iron:
4
mg
information
Nutritional information of this recipe is only an estimate, the accuracy for any recipe on this site is not guaranteed.
This post is sponsored by Little Northern Bakehouse in October 2019. the recipe, pictures, and opinions are all mine.

Latest posts by Alejandra Graf
(see all)