It's time to take a break from the kitchen and head to the bar. No, we're not talking about cocktails today. Instead, we're going to explore a traditional Mexican beverage that's as refreshing as it is delicious. Say hello to Agua de Piña or Pineapple Water!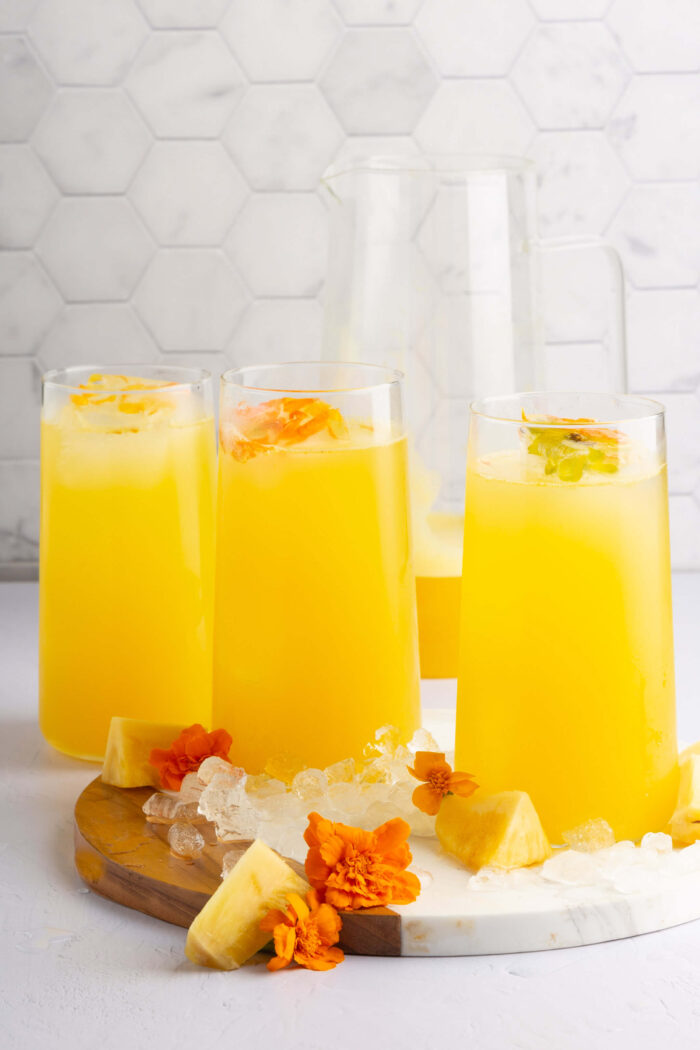 About this recipe
Agua de Piña is more than just a drink; it's a taste of Mexican culture. It's a reminder of warm summer days; meals shared with family and friends, and the simple joy that comes from fresh, natural ingredients. So the next time you're looking for a way to beat the heat, why not take a sip of this Pineapple Water?
What is Agua de Piña?
Agua de Piña is a type of Agua Fresca, a category of drinks that literally translates to "fresh water." These beverages are a staple in Mexican cuisine, known for their refreshing qualities and simple, natural ingredients. Agua de Piña, as you might have guessed, is the pineapple version of this delightful drink.
Why You'll Love This Pineapple Agua Fresca
If you're a fan of our recipes here at AleCooks, you know we're all about big flavors and easy-to-follow instructions. This Pineapple Agua Fresca recipe is no exception. It's a simple blend of fresh pineapple, water, and a touch of sugar. The result? A bright, tropical drink that's perfect for sipping on a hot summer day.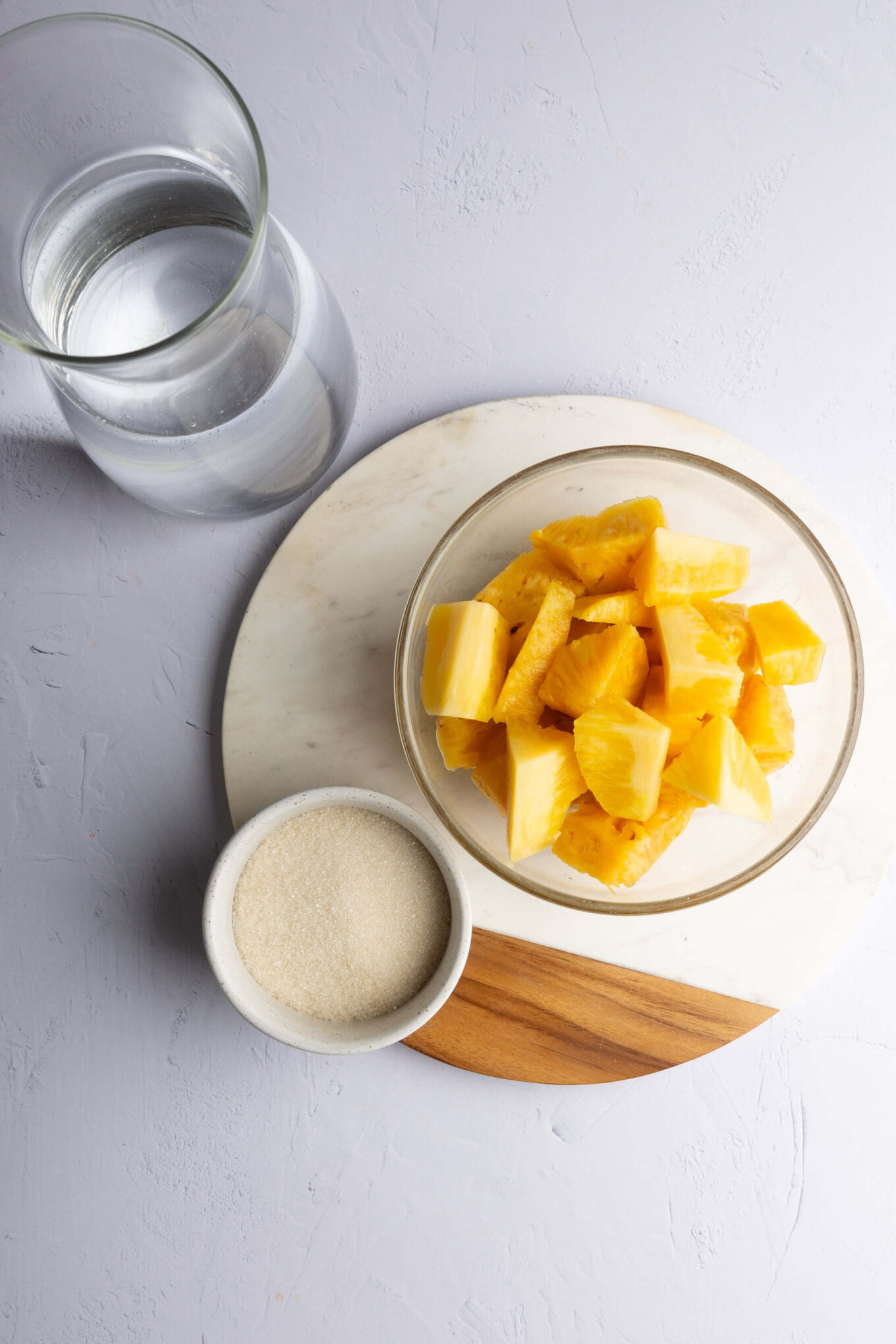 How to Make Agua de Piña
Here's what you'll need:
1 ripe pineapple
6 cups of water
Sugar to taste, or the sweetener of your choice
First, cut your pineapple into chunks. Don't worry about getting them too small; they're going to be blended anyway. Next, add your pineapple chunks to a blender, along with the water and sugar.
Blend until smooth, then strain the mixture to remove any remaining pulp. And voila! You've got yourself a glass of refreshing Pineapple Agua Fresca.
---

best way to cut a pineapple
Cut Off the Top and Bottom: Using a sharp knife, slice off the top green crown and about a half-inch from the top of the pineapple. Do the same for the bottom. This creates a stable base for you to work with.
Slice Down the Sides: Stand the pineapple upright. Starting at the top, slice down the side following the curve of the fruit to remove the skin. Try to cut deep enough to remove the brown eyes but not so deep that you waste the fruit. Repeat this around the entire pineapple.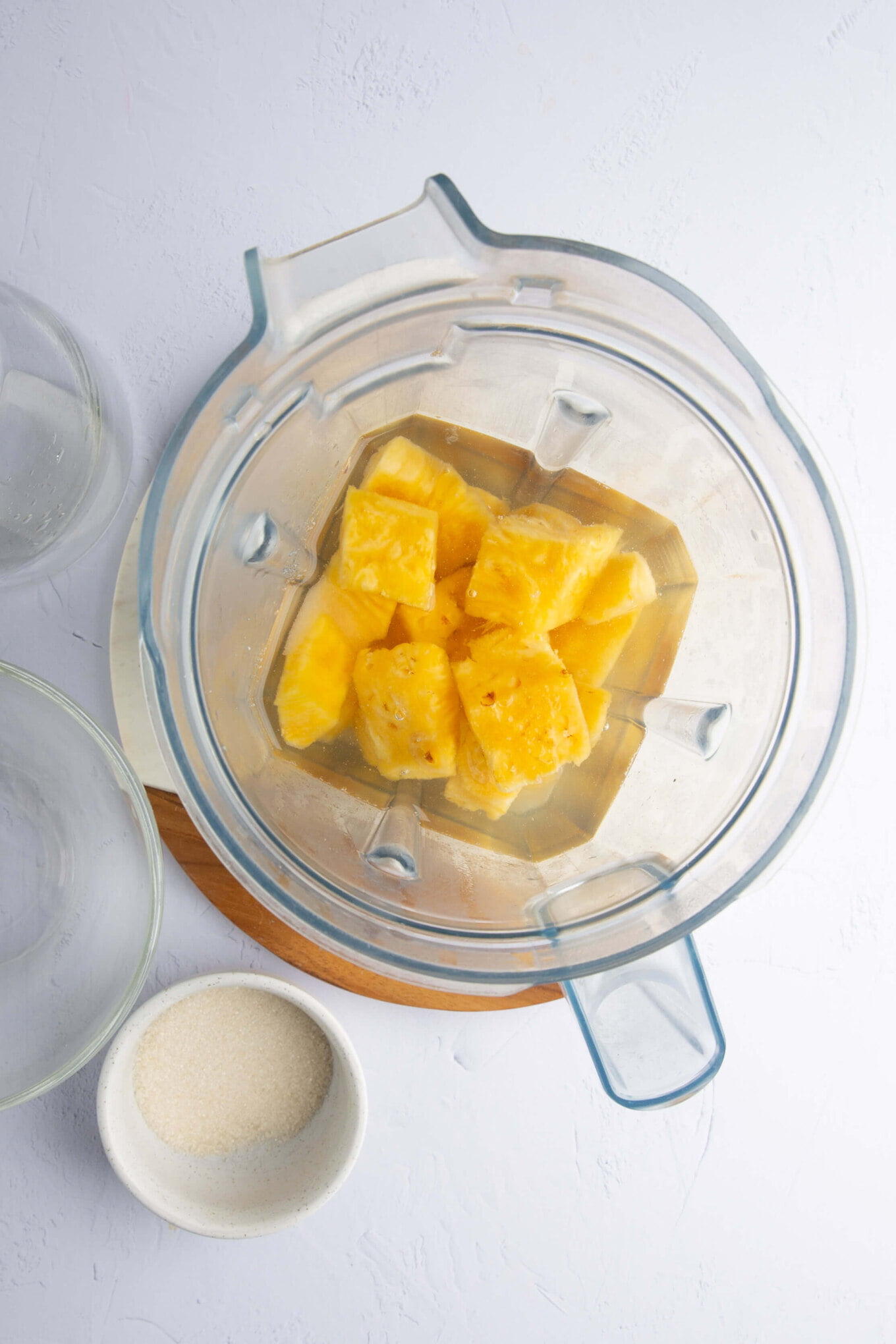 Give this recipe a twist
If you want to add an extra layer of flavor to your Agua de Piña, try adding a squeeze of fresh lime juice or mint or peppermint leaves. It adds a twist that complements the sweetness of the pineapple perfectly.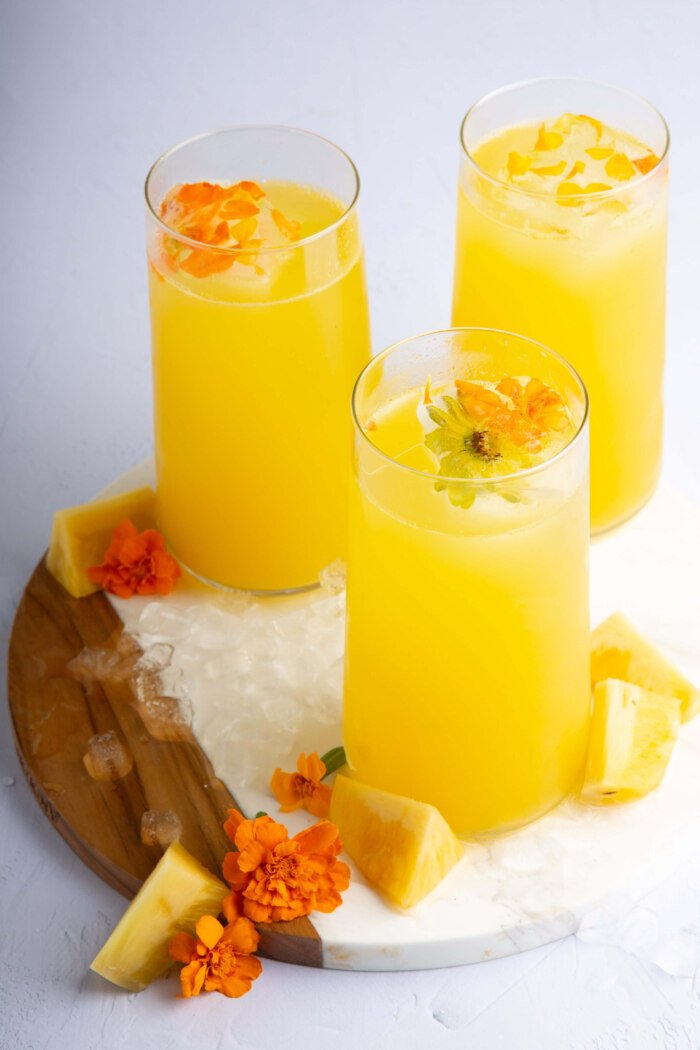 Tips for the best agua fresca
Choose Ripe Pineapples: The sweetness and flavor of your Agua de Piña largely depend on the fruit you use. Choose pineapples that are ripe and sweet. They should have a fragrant smell and yield slightly to pressure.
Balance the Sweetness: The amount of sugar needed can vary depending on the sweetness of your pineapple. Always taste your pineapple first and adjust the sugar accordingly. Remember, you can always add more sugar but you can't take it away.
Strain the Mixture: After blending the pineapple with water, strain the mixture to remove any pulp. This will give your Agua de Piña a smoother texture.
Chill Before Serving: Agua de Piña is best served cold. After preparing the drink, refrigerate it for at least an hour before serving. This allows the flavors to meld together. It will keep in the fridge for about 2 days; after that, the flavors may start to change.
Other aguas frescas that you will love:
Made and loved this recipe? Give it a ⭐️⭐️⭐️⭐️⭐️ rating below. Let me know if you have questions about this recipe in the comment section or DM me on Instagram. Follow me on Facebook and Pinterest to stay in touch, and don't forget to subscribe to my newsletter.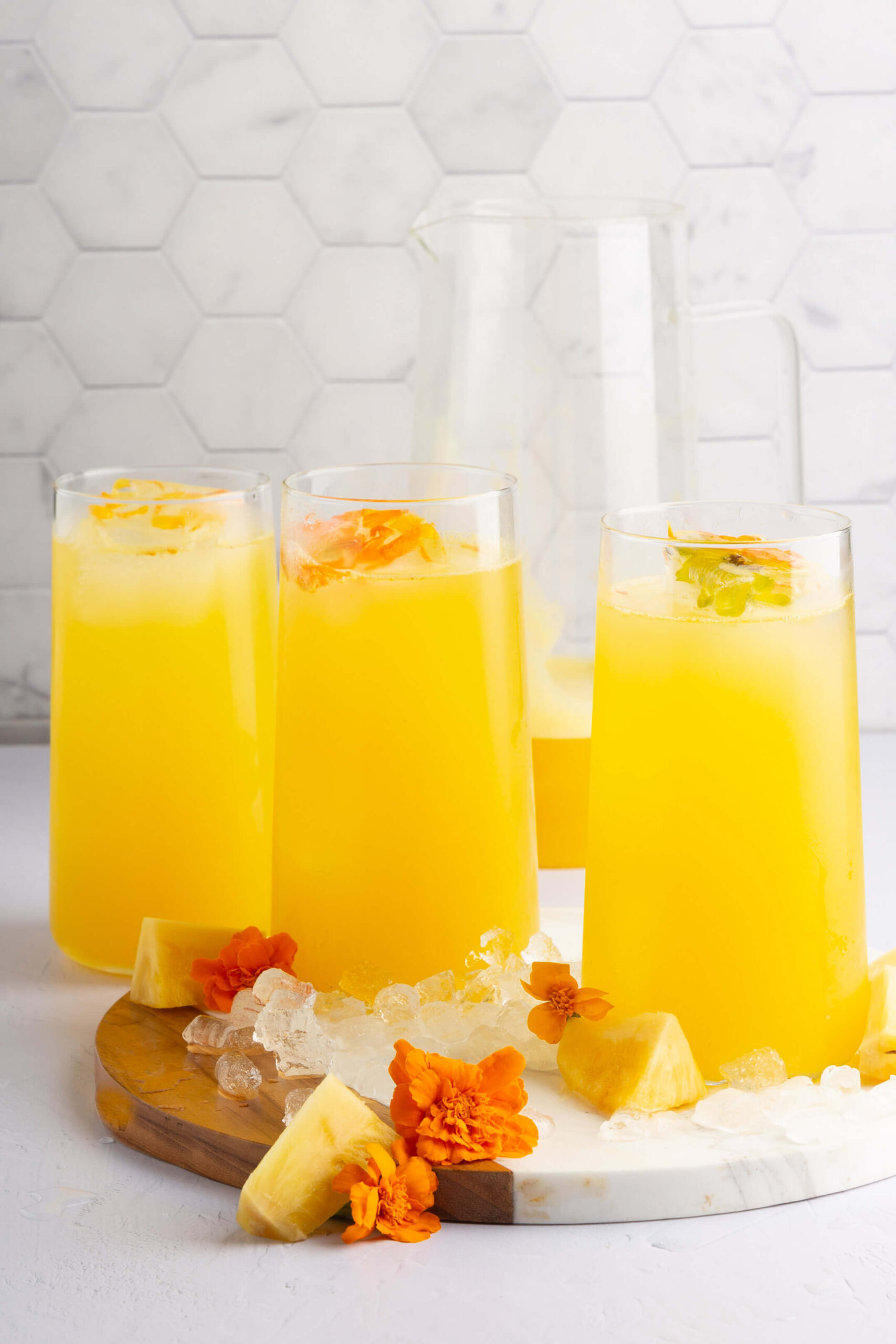 Agua de piña, pineapple agua fresca
Discover the refreshing taste of Agua de Piña, a traditional Mexican beverage made from fresh pineapples. This light, naturally sweet drink is perfect for cooling down on hot days. Explore this easy recipe and enjoy a tropical touch with every sip!
Ingredients
1

medium pinepple

Peeled and cut into chunks.

6

cups

water

1/4

cup

azúcar
Instructions
First, peel and cut your pineapple into chunks. Don't worry about getting them too small; they will be blended anyway.

Next, add your pineapple chunks to a blender, along with the water and sugar. Blend until smooth, then strain the mixture to remove any remaining pulp.

Serve with ice.
Notes
Taste and adjust and make it to your tasting.
Agua de Piña, like most fresh fruit beverages, is best enjoyed the same day it's made for optimal flavor and freshness.
Store in the refrigerator for up to 2-3 days. But, over time, the flavors may change slightly, and the drink may separate, but a quick stir or shake will bring it back together.
Always store it in a covered pitcher or airtight container to maintain freshness.
Nutrition
Serving:
1
serving
Calories:
108
kcal
Carbohydrates:
28
g
Protein:
1
g
Fat:
0.2
g
Saturated Fat:
0.01
g
Polyunsaturated Fat:
0.1
g
Monounsaturated Fat:
0.02
g
Sodium:
13
mg
Potassium:
165
mg
Fiber:
2
g
Sugar:
23
g
Vitamin A:
87
IU
Vitamin C:
72
mg
Calcium:
27
mg
Iron:
0.4
mg
information
Nutritional information of this recipe is only an estimate, the accuracy for any recipe on this site is not guaranteed.

Latest posts by Alejandra Graf
(see all)