The human body is more than 50% water, and our body uses water for many different functions. When you are half sad or lacking energy mid-afternoon or in the morning, DRINK WATER, and you'll notice the difference. Before you know it, you will start to wake up and feel more energetic.
WHAT IS THE BEST WAY TO STAY HYDRATED?
Well, drinking water, if it's freshwater. To this day, after years and years of being against drinking any soda, I still feel traumatized when someone tells me they're thirsty and then they drink a soda full of sugar, chemicals, sugar, chemicals, and other junk. Water is simply the best for us and our bodies.
Water fills you with energy, cleanses you, and helps keep your weight stable, your skin clean, and your digestion in order so you can stay regular and go to the bathroom without problems.
WHEN SHOULD YOU DRINK WATER?
The best thing you can do when you wake up is drink WATER. Believe it or not, our body becomes dehydrated while we sleep because it works so hard for us during those hours. So drinking water before anything else in the morning is always a good idea. You can drink water with lemon or lime or plain water with lemon and cayenne. You'll see how great you feel starting the day that way.
Some say drinking water before and after meals is best, but not during. This is the theory I like and follow at home – I think it's best to drink water for around 15–20 minutes after eating.
And after that, I drink water all afternoon and stop before sleeping. And, yes, I try to drink more than a gallon of water each day. You should check with your doctor about how much water you can drink.
HOW CAN I MAKE FLAVORFUL, HEALTHY WATER?
With fruit, and fresh herbs like mint, basil, dill, lavender, etc. Try adding fruit, berries, citrus fruit, cucumber, etc.
There aren't specific rules or quantities for making an infusion. Just add what you have in the fridge in a combination that appeals to you, and each item you add will give you different vitamins and antioxidants.
These are some of the combinations that we've tried:
blueberries + raspberries + mint
lemon slices + orange slices + lime slices
cucumber + lime + ginger + mint
orange + lemon or lime + berries
If you don't drink your whole infusion at once, then cover it well before storing in the fridge. I hope you enjoy this idea and these combinations. If so, please share!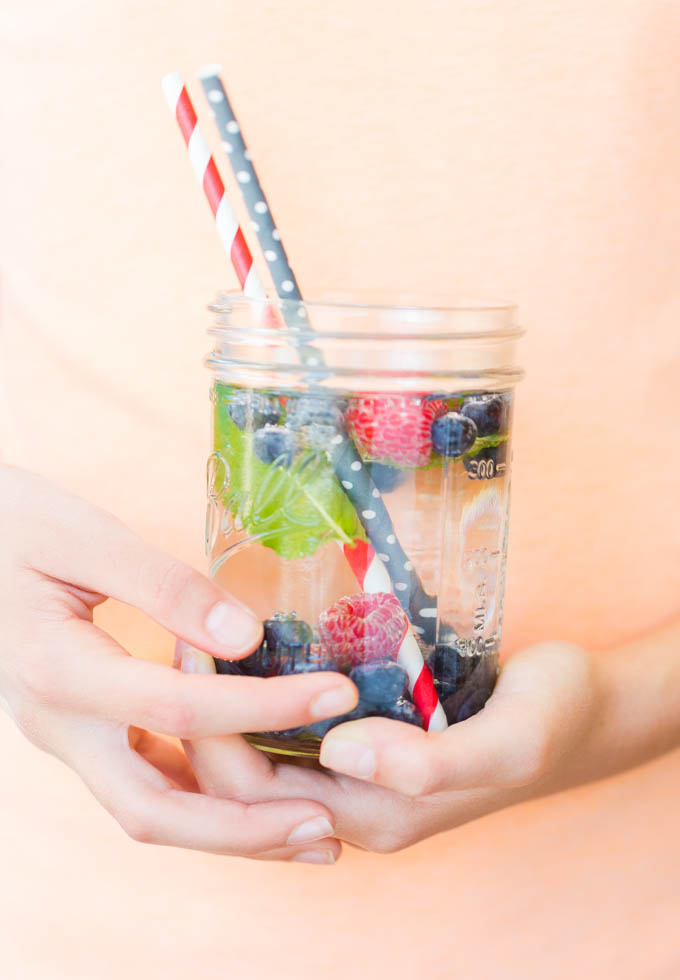 My kids loved these combinations of flavorful waters. They haven't just tried it with cucumber and ginger, mint, lemon, and lime. Since they loved these combinations and these infusions actually helped them drink fresh water, I'm sure you'll love them, too!
And most of all – and I'm hoping this is the case – if you don't usually drink water because you don't like it, then I hope you start now with the idea of these infusions!