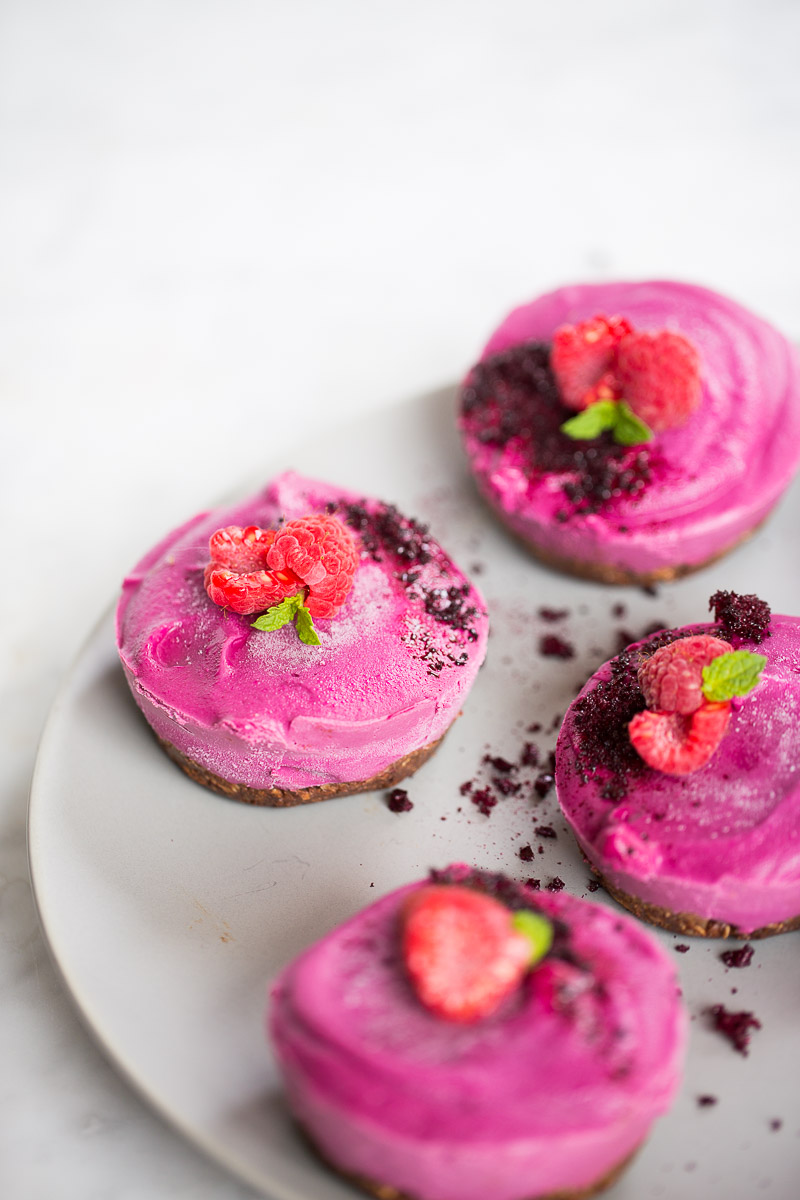 Can you imagine making a vegan cheesecake filled with amazing nutrients and great flavor? It sounds crazy, right?? But I promise you it is not, this cheesecake is very easy to prepare and it is nutrient loaded. It's made with raw cashews (affiliate link), raspberries, and red beet crystals, among other ingredients. Don't you think it's the perfect dessert … easy, super cute and nutritious? But first, let me tell you about these crystals.
These beet crystals are made of dehydrated beet juice, from organic beets! This is wonderful because each bottle contains the juice of five and a half pounds of beets. The crystals are made from the juice of beets that were harvested two or three hours previously so all their nutrient powers are still there. The products from the company Flora Health are amazing. They make amazing products and I've been a fan for a very long time. I have used their green powders, their oils, their probiotics and I can really recommend them to you.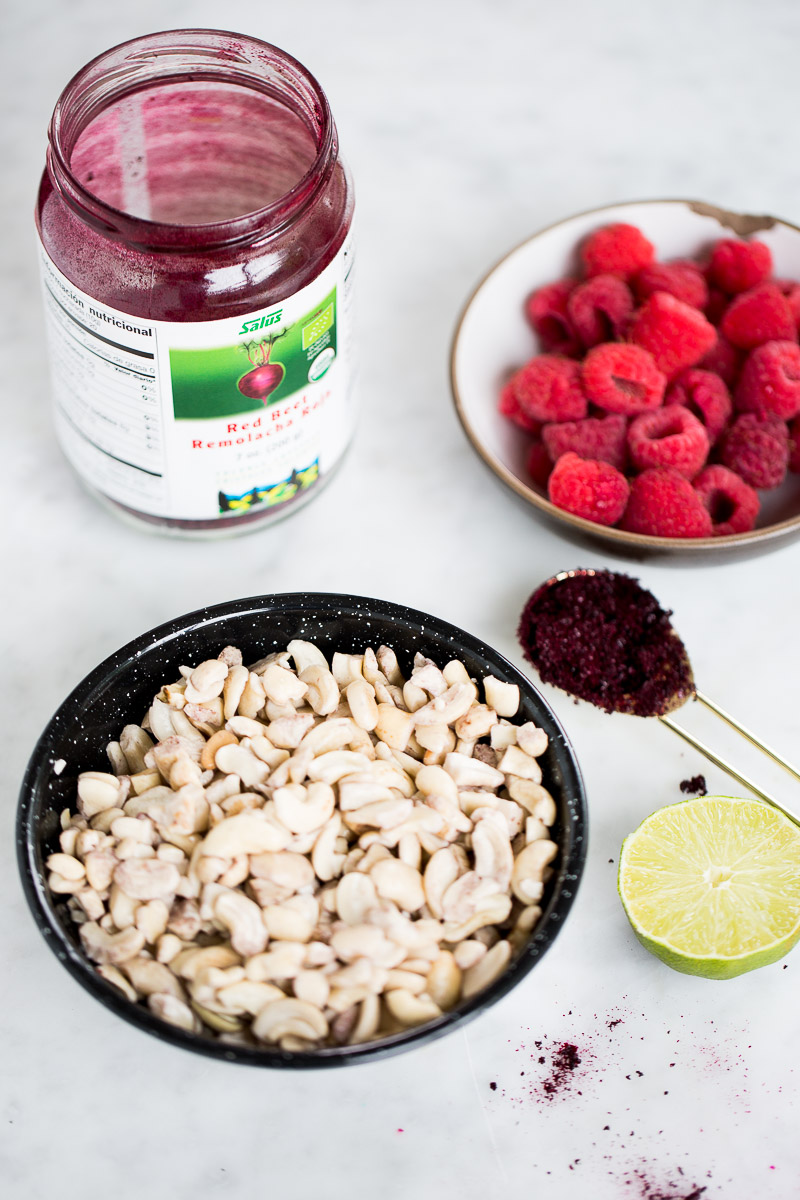 I am now obsessed with these crystals, I put them in everything, from dressings to desserts. Like this vegan "cheesecake" with raspberry and chocolate crust. You can buy the crystals here. If you cannot find them, you could just add beet juice or skip it altogether, but if you want to take this vegan cheesecake to another level … add them. It gives it a boost of color and incredible taste. Beets are super good for the liver, for circulation, for muscles and for people who exercise a lot, plus it has a lot of vitamin C.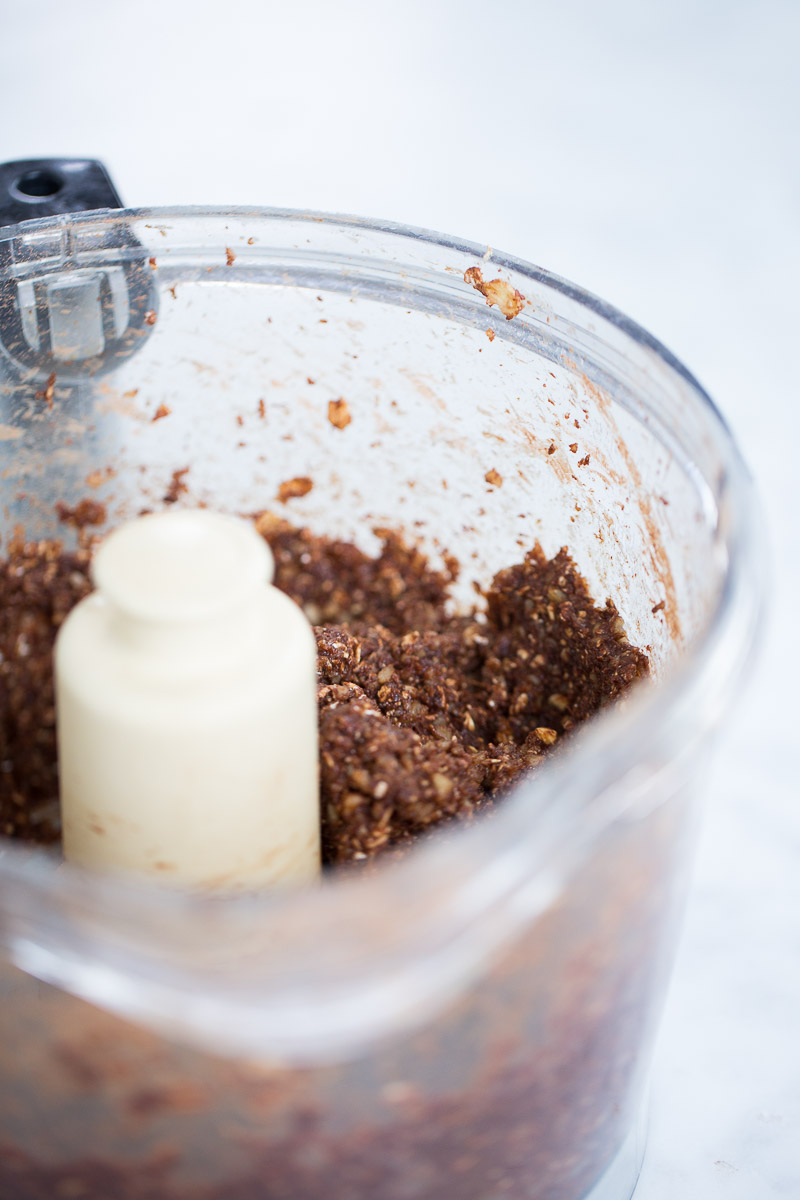 But ok, let me tell you all about this vegan cheesecake and how easy it is to prepare. There are pictures of every step, if you do not want to see them all, just click on the carrot icon on the right and you'll go directly to the recipe.
To make the chocolate crust just pulse all the crust ingredients in a food processor (affiliate link) bowl and then divide them between the muffin tin or springform mold.
To make the cheesecake filling blend all the ingredients until smooth and divide in the molds. When done freeze for three hours or put in the fridge overnight.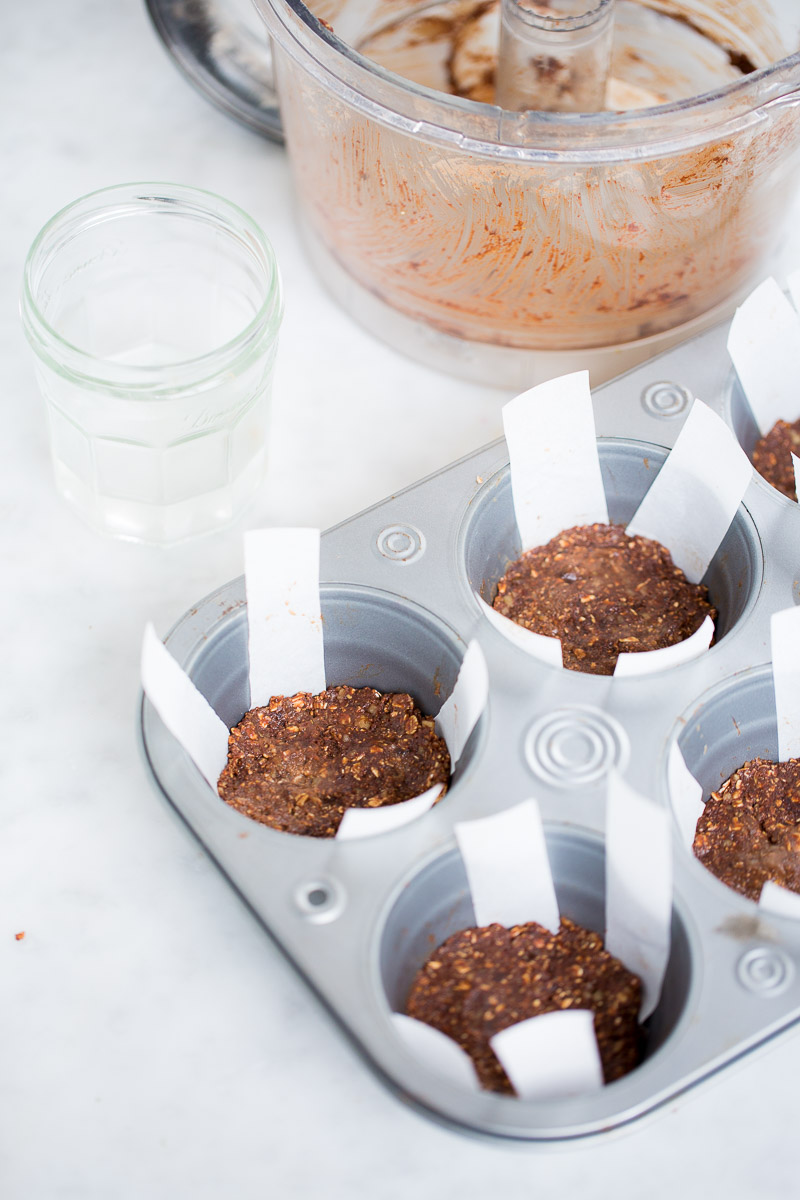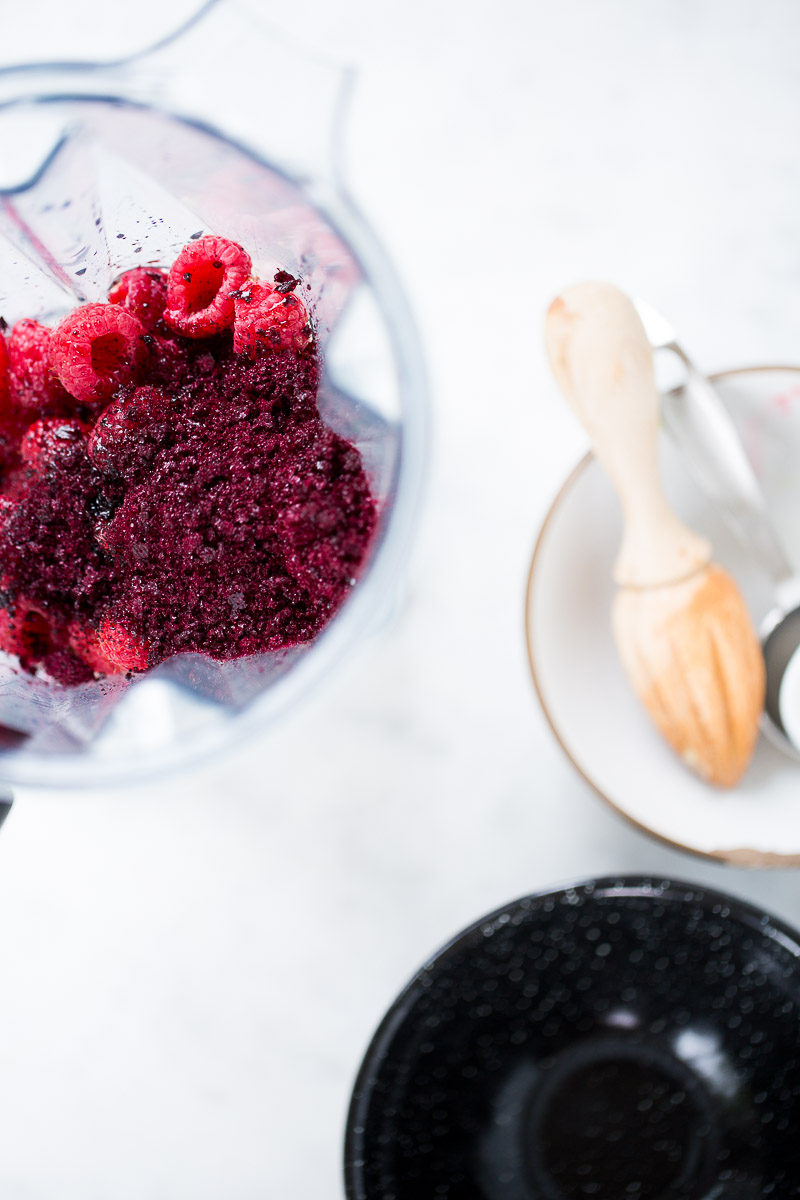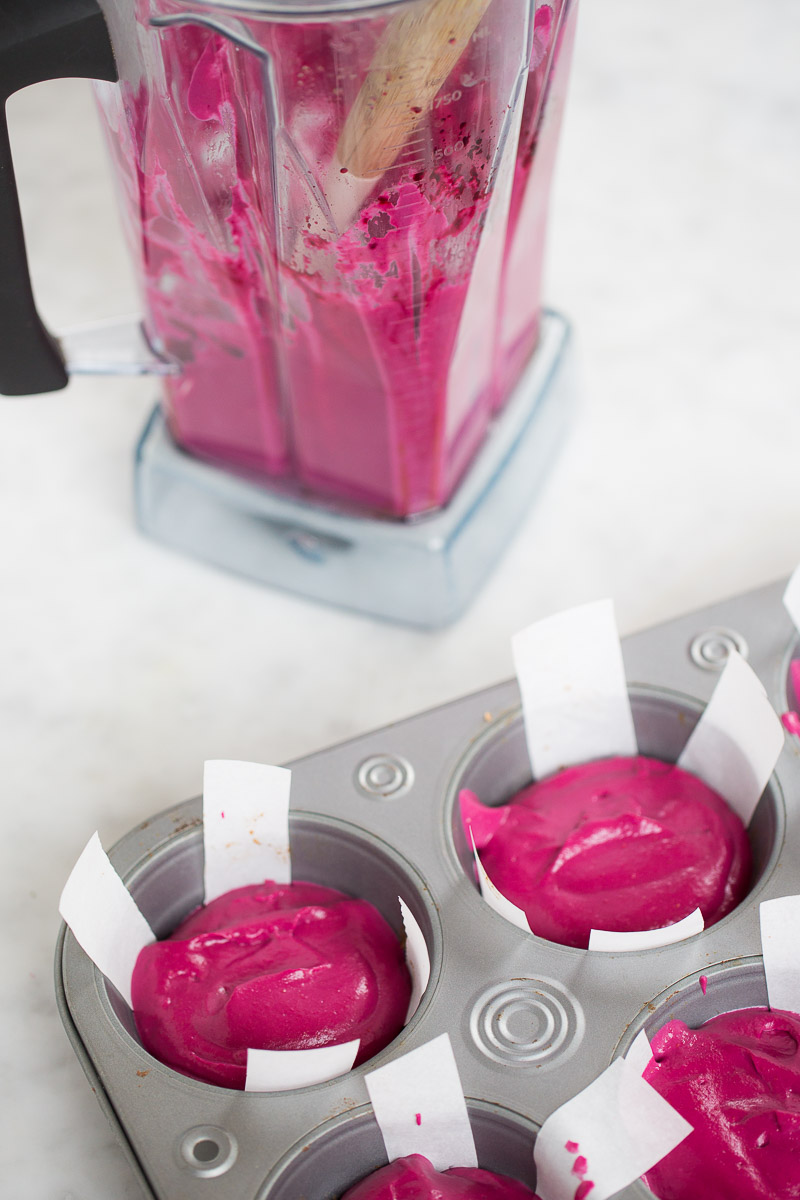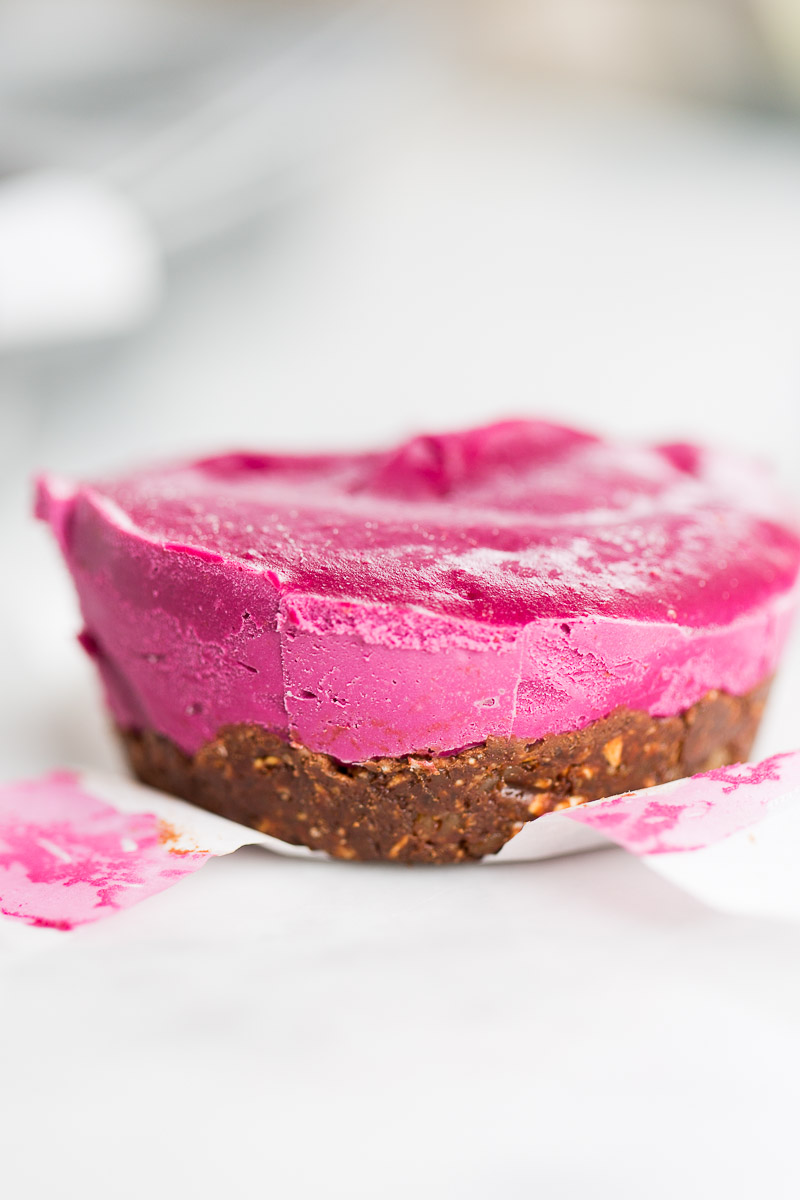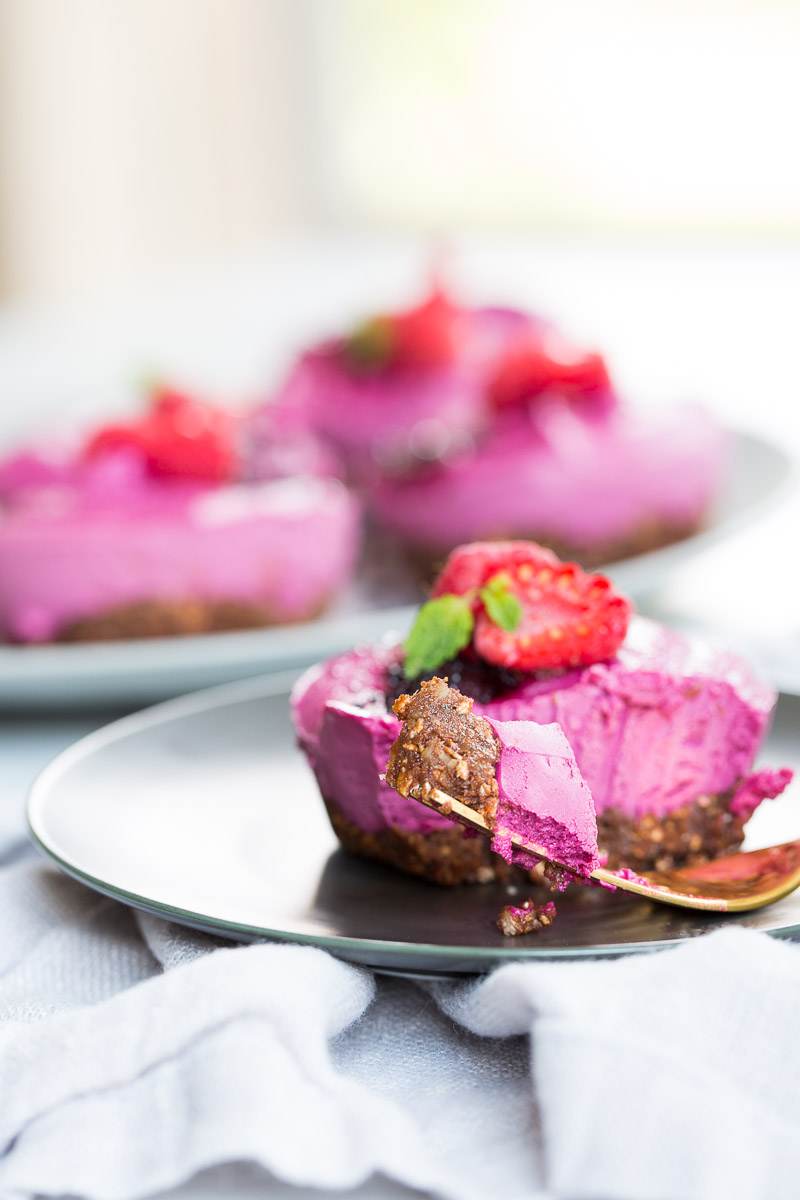 So here is the recipe for this
raw vegan cheesecake with raspberries and red beet crystals
and I hope you like it. If you do, please share the recipe and the blog.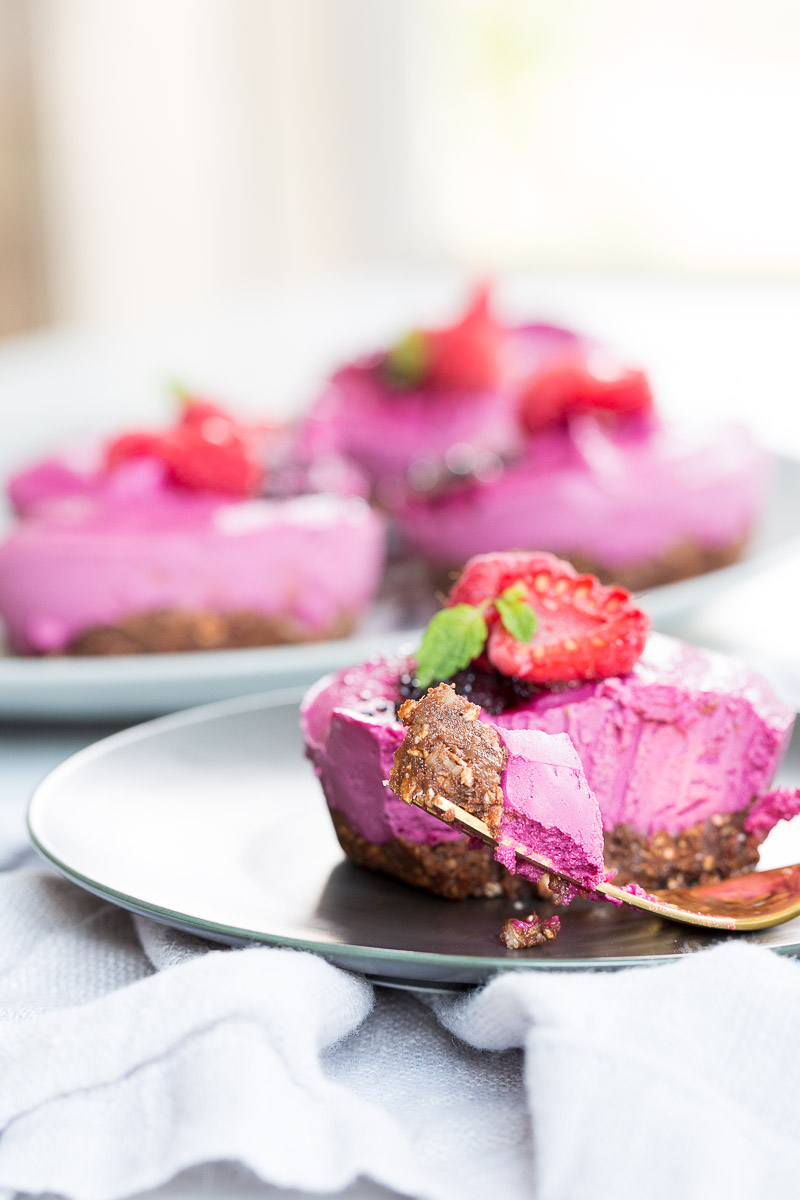 Vegan cheesecake
Ingredients
2

tablespoons

cocoa powder

1/2

cup

oats

1/2

cup

walnuts or pecans

6

dates

, soaked in hot water

1/4

teaspoon

salt

2

tablespoons

maple syrup
Filling
11/2

cups

cashews

, soaked for 5 hours minimum or overnight

1

tablespoon

lemon juice

1/3

cup

liquid coconut oil

1/3

cup

agave honey

1

cup

fresh raspberries

3

tablespoons

beet crystals

, FloraHealth

1

teaspoon

vanilla
Instructions
Prepare a springform pan or put two strips of baking paper into each muffin place of a muffin pan.

In the bowl of the food processor put the cocoa powder, oats, walnuts, dates (drained), salt and maple syrup. Pulse everything until is well integrated, about 10 times. It will be sticky and coarse in texture. Divide the mixture between your molds and with your wet fingers, press the mixture until it is firm and even. Put the mold into the refrigerator until you need it again.

Put in the blender the cashews along with raspberries, lemon juice, coconut oil, agave honey, red beet crystals and vanilla. Blend until all is perfectly blended. Divide the raspberry mixture over the chocolate crusts in the muffin tin or over the crust in the springform pan. With the back of a spoon, flatten the top of the filling, so it looks smooth. Put it into the freezer for three hours or overnight in the refrigerator. Decorate as you like.
information
Nutritional information of this recipe is only an estimate, the accuracy for any recipe on this site is not guaranteed.

Latest posts by Alejandra Graf
(see all)