In this post, you will find four Latin inspired recipes with strawberries. In each recipe, the star ingredient is the STRAWBERRY. You will discover new flavor combinations and new ways to use the strawberries, from cooked to raw, savory, blended, and whole.
Migas with Roasted strawberry salsa
You can find the recipe for these Migas with roasted strawberry salsa in this link.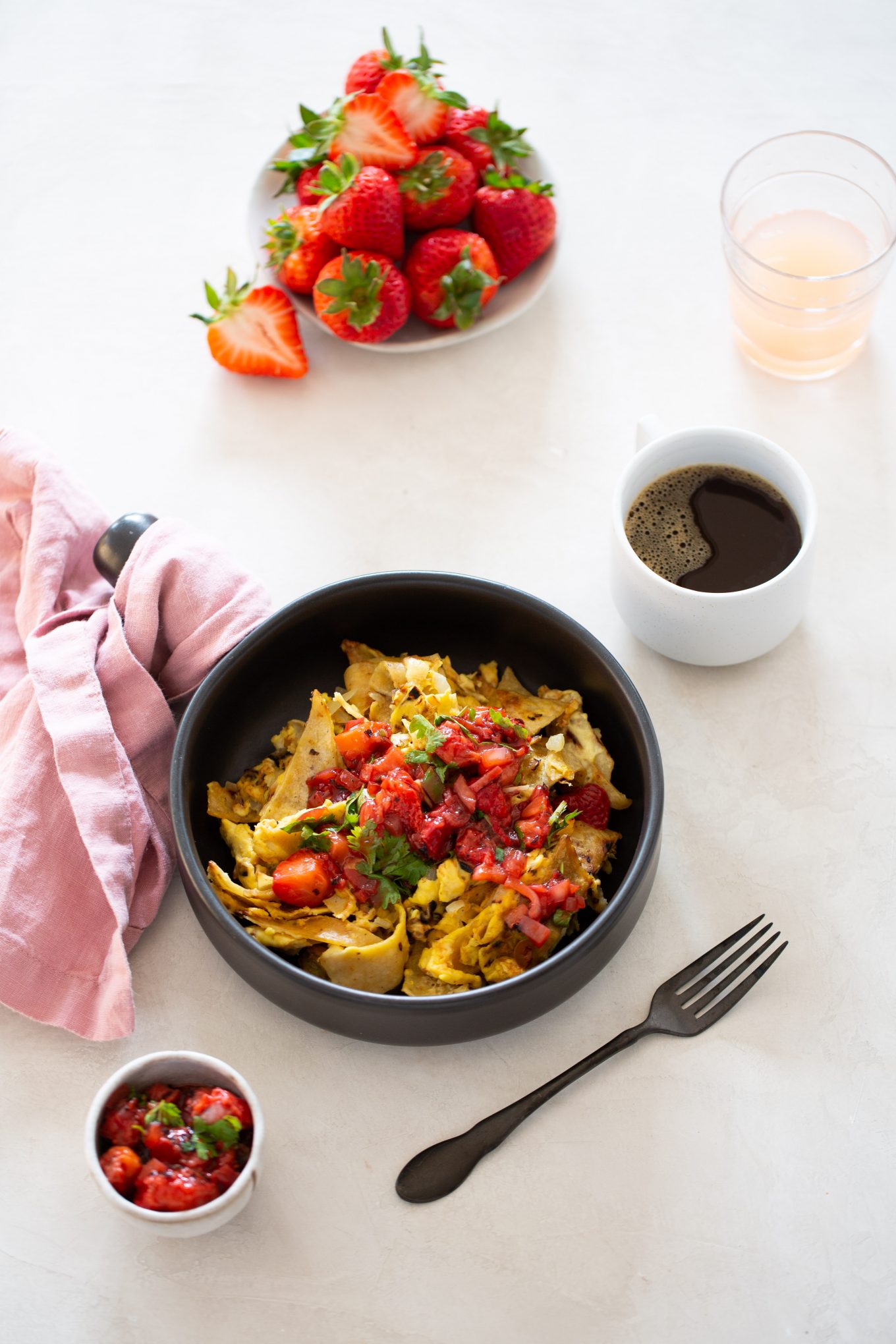 What are Migas? Migas are a traditional Mexican breakfast made with leftover corn tortillas cut into pieces, fried with white onion, and when crispy, an egg is added and cooked until scrambled. They are usually served with Mexican salsa and refried beans.
This version of Migas has a unique twist. I prepared them the traditional way by frying the corn tortilla pieces with onion and then adding the egg (I use vegan egg), but I served them with a delicious Roasted Strawberry Sauce.
How to make roasted strawberry salsa? Strawberries are so versatile and can be used in so many ways. Just by slicing a few and adding them to a salad or oatmeal bowl, it will elevate your meal to a new level. When using them in savory dishes, I like to treat them the same as tomatoes. So for this recipe, I roasted them with onions and serrano peppers and added fresh cilantro. You can find the complete recipe here.
Strawberry Fresa colada mousse
The complete recipe for the strawberry colada mousse is here.
The inspiration for this FRESA COLADA MOUSSE came from vacationing on Latin American beaches. Fresa colada is a typical tropical drink. It is very similar to the traditional Piña Colada drink, in which for both drinks you blend the fruit with coconut cream and ice. So I thought that this combination of coconut and strawberries would be a perfect summer dessert.
How to make the fresa colada mousse? This vegan dessert is very easy to prepare, but you have to be a bit patient. It comes together really fast but you will have to wait for it to set.
I achieved the perfect mousse texture of this strawberry treat by blending cashews (affiliate link) with coconut cream and other magical ingredients. You can find the complete recipe on the California Strawberry page.
Strawberry raspado with homemade chamoy sauce
In this link you will find the complete recipe for the strawberry raspados.
Ok, before I tell you what a raspado is, I have to tell you that you need this healthy treat in your life. Cold shaved ice with sweet, fresh, and bright strawberry syrup finished with a drizzle of chamoy sauce (Mexican sweet-tangy-spicy sauce). Once you try it, you will understand why.
What is a raspado? Raspados are Latin American street food. These healthy treats consist of shaved ice served in a plastic cup and then finished with a flavorful syrup and fun toppings. Originally, the syrup for the raspados was made with fresh fruit and a sweetener. Not anymore, but no worries because this recipe for STRAWBERRY RASPADO WITH HOMEMADE CHAMOY SAUCE has all-natural strawberry syrup.
The complete recipe for the strawberry raspado, with the fresh fruit syrup is here.
Plantains with strawberry chia jam
In this link, you will find the complete recipe for the plantains with strawberry chia jam.
Plantains as a dessert? Yes, it is a very Latin custom to use plantains as a dessert. You have probably tried plantains as chips with salsa or pico de Gallo, or as tostones with all kinds of delicious toppings.
But they are also amazing as a dessert. In traditional Mexican cuisine, ripe plantains are deep-fried in bubbly oil and then covered with spoonfuls of condensed milk and a generous spoonful of fruit preserve.
I still remember when this dessert was served at my parents' house while growing up. The sweet smell of the plantains filled the whole house and made this dessert even better.
Is there a healthier and easier version of this classic Mexican dessert? Yes, there is. My version calls for pan-fried ripe plantains, coconut vegan condensed milk, and a strawberry chia jam.
Also, instead of smothering the plantains with the condensed coconut milk, I just add a spoonful or two and go heavy on the strawberry chia jam. This chia strawberry jam is not only filled with the flavors and deliciousness of the strawberries, it also has all the nutritional benefits.
So go and check out all of the recipes in this post, I know you will love them. Please share on FB, Instagram your creations, I would love to see what you made.

Latest posts by Alejandra Graf
(see all)