If you have never tried roasted romaine lettuce, you are missing out on a delicious and nutritious culinary experience. This recipe is perfect for those looking to try a different salad full of flavor. It is also very easy to prepare and the tahini dressing is wonderful.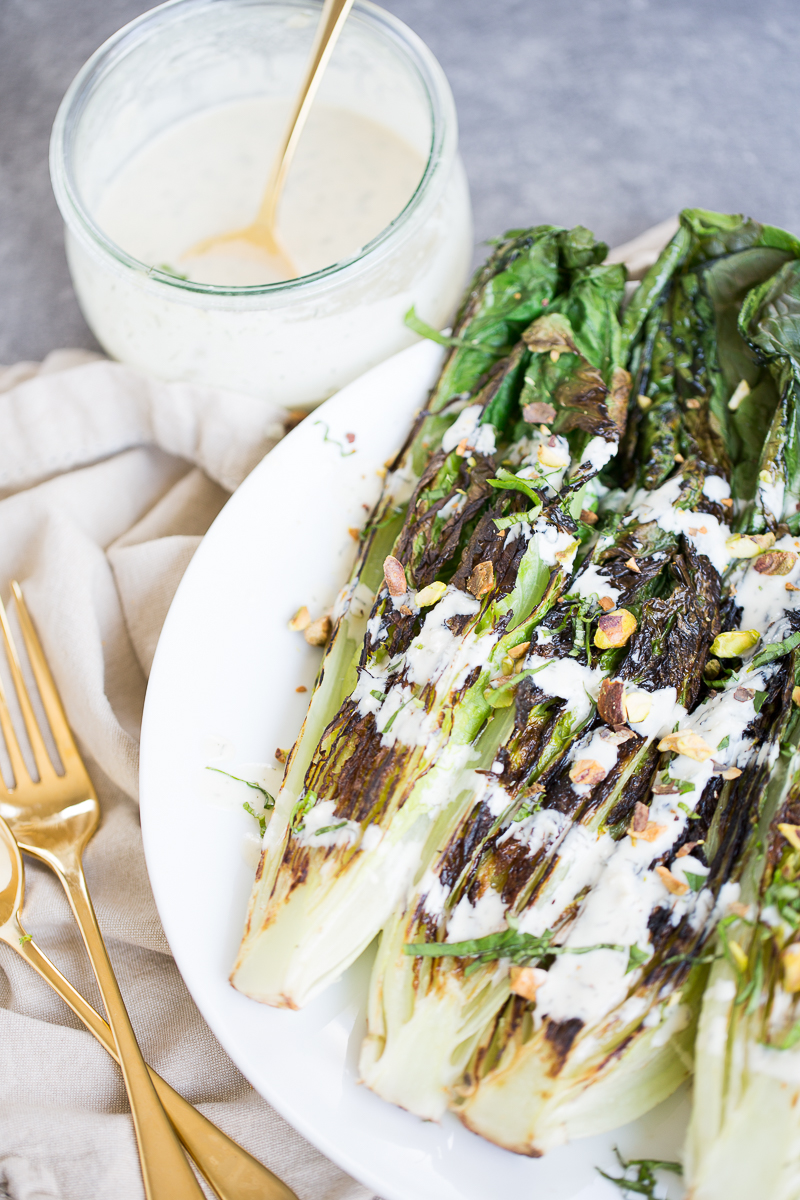 About this recipe
Grilled romaine lettuce is a delicious and creative way to enjoy romaine lettuce. Traditionally, most people eat lettuce in cold salads, but grilling it transforms it into a whole new culinary experience.
Why try it?
Roasting the lettuce gives it a texture and flavor that you won't find in more traditional preparations. The outer leaves acquire a smoky and slightly crunchy flavor, while the inner leaves remain tender and juicy. It's a great way to give your salads a twist and also works well as an accompaniment to pasta and other dishes.
The amazing thing about eating this type of romaine lettuce salad is that it feels like you're eating something totally new. If you were blindfolded, you wouldn't imagine that a roasted lettuce would taste so good. The texture changes and the flavor changes and the combination of the flavor with the good tahini dressing is the best.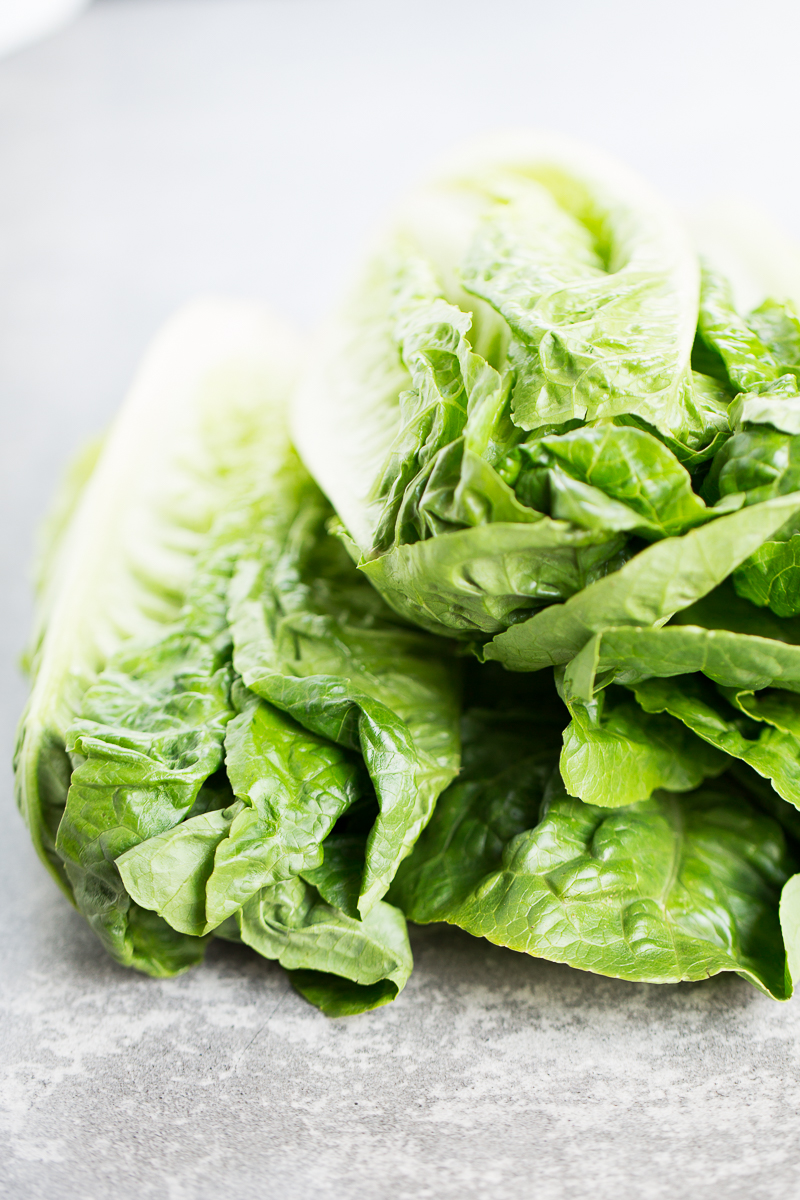 Benefits of romaine lettuce
Romaine lettuce has numerous benefits for our health. Here are some of them:
High in nutrients: Romaine lettuce is an excellent source of essential vitamins and minerals, such as vitamin A, vitamin K, vitamin C, folic acid, iron and calcium.
Promotes eye health: Thanks to its high vitamin A content, romaine lettuce helps maintain good eye health and prevent problems such as macular degeneration and cataracts.
Aids digestion: Romaine lettuce is rich in fiber, which promotes good digestion and prevents constipation. In addition, its water content helps to maintain adequate hydration.
Promotes weight loss: Romaine lettuce is low in calories and fat, which makes it an ideal food to include in weight loss diets. In addition, its high fiber content produces a feeling of satiety.
Strengthens the immune system: Thanks to its vitamin C content, romaine lettuce strengthens the immune system, helping to prevent diseases and keep us healthy.
Benefits cardiovascular health: Antioxidants present in romaine lettuce, such as flavonoids and carotenoids, help reduce the risk of cardiovascular diseases, such as high cholesterol and hypertension.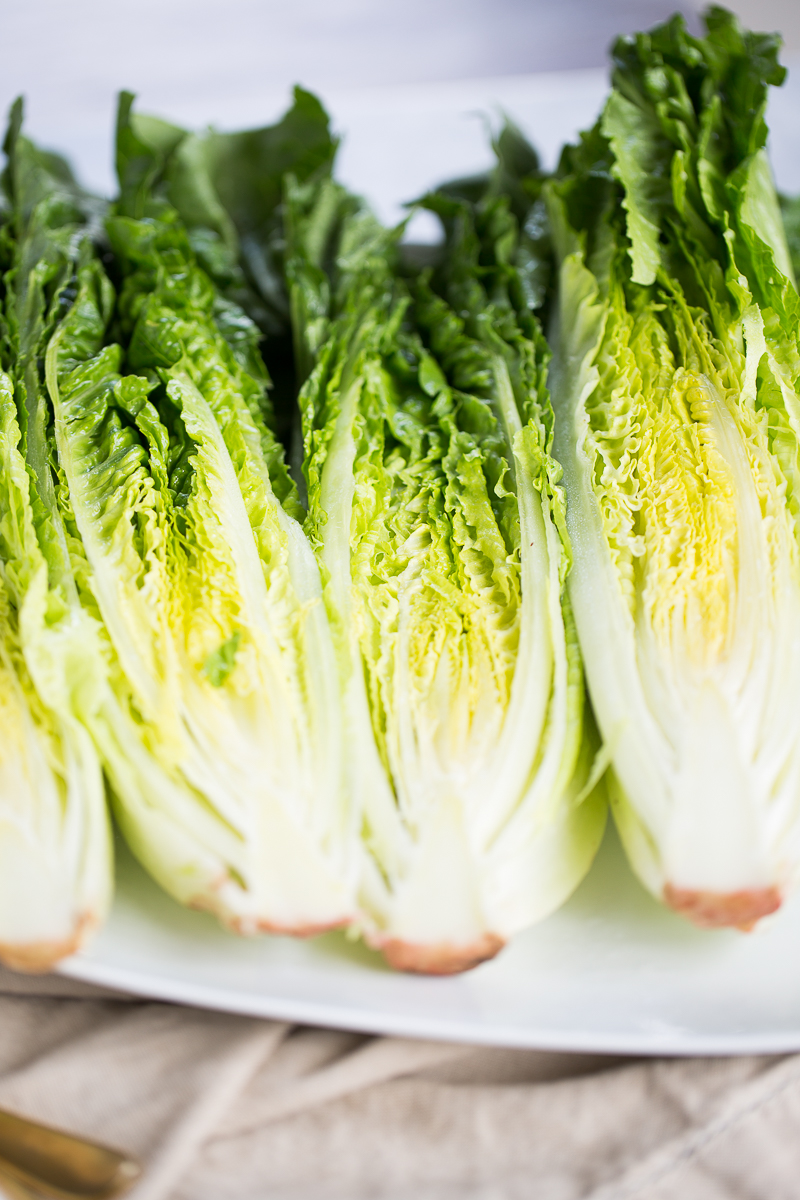 What is tahini?
Tahini is a paste made from toasted sesame seeds that is very popular in Middle Eastern, Mediterranean and also in some Asian cuisines. It has a creamy texture and a nutty flavor that can range from slightly bitter to deliciously rich, depending on how it is prepared.
Where to find it?
You can find tahini in most supermarkets, especially in the international or health food section. You can also make it at home if you have access to sesame seeds and a good food processor (affiliate link).
Health Benefits
Tahini is rich in nutrients such as calcium, iron and healthy fats. It is also a good source of vegetable protein.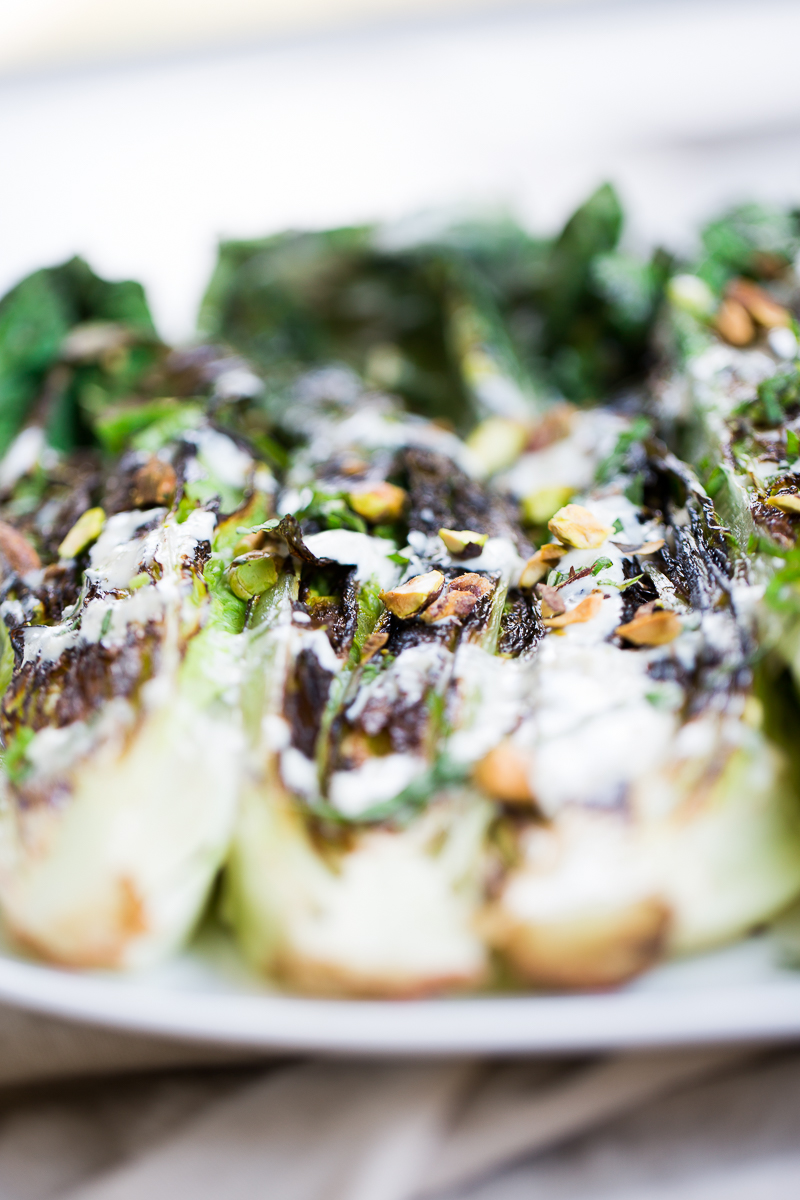 How to roast lettuce?
Cleaning and preparation: Wash the romaine lettuce leaves well and then cut them in half lengthwise, keeping the core intact so that the leaves stay together.
Season: You may choose to drizzle the lettuce halves with a little olive oil and season them with salt, pepper and perhaps a little garlic powder or dried herbs.
Hot grill or griddle: Preheat the grill to medium-high heat. If you are using an indoor grill, make sure it is very hot before adding the lettuce. Also check that it does not stick, it is better if you put a little oil if you are not sure.
Grilling: Place the lettuce halves on the grill with the cut side down. Cook for 2-4 minutes or until you begin to see grill marks and the outer leaves begin to char slightly.
Serve: While the lettuce is roasting, prepare the dressing. Remove the lettuce from the grill, place it on a platter and add the dressing.
At the end, I like to add pistachios and some fresh herbs like basil or mint. I serve it as a starter or to accompany a rice or lentil dish.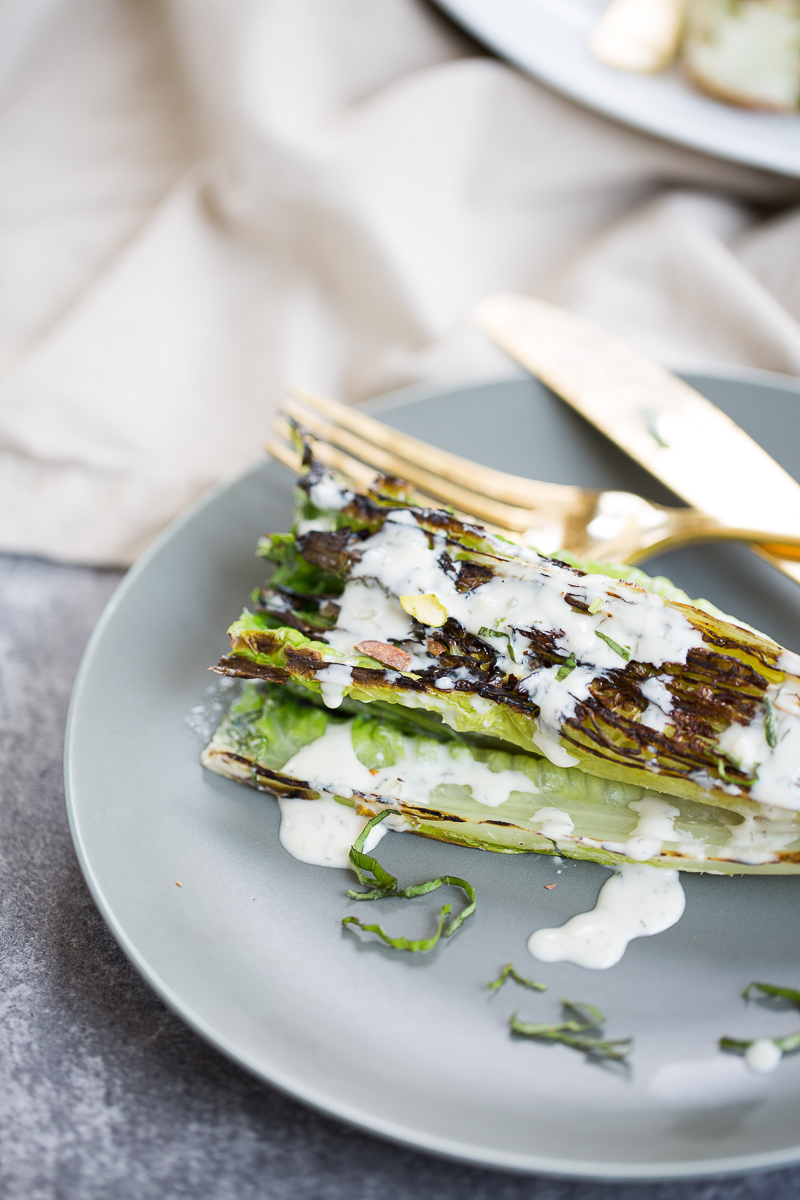 How to make the dressing?
To make the dressing, mix all the ingredients in a jar. Add the hot water little by little, while blending until you have a liquid consistency of dressing.
If you have leftover dressing, store it in a tightly closed jar in the refrigerator and use it on other salads or roasted vegetables.
Can roasted lettuce be stored?
Yes, it is possible to store roasted lettuce, but keep in mind that its texture and flavor may change when refrigerated. If you wish to store it, be sure to store it in an airtight container in the refrigerator.
Note that when reheated, the roasted lettuce may lose some of its original crispness. Remember to consume it within the next few days to guarantee its freshness and quality. Enjoy your roasted lettuce!
Other recipes you may like:
¿Hiciste esta receta y te encantó? ¡Dale ⭐️⭐️⭐️⭐️⭐️! Déjame saber si tienes preguntas sobre esta receta en la sección de comentarios o envíame un mensaje privado en Instagram. Síguenos en Facebook y Pinterest para seguir en contacto, y no se te olvide suscribirte a mi boletín.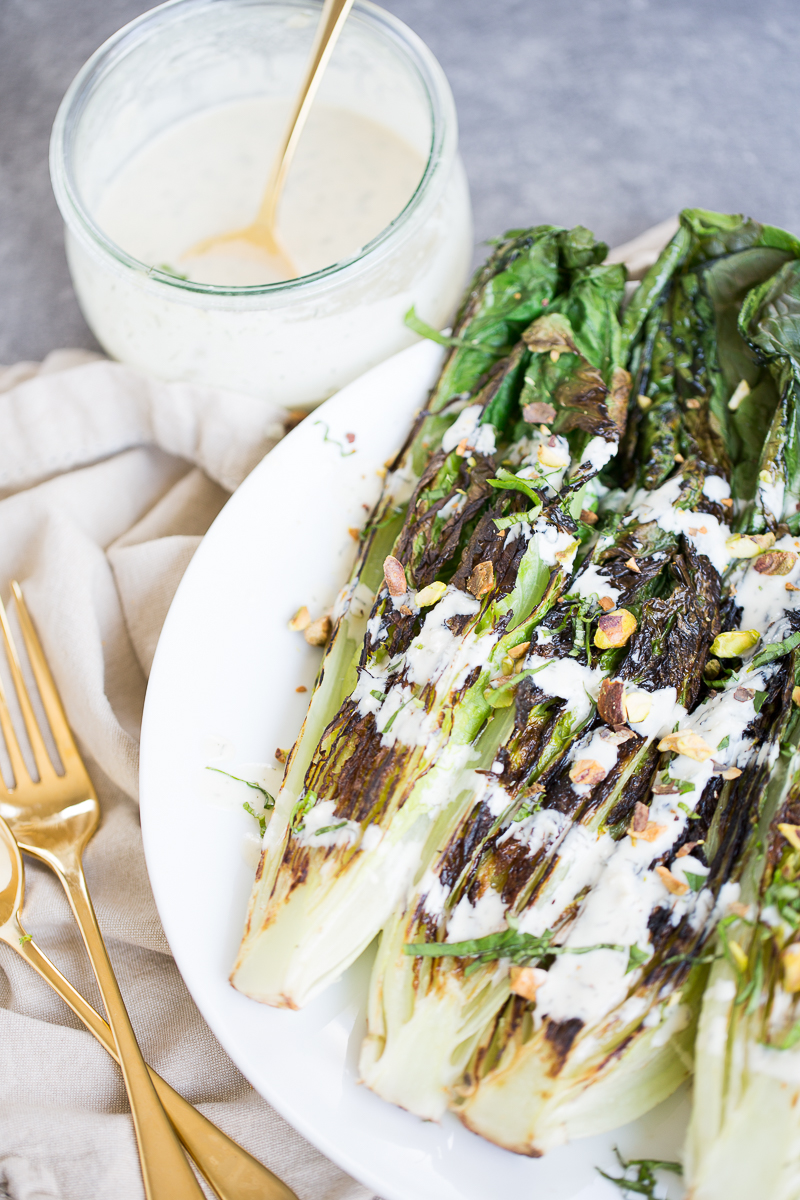 Grilled romaine lettuce leaves until they are golden and a bit crunchy on the outside, but super juicy on the inside. Topped off with a creamy tahini and lemon dressing. It's like a festival of flavors and textures in every bite! All ready in just 10 minutes.
Ingredients
Dressing
1

clove

of garlic

pressed

3

tablespoons

of tahini

3

tablespoons

of lemon juice

1/2

teaspoon

of salt

4-6

tablespoons

of hot water

1/2

teaspoon

or 1/4 teaspoon of dried dill *optional
Lettuce
3

romaine lettuces

halved

1

teaspoon

of oil

salt to taste
To serve
1/4

cup

of pistachios or any other nut

10

small sliced mint or basil leaves
Instructions
To make the dressing, mix all the ingredients well in a jar. Add the hot water little by little, stirring until you achieve a liquid consistency of the dressing.

Taste for salt and set aside until ready to use.

Cut the lettuces in half. On a flat skillet, griddle, or grill, place the teaspoon of oil and put the lettuces on, with the cut side facing down.

Leave them for about 5-7 minutes or until they are well grilled.

Place them on an extended platter and drizzle with the dressing, finish with the pistachios and mint or basil.
Nutrition
Serving:
1
serving
Calories:
469
kcal
Carbohydrates:
25
g
Protein:
16
g
Fat:
38
g
Saturated Fat:
5
g
Polyunsaturated Fat:
15
g
Monounsaturated Fat:
16
g
Sodium:
1190
mg
Potassium:
800
mg
Fiber:
7
g
Sugar:
5
g
Vitamin A:
7692
IU
Vitamin C:
26
mg
Calcium:
141
mg
Iron:
4
mg
information
Nutritional information of this recipe is only an estimate, the accuracy for any recipe on this site is not guaranteed.
This post is a republish from September 2016.

Latest posts by Alejandra Graf
(see all)