Indulge in the rich flavors of this delicious vegan pesto recipe, perfect for elevating any dish. With its classic blend of fresh basil, garlic, pine nuts, and olive oil, this pesto is versatile enough to be used in a variety of dishes. Whether you're looking for a quick and easy pasta dish for a romantic dinner or want to add a touch of flavor to your salad, sandwich, or dip, this recipe is sure to impress.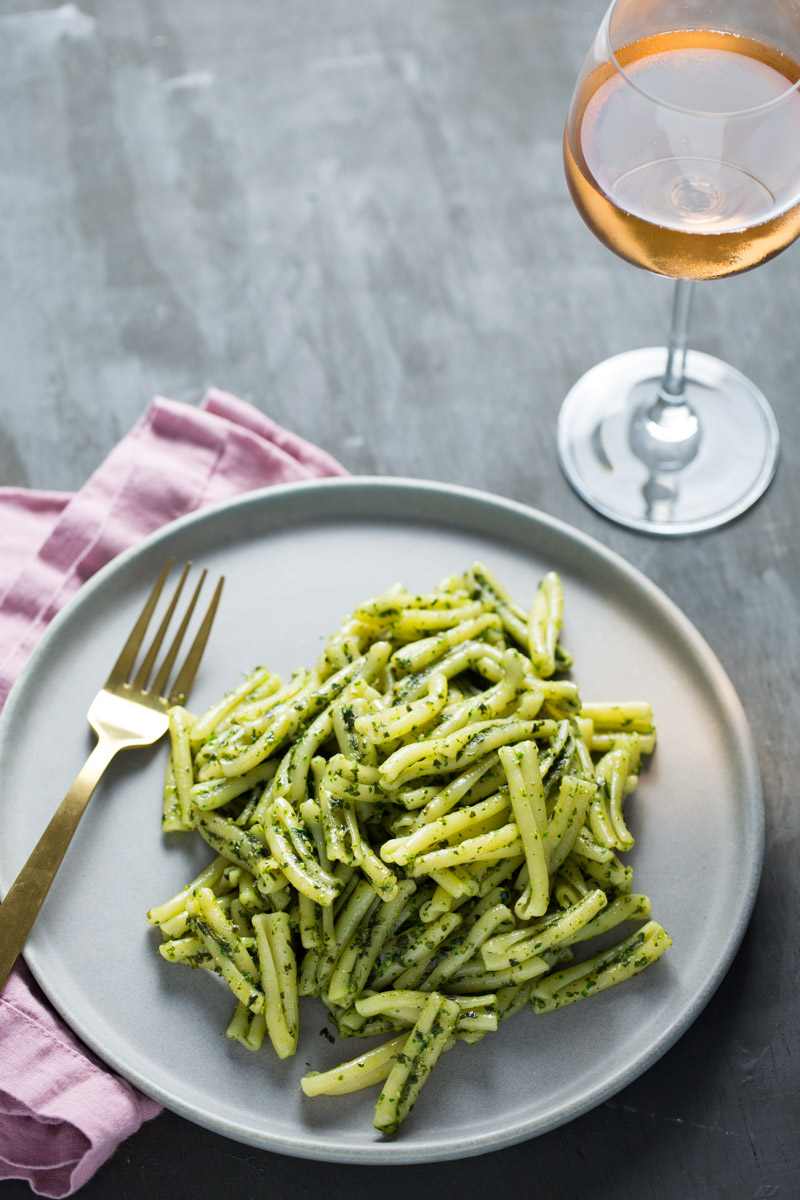 WHAT IS PESTO?
Did you know that pesto is actually a sauce-making method derived from the Italian word "pestare," meaning to crush, grind, or pound? To make pesto, all you need is a pestle and mortar to grind the ingredients into a paste-like consistency. The classic recipe consists of pine nuts, basil, parsley, garlic, Parmesan cheese, and olive oil blended to perfection.
But you can make pesto out of many, many things—for example, kale pesto, pistachio pesto, or a delicious pesto with almonds. You can even make pesto with avocado, which is super rich and is a super good source of vegan fat for our body.
WHY ARE YOU GOING TO LOVE THIS RECIPE?
This pesto recipe is made with parsley, garlic, olive oil, and basil, like the traditional pesto recipe, but it doesn't have parmesan cheese because my recipe is vegan.
People love pesto because of its unique and delicious taste and its versatility. Additionally, the simplicity of the recipe and the availability of the ingredients make it a popular choice for home cooks.
It has become a staple in my house, along with salsa verde and hummus. These three things are my go-to basics when I can't think of what to prepare for lunch or dinner.
INGREDIENTS TO MAKE VEGAN PESTO
Basil, use fresh basil; remember that we will always end with a good dish if we start with a good ingredient. Use basil leaves that are all green and have no wilted bits. The fresher the basil, the more flavor there is.
Parsley. You can use Italian parsley or curly-leaf parsley; either one works well.
Garlic.
Salt
Olive oil.
Pine nuts. If you don't have pine nuts, you can use any other nut like cashews (affiliate link), or almonds. If you are allergic to nuts, you can replace them with seeds like sunflower seeds or pumpkin seeds. These seeds provide a similar creamy and nutty flavor to the pesto sauce. Additionally, they are packed with nutrients such as protein, healthy fats, and minerals.
Nutritional value of ingredients
Here are the nutritional values of some of the key ingredients used in vegan pesto:
1. Basil: Basil is a good source of vitamins A, K, and C, as well as iron and calcium. It also contains antioxidants and has anti-inflammatory properties.
2. Parsley: Parsley is rich in vitamins A, C, and K, and it contains minerals like potassium and iron. It also acts as a natural breath freshener and aids in digestion.
3. Garlic: Garlic is low in calories but high in nutrients. It contains antioxidants and has been linked to various health benefits, including improved heart health and immune function.
4. Olive Oil: Olive oil is a healthy source of monounsaturated fats, which can help reduce inflammation and support heart health. It also contains vitamin E and antioxidants.
5. Pine Nuts: Pine nuts are nutrient-dense and provide a good source of healthy fats, protein, and dietary fiber. They are also rich in minerals like magnesium, zinc, and iron.
These ingredients not only add flavor to the pesto but also offer various nutritional benefits, making vegan pesto a healthy addition to your meals. Remember that the specific nutritional values may vary slightly depending on the exact quantities used in the recipe.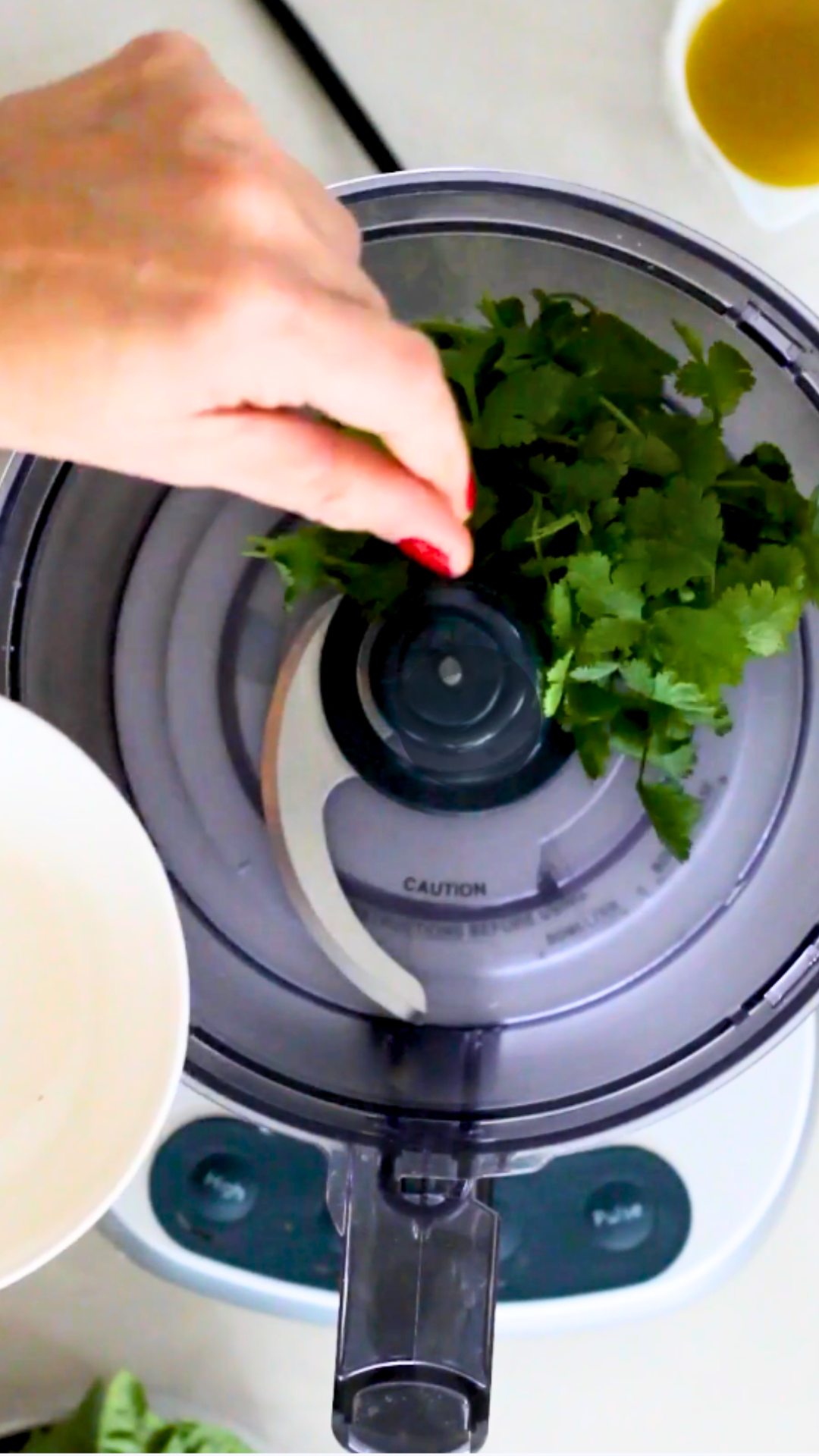 Step-by-step instructions for making vegan pesto
1. Gather your ingredients: fresh basil, parsley, garlic, salt, olive oil, and pine nuts (or any other nut of your choice).
2. Process. Add the basil and parsley leaves if using a food processor (affiliate link) or blender. Pulse or blend until they are finely minced.
3. Keep adding. Next, add the garlic clove (chopped), salt, and pine nuts to the processor or blender. Give it another pulse or blend to combine the ingredients.
4. Add the olive oil. Slowly pour in the olive oil while the processor or blender is running at low speed. Continue blending until the mixture is well integrated and has a smooth consistency.
5. Pause and taste the pesto. Adjust the seasoning if necessary, adding more salt or any other desired spices.
6. Variations. If using a pestle and mortar, follow the same process but manually crush and mix the ingredients until smooth and well combined.
7. Transfer the pesto to a jar or airtight container once it is ready. To prevent oxidation, you can add a thin layer of olive oil on top before sealing the container.
8. Store the pesto in the refrigerator, where it can last for about three weeks.
Tips for making it
It's as easy as putting the ingredients in a food processor (affiliate link) or blender. You could also do it with the traditional method, by hand and using a pestle and mortar.
It is better to put the herbs first and press pulse to mince in the food processor, then add the salt and garlic. It is better to chop the garlic before adding it roughly.
Then add the pine nuts or nuts you will use and give it a pulse. Finally, add the olive oil and turn on the food processor or blender at low speed until everything is well integrated—taste before removing from processor and adjust seasoning if necessary.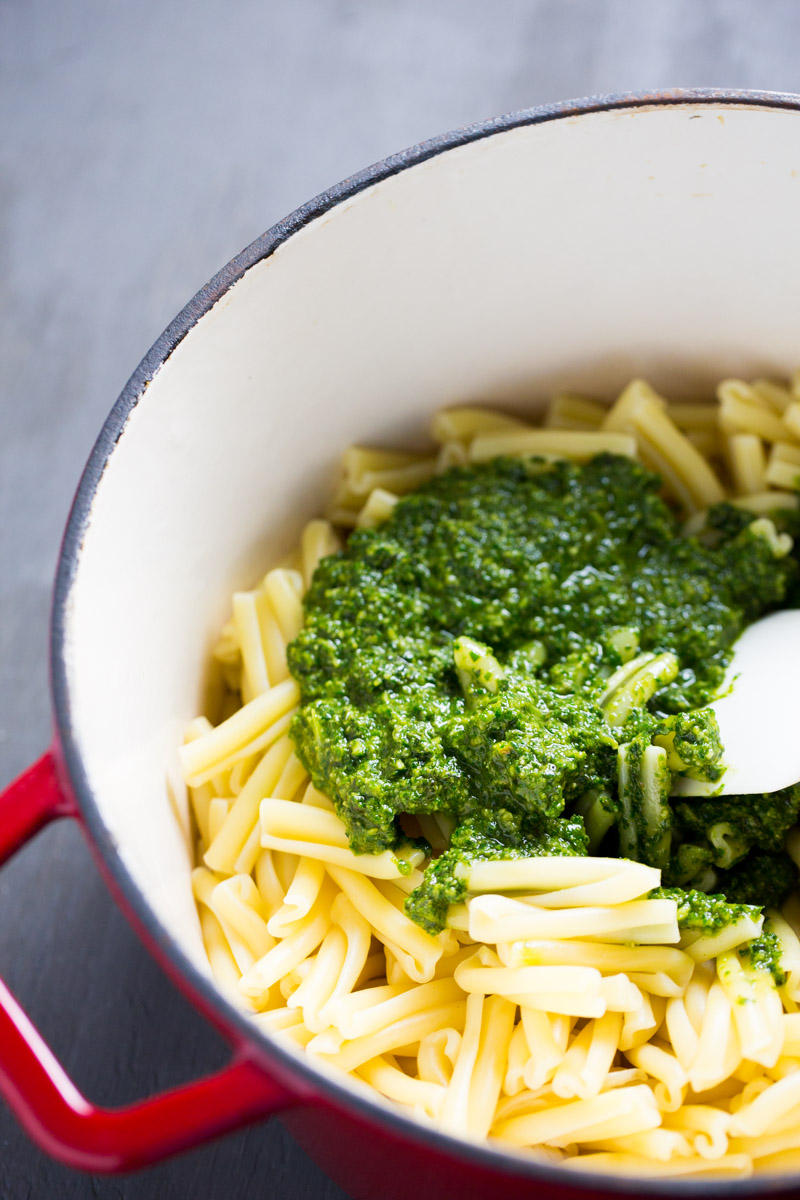 HOW TO USE vegan PESTO?
What I usually do is prepare the basil and parsley pesto and always have it in the refrigerator so I can use it and make super quick meals with it:
How to store pesto
Pesto lasts about three weeks in the refrigerator; it is normal for it to get darker on the top layer. To prevent it, add a thin layer of olive oil on top to prevent oxidation.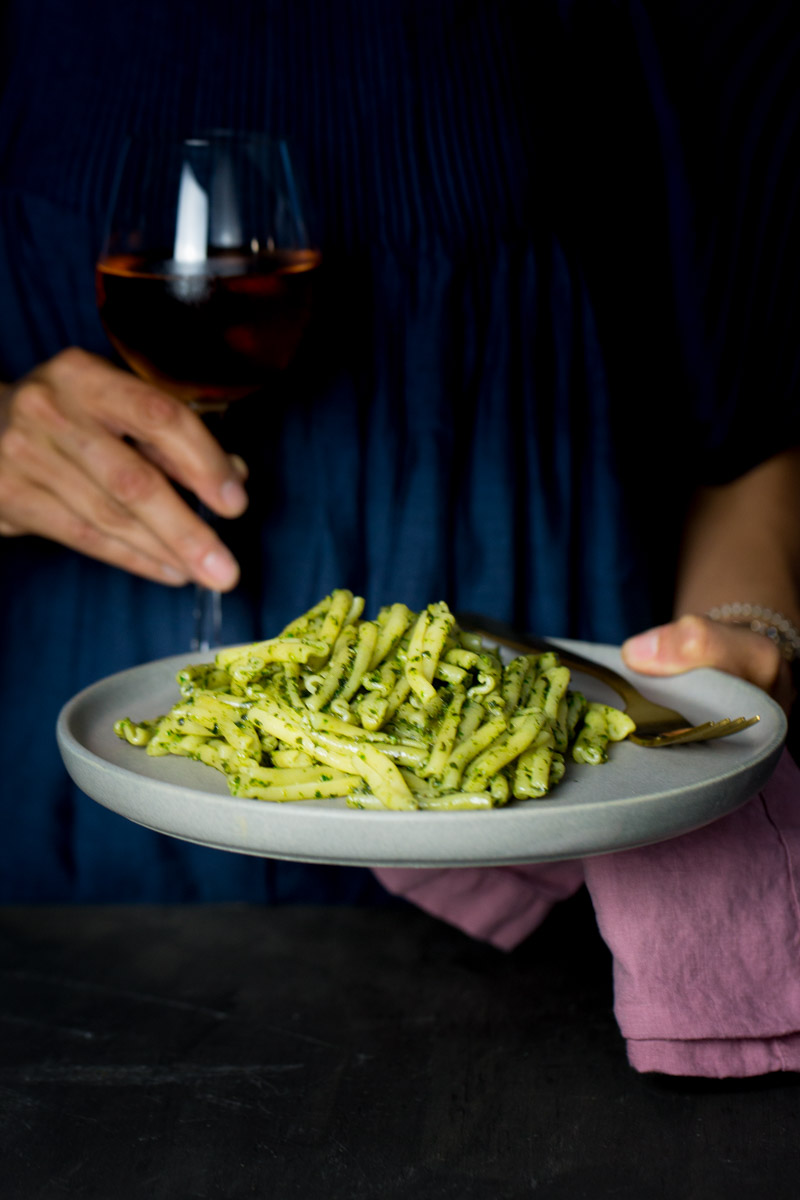 Substituting Dairy in Pesto
When it comes to making a vegan pesto, finding suitable substitutions for traditional dairy ingredients can be a challenge. However, with a few simple swaps, you can create a delicious and creamy vegan pesto that will satisfy even the most discerning palate.
One of the key ingredients in traditional pesto is Parmesan cheese. To replace this dairy component, you can try using nutritional yeast. Nutritional yeast has a cheesy, nutty flavor that adds a depth of flavor to your vegan pesto. Simply add a tablespoon or two of nutritional yeast to your pesto recipe to achieve that authentic Parmesan taste.
Another important component of pesto is the creaminess that comes from ingredients like butter or heavy cream. To achieve a similar texture without using dairy, you can opt for creamy alternatives such as cashews (affiliate link) or avocado. Soaking cashews overnight and blending them with the other pesto ingredients will create a rich and creamy base. Alternatively, blending ripe avocado with the herbs and nuts will give your vegan pesto a smooth and velvety texture.
For those who prefer a lighter pesto, you can substitute dairy with vegetable or olive oil. These oils will help bind the ingredients together and create a smooth consistency. Additionally, using high-quality olive oil will add a delightful fruity flavor to your pesto.
To enhance the umami taste in your vegan pesto, consider adding sun-dried tomatoes or olives. These ingredients bring a burst of savory flavor and complement the herbs and nuts perfectly.
Other vegan pesto recipes that you may like:
This recipe for vegan pesto is creamy, healthy, easy, hassle-free, and a crowd-pleaser. Every time I have kids over, I prepare a huge bowl of pasta with pesto.
Made and loved this recipe? Give it a ⭐️⭐️⭐️⭐️⭐️ rating below. Let me know if you have questions about this recipe in the comment section or DM me on Instagram. Follow on Facebook and Pinterest to stay in touch, and don't forget to subscribe to my newsletter.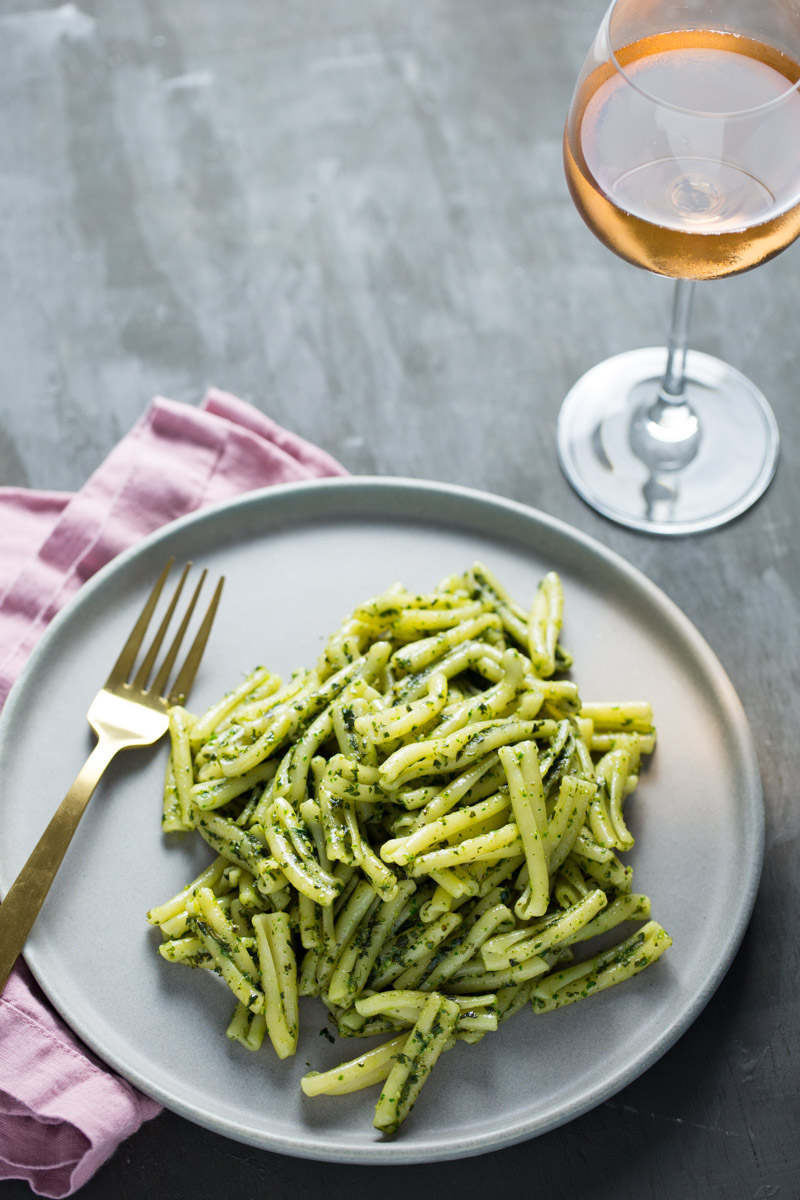 Classic vegan pesto
Indulge in the mouth-watering flavors of this classic vegan pesto recipe that is not only easy to make but also incredibly versatile. Whether you want to add a zesty twist to your sandwiches, or toss your pasta with a luscious green sauce, or whip up a scrumptious dip, this pesto recipe is your go-to solution. With its fresh ingredients and delectable taste, you are sure to fall in love with this recipe in no time!
Ingredients
3

cups

basil

1

cup

parsley

1

garlic clove

1/4

teaspoon

salt

1/2

cup

olive oil

1/2

cup

pine nuts

1

teaspoon

freshly ground black pepper

big pinch of salt

1

pound

casarecce or penne or any pasta
Instructions
Put the rest of the ingredients in the blender or food processor, blend until well integrated.

Drain the pasta, saving one cup of water.
For pasta
Cook pasta according to package directions.

Add about three tablespoons of pesto to the pasta a mix carefully, slowly add more until all pasta has pesto. If it is dry add a 1/4 of water were the pasta cooked.
Notes
Here are a few ways to store pesto to ensure it stays fresh and flavorful for as long as possible.
Refrigeration: Pesto can be stored in an airtight container in the refrigerator for up to a week. To prevent browning, press plastic wrap directly onto the surface of the pesto before sealing the container.
Freezing: Pesto can also be frozen for more extended storage. Place the pesto in an airtight container or a plastic freezer bag and squeeze out as much air as possible. Pesto can be frozen for up to three months.
Adding oil: If you want to store the pesto for longer, add a layer of oil on top of the pesto before sealing the container, preventing the pesto from browning.
Avoid storing pesto in metal containers, as the acidity in the pesto can react with the metal and alter the taste.
When ready to use the pesto, thaw it in the refrigerator overnight or at room temperature for a few hours. You may need to give it a quick stir or blend before using it.
Nutrition
Serving:
1
serving
Calories:
3145
kcal
Carbohydrates:
357
g
Protein:
73
g
Fat:
162
g
Saturated Fat:
19
g
Sodium:
649
mg
Potassium:
2017
mg
Fiber:
21
g
Sugar:
15
g
Vitamin A:
8855
IU
Vitamin C:
93.7
mg
Calcium:
336
mg
Iron:
16.7
mg
information
Nutritional information of this recipe is only an estimate, the accuracy for any recipe on this site is not guaranteed.

Latest posts by Alejandra Graf
(see all)