This is the only vegan pesto recipe you need. With this classic pesto recipe, you can make anything from pasta for a quick or romantic dinner, a salad, a sandwich, a dip whatever you can think of.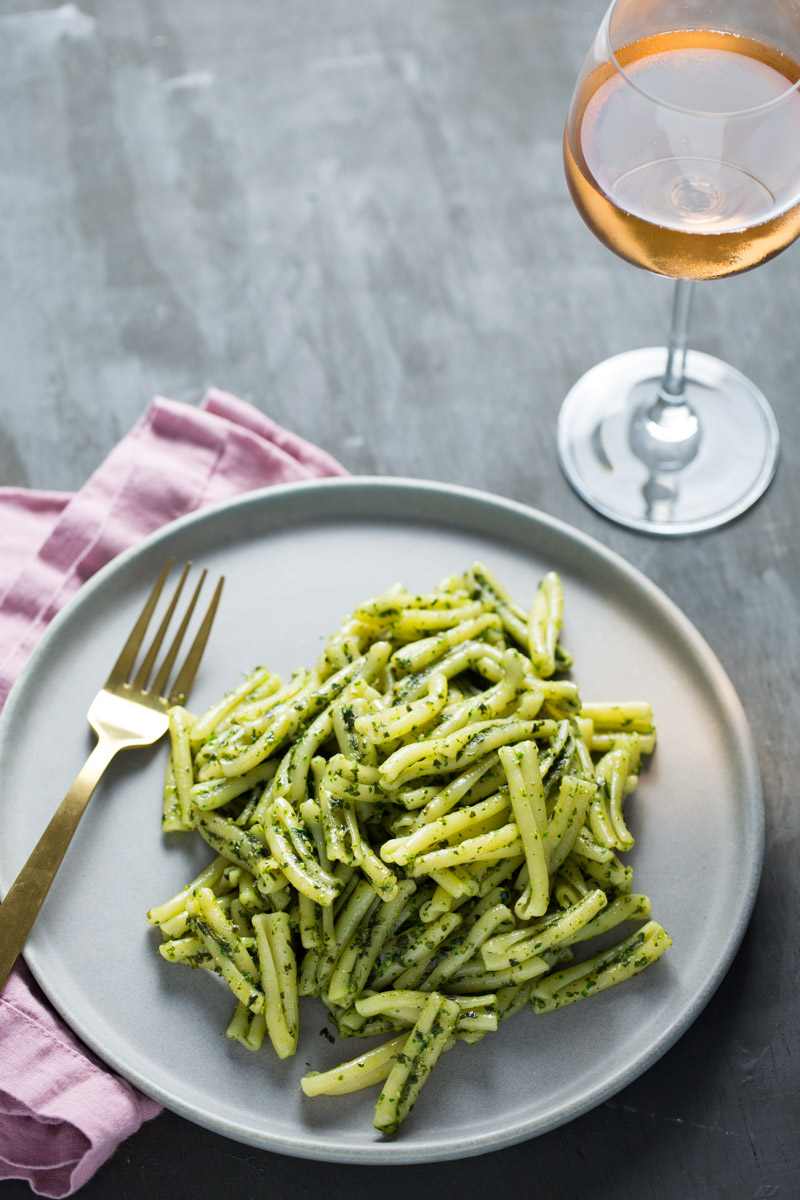 WHAT IS PESTO?
It's important to know that pesto is a method of making a "sauce." It is called pesto because you use a p stle and mortar. The classic pesto is made with pine nuts, basil, parsley, garlic, Parmesan cheese, and olive oil.
But you can make pesto out of m ny, many things. For example, kale pesto, pistachio pesto, or a delicious pesto with almonds. You can even make pesto with avocado, which is super rich and is a super good source of vegan fat for our body.
WHY ARE YOU GOING TO LOVE THIS RECIPE?
This pesto recipe is made with parsley, garlic, olive oil, and basil, like the traditional pesto recipe but it doesn't have parmesan cheese because my recipe is vegan.
People love pesto because of its unique and delicious taste and its versatility. Additionally, the simplicity of the recipe and the availability of the ingredients make it a popular choice for home cooks.
It has become a staple in my house, along with salsa verde and hummus. These three things are my go-to basics when I can't think of what to prepare for lunch or dinner.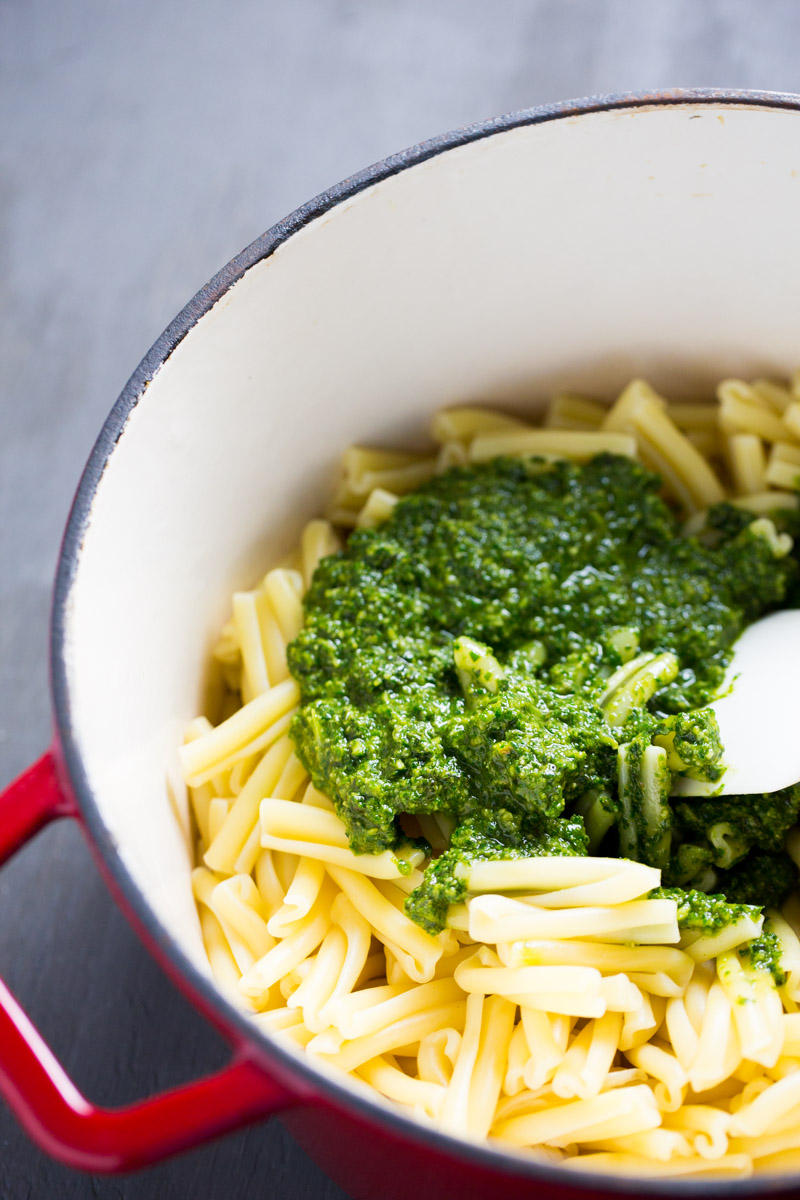 INGREDIENTS TO MAKE VEGAN PESTO
Basil, use fresh basil; remember that we will always end with a good dish if we start with a good ingredient. Use basil leaves that are all green and have no wilted bits. The fresher the basil, the more flavor there is.
Parsley. You can use Italian parsley or curly leave parsley; either one works well.
Garlic.
Salt
Olive oil.
Pine nuts. If you don't have pine nuts, you can use any other nut.
HOW TO MAKE vegan PESTO?
It's as easy as putting the ingredients in a food processor (affiliate link) or blender. You could also do it with the traditional method, by hand and using a pe tle and mortar.
TIPS: It is better to put the herbs first and press pulse to mince in the food processor (affiliate link), then add the s lt and garlic. It is better to chop the garlic before add ng it roughly.
Then add the pine nuts or nut that you are going to use and gi e it a pulse. Finally, add the olive oil and turn on the food processor or blender at low speed until everything is well integrated—taste before removing from processor and adjust seasoning if necessary.
HOW TO USE vegan PESTO?
What I normally do is prepare the basil and parsley pesto and always have it in the refrigerator so I can use it and make super quick meals with it:
How to store pesto
Pesto lasts about three weeks in the refrigerator; it is normal for it to get darker on the top layer. To prevent it add a thin layer of olive oil on top to prevent oxidation.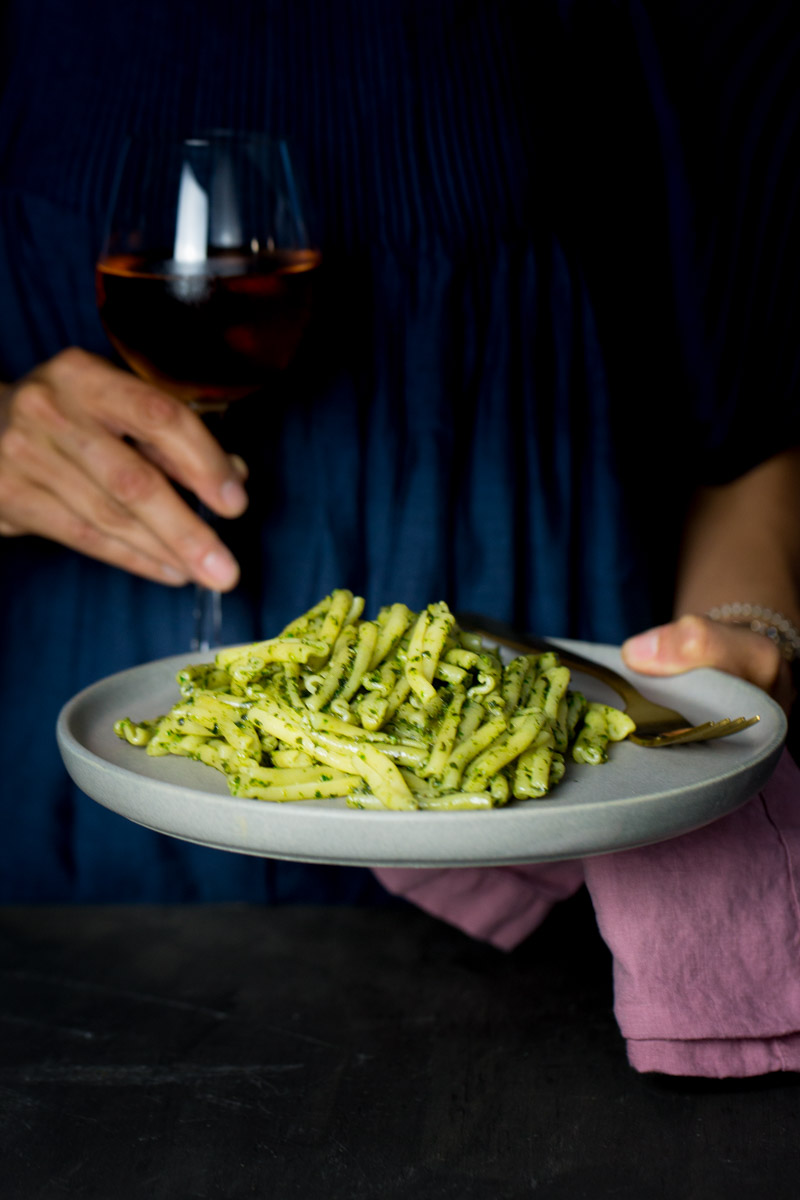 Other vegan pesto recipes that you may like:
This recipe for vegan pesto is creamy, healthy, easy, hassle-free, and a crowd-pleaser. Every time I have kids over, I prepare a huge bowl of pasta with pesto.
Made and loved this recipe? Give it a ⭐️⭐️⭐️⭐️⭐️ rating below. Let me know if you have questions about this recipe in the comment section or DM me on Instagram. Follow me on Facebook and Pinterest to stay in touch, and don't forget to subscribe to my newsletter.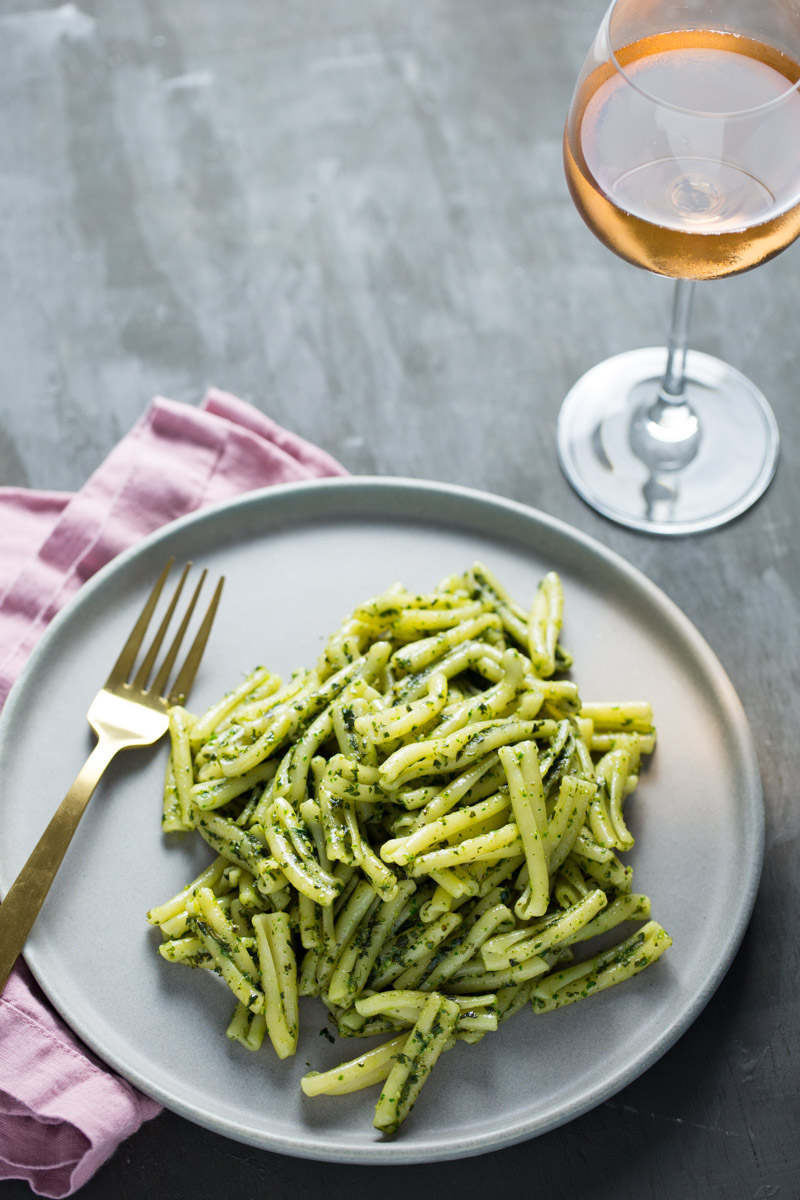 Classic vegan pesto
This recipe for classic vegan pesto is one of the easiest recipes out there. It is delicious and you can use it for sandwiches, pasta or dips. It is so good and has tons of uses.
Ingredients
3

cups

basil

1

cup

parsley

1

garlic clove

1/4

teaspoon

salt

1/2

cup

olive oil

1/2

cup

pine nuts

1

teaspoon

freshly ground black pepper

big pinch of salt

1

pound

casarecce or penne or any pasta
Instructions
Cook pasta according to package directions.

Put the rest of the ingredients in the blender or food processor, blend until well integrated.

Taste for seasoning.

Drain the pasta, saving one cup of water.

Add about three tablespoons of pesto to the pasta a mix carefully, slowly add more until all pasta has pesto. If it is dry add a 1/4 of water were the pasta cooked.
Notes
here are a few ways to store pesto to ensure it stays fresh and flavorful for as long as possible.
Refrigeration: Pesto can be stored in an airtight container in the refrigerator for up to a week. To prevent browning, make sure to press plastic wrap directly onto the surface of the pesto before sealing the container.
Freezing: Pesto can also be frozen for longer storage. Place the pesto in an airtight container or a plastic freezer bag and squeeze out as much air as possible. Pesto can be frozen for up to three months.
Adding oil: If you want to store the pesto for longer, you can add a layer of oil on the top of the pesto before sealing the container, this will prevent the pesto from browning.
Avoid storing pesto in metal containers, as the acidity in the pesto can react with the metal and alter the taste.
When y ready to use the pesto, thaw it in the refrigerator overnight or at room temperature for a few hours. You may need to give it a quick stir or blend before using it.
Nutrition
Serving:
1
serving
Calories:
3145
kcal
Carbohydrates:
357
g
Protein:
73
g
Fat:
162
g
Saturated Fat:
19
g
Sodium:
649
mg
Potassium:
2017
mg
Fiber:
21
g
Sugar:
15
g
Vitamin A:
8855
IU
Vitamin C:
93.7
mg
Calcium:
336
mg
Iron:
16.7
mg
information
Nutritional information of this recipe is only an estimate, the accuracy for any recipe on this site is not guaranteed.

Latest posts by Alejandra Graf
(see all)