I made this smashed raspberry lemonade to celebrate our new outdoor patio. This pink lemonade is made with all natural ingredients and perfect for entretaining.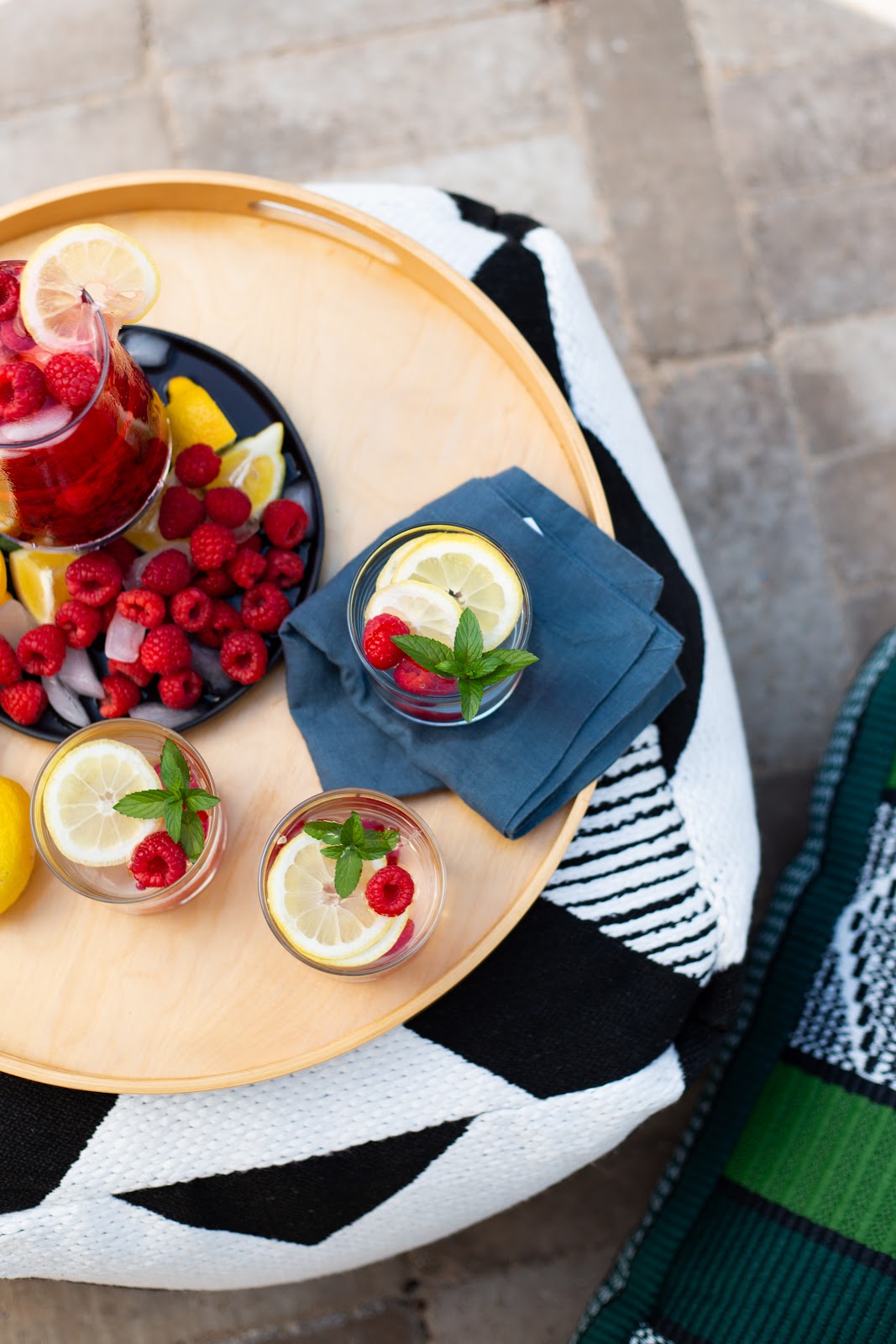 Yes! We have a new outdoor kitchen and patio addition to our backyard, and I can not be more excited to show it to you.
We love to entertain friends and family at our house. This patio addition is just what we were missing to host really fun get-togethers. With our new patio, it will be so easy to host a casual barbecue with kids or even an intimate dinner with friends. I just can't wait for the summer nights to come so we can enjoy cooking and talking around the grill with our friends. I'm also excited to see the happy faces of our little guests waiting for their pizzas to come out of the pizza oven. But first, let me walk you through the whole experience and how it all came together.
It all started with a dream of an outdoor kitchen, a place to entertain and an "almost always" flooded space our backyard.
You know that space that nobody uses, not even Miko, our dog. In that space, we tried everything, from placing a ping-pong table to starting a new lawn. All of our efforts failed. Until we thought of extending the patio, but we had no idea if it was but we even possible.
So basically it all started with a dream and a sketch.
And… THE HOME DEPOT's help.
We went to the store with our sketch and our dream and no idea where to go from there… we left the store with a solution, a plan, and eagerness to get started. One of The Home Depot's specialists suggested pavers for our new space. He showed us the complete line of the Pavestone pavers company and showed us how easy it is to install them. After taking a look at all of the options and learning a bit on how to install the pavers, we decided that the best choice for us was the Rumblestone system. We loved the colors and all the sets of rustic building blocks it offers.
When we got home that night, we went online to study and watch "all" of the videos we could find on the Pavestone website on how to install the pavers, how to measure, and some tips. We measured the space and made our final decision. It is so straightforward to calculate all the material that you need; Pavestone has a project calculator on their site. Yeap, it counts for you!
So when our decision was made, all we needed to do was to START WORKING on our project… our new family project. YAY!
So, the first step was to prepare the patio area. We marked the perimeter using spray paint and wooden stakes, then attached a mason line. We immediately started to clear the space from grass and soil with a shovel. I think this was the most challenging part of the project and the part that took the longest. It was really fun though, for me and for the kids it was the first time we did a big outdoor project.

Just when we finished clearing the area the pavers arrived….because The Home Depot will help deliver your patio set right to your home. Amazing right?? The service was fantastic and very impressive to watch. All of the pavers were loaded off the truck by only one guy… WOW. I know.
Ok, moving on, the next step was to level the soil with a rake and compress it with a steel tamper. This step is super important because it gives you a firm base for the pavers. Because of the type of soil we have, we did not need to add an additional stone base. When you make your patio, cause I'm pretty sure after seeing my final reveal you will want to make your own, be sure to double check what your specific needs are.
Then it was time for the sand and placing the pavers. Be sure to level the sand with a 2 in. x 4 in. stud so all of the pavers are even after the installation. We also used two electrical conduits that helped as a guide when leveling the sand. Another very cool thing about the Pavestone pavers system is that you can choose any pattern to install them in. We decided to do a double stack bond and closed the perimeter with ProFlex paver edging.
After we finished installing and securing the pavers with the edge, we added a light layer of sand and pushed it with a broom into the gaps between the pavers. Then we ran a plate compactor across the patio We repeated this multiple times and voilá… we were done.
Then it was time to start doing the grill enclosures, and it is as easy as stacking blocks. At some point, it even felt like we were playing with our favorite childhood toy. The first step is to decide where you are going to place your outdoor grill. We have a wood pizza oven and a grill, total foodies, right? The second step is to start layering the RumbleStone set of rustic building blocks. With this system there is no way to go wrong; all of the blocks perfectly fall into each other.

Here are some tips and tricks that I feel will help you out along the way:
Clean as you go, you will have a lot of empty sandbags.
We rented the plate compactor for four hours from The Home Depot and it was more than enough time. Just remember that time starts counting from the moment you leave the store and end when you return it. Plan well.
Use a wheelbarrow or a dolly to move the materials. There are heavy.
Use security goggles and gloves, all the time.
After leveling and preparing the sand be sure to stay away from the area. If you step on it, you will need to rework the spot.
When placing the pavers make sure you don't work yourself into a corner.
Use old brooms to sweep that sand; I had to throw mine away.
Depending on the size of the area you're working on it could take you as little as two days to finish the project.
Also, remember that if you are working on a project you can save 10%when you buy qualifying amounts of wall block, pavers, and step stones.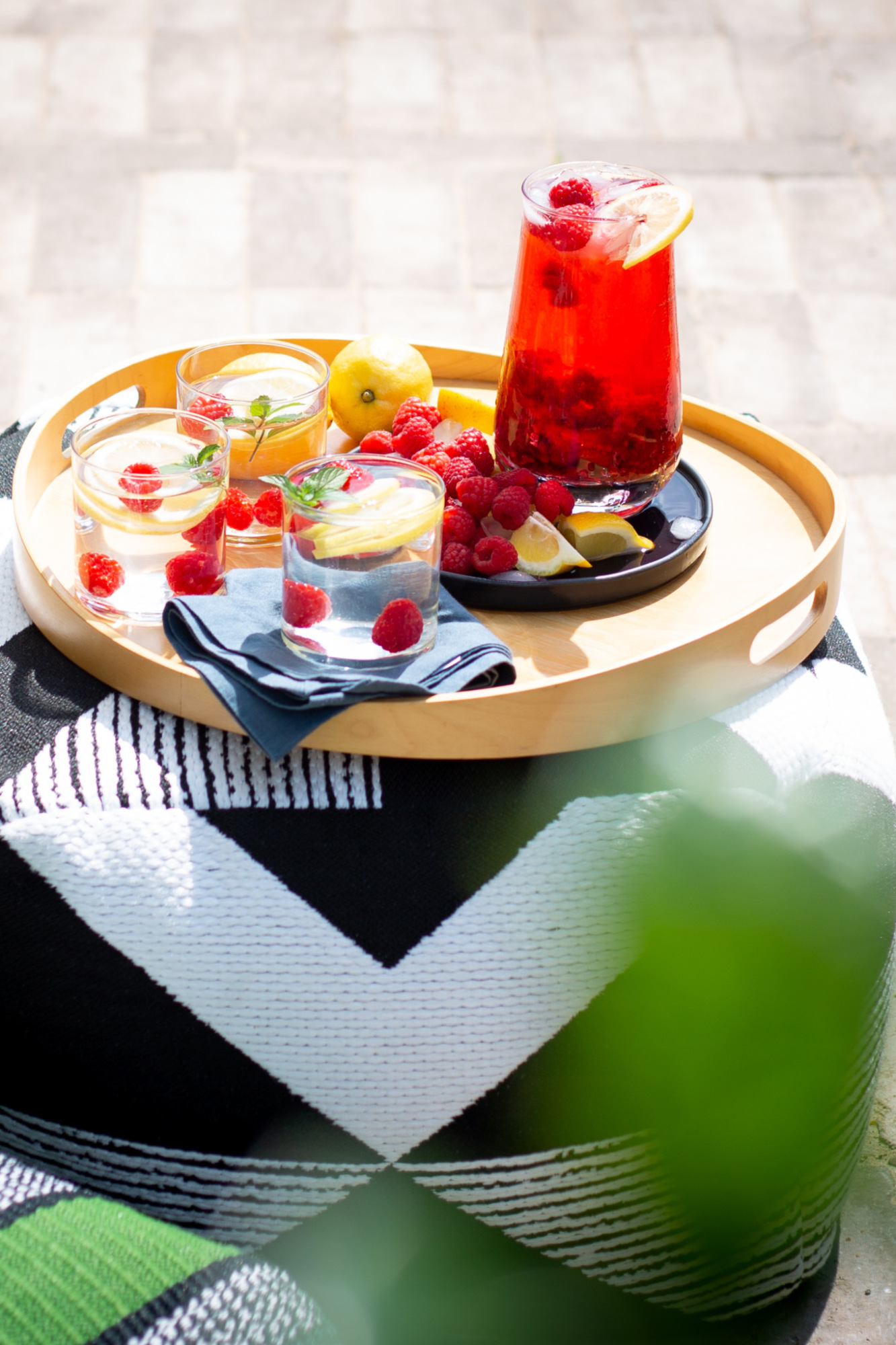 So are you ready for the FINAL AND GRAND REVEAL??? Go ahead and prepare yourself a smashed raspberry lemonade and head over to The Home Depot's blog to see it. I'm sure you'll get tons of inspiration to jumpstart on your next weekend project.
CLICK HERE FOR THE REVEAL
Here is the recipe for the

Smashed Raspberry Lemonade

And I hope you like it as much as I do. Please share the recipe and the blog on Instagram, Facebook or save this drink for later on Pinterest.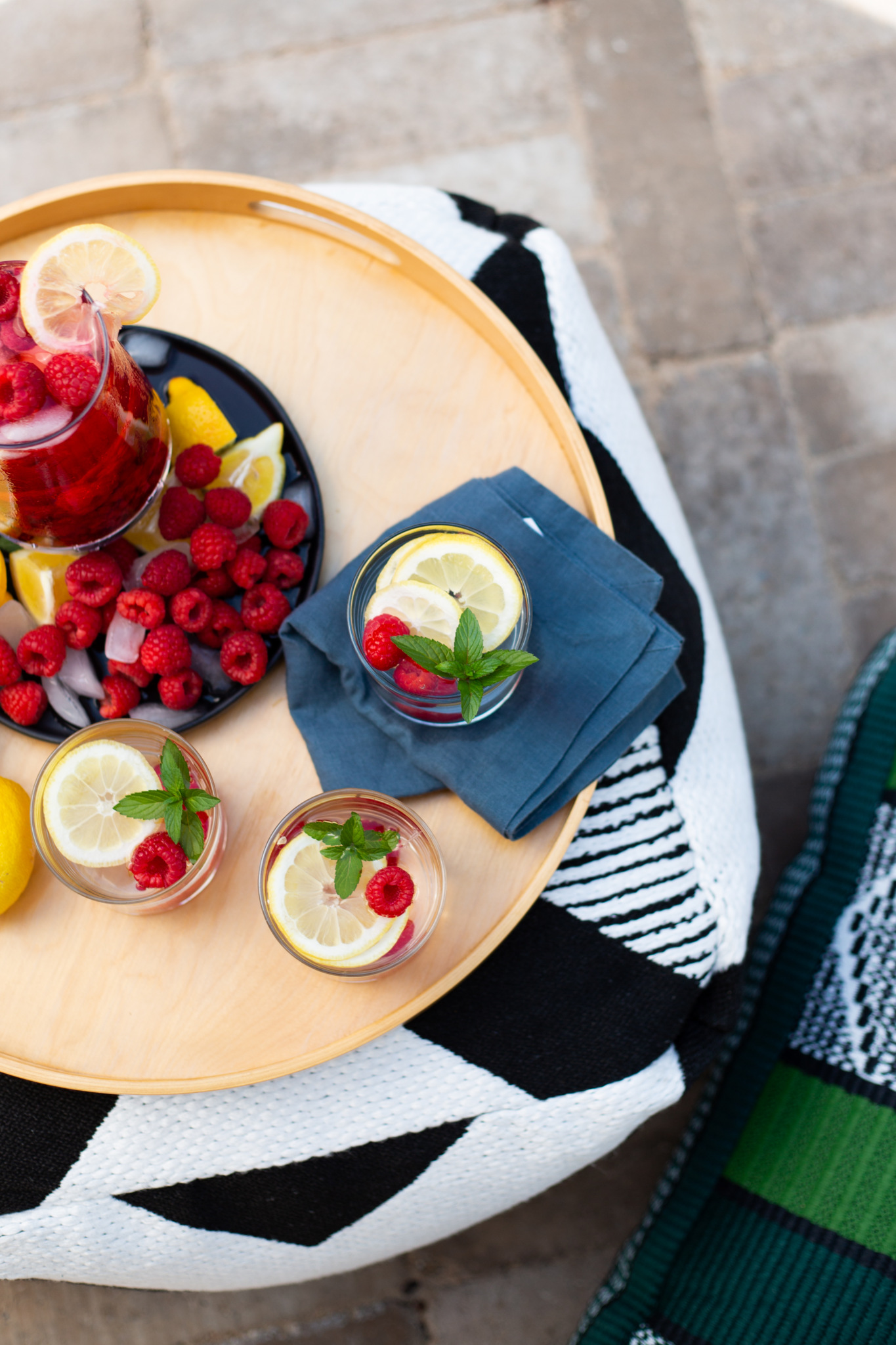 Smashed Raspberry lemonade
Perfect and refreshing homemade lemonade. Very easy to make perfect for a hot summer day.
Ingredients
1 12

oz

frozen raspberries pack

¾

cup

sugar

1

cup

lemon juice

freshly squeezed

5

cups

of water
To serve
Fresh raspberries

1

thinly sliced lemon

Mint leaves
Instructions
Combine the sugar and one cup of water in a large saucepan until the sugar is completely dissolved.

Let it cool and add the lemon juice and the remaining 4 cups of water.

In a large pitcher smash the frozen raspberries with the back of a wooden spoon.

Slowly add the lemonade to the pitcher and lightly mix.

Serve cold with fresh raspberries, lemon slices, and fresh mint.
Notes
Notes:
You could also use sparkling water.
Nutrition
Serving:
1
cup
Calories:
214
kcal
Carbohydrates:
55
g
Protein:
2
g
Fat:
1
g
Saturated Fat:
1
g
Sodium:
17
mg
Potassium:
240
mg
Fiber:
7
g
Sugar:
44
g
Vitamin A:
40
IU
Vitamin C:
62
mg
Calcium:
43
mg
Iron:
1
mg
information
Nutritional information of this recipe is only an estimate, the accuracy for any recipe on this site is not guaranteed.
Here is the list of the materials we used:
Pavers
Paving sand
Shovel
Mason line
Steel tamper
Paver edging
Spikes
Rental compactor
1 stud 4×4
3 electrical conduits
Wood stakes

Latest posts by Alejandra Graf
(see all)