This is the first post I write about my photos, more specifically my food photos. And it may not have to do as much with Ale Cooks's main mission. Which is to share healthy, easy, and delicious recipes for your whole family. And of course with the enormous benefit that they are vegan recipes.
Probably it has nothing to do with the main mission but at the same time, it is as important as my why. I am sure that little by little, while I've been learning to take better food photos, I have been able to better communicate what I want.
With great food photos of the recipe that I am sharing, I can better communicate how that recipe is supposed to look at the end, what the texture should be like, what ingredients are in the recipe, and the most important of all: what is in the picture. YES!!! You have no idea how embarrassing I was before, anytime someone asked, "What is it?!"
Really, my photos were so bad that you could not tell which recipe was I talking about or which ingredient was important, and of course, nothing looked good.
So that is why I decided to share a bit of what I have learned about food photography here on the blog. I want to give you a few tips, show you my equipment and recommend books and courses like The Bite Shot. This is a Youtube channel with great tips on editing and picture taking.
Ok, so here are three basic things to take into consideration when taking photos.
How to take better food photos?
Keep an eye on these three things: Your hero, the light and the angle to use.
idea number one: Your hero
Never forget what your main objective of the picture, your hero.
This is what the main focus of the photo is called.
If you are going to take a picture of a hamburger, that is the most crucial thing in the photo.
Do not cover it with other ingredients or put napkins or things that are bigger or take more space than the burger in the picture.
Look at these examples.

The photo on the left has so much above, behind, and to one side that the HEROE, which is the hamburger, is not even in focus.
The picture on the right shows perfectly well that the burger is the most important thing.
IDEA TWO: THE LIGHT
Lighting is essential.
The better you know how to handle light, the better your photos will be.
You have to understand where the sun comes from, if there are clouds, the time of day, if it's going to rain or not, where the lighting is best in our house, etc.
The best lighting for food is when the source comes from behind or from one side. It is called backlighting or side lighting.
Look at the examples below:

The picture on the left has good lighting coming from the side. You can tell the color of the soup and also the colors of the pros with good lighting help to highlight the main subject, our hero, the soup.
The picture on the right has no light at all, the props hide the color of soup and you can't even tell what is inside the bowl.

When you are checking in what light your photos look better, check everything from the color of the food, the color of the back base where you are putting the food, the textiles, etc. You want everything to look super good in the photos and that one thing helps the other. Nothing competing with each other.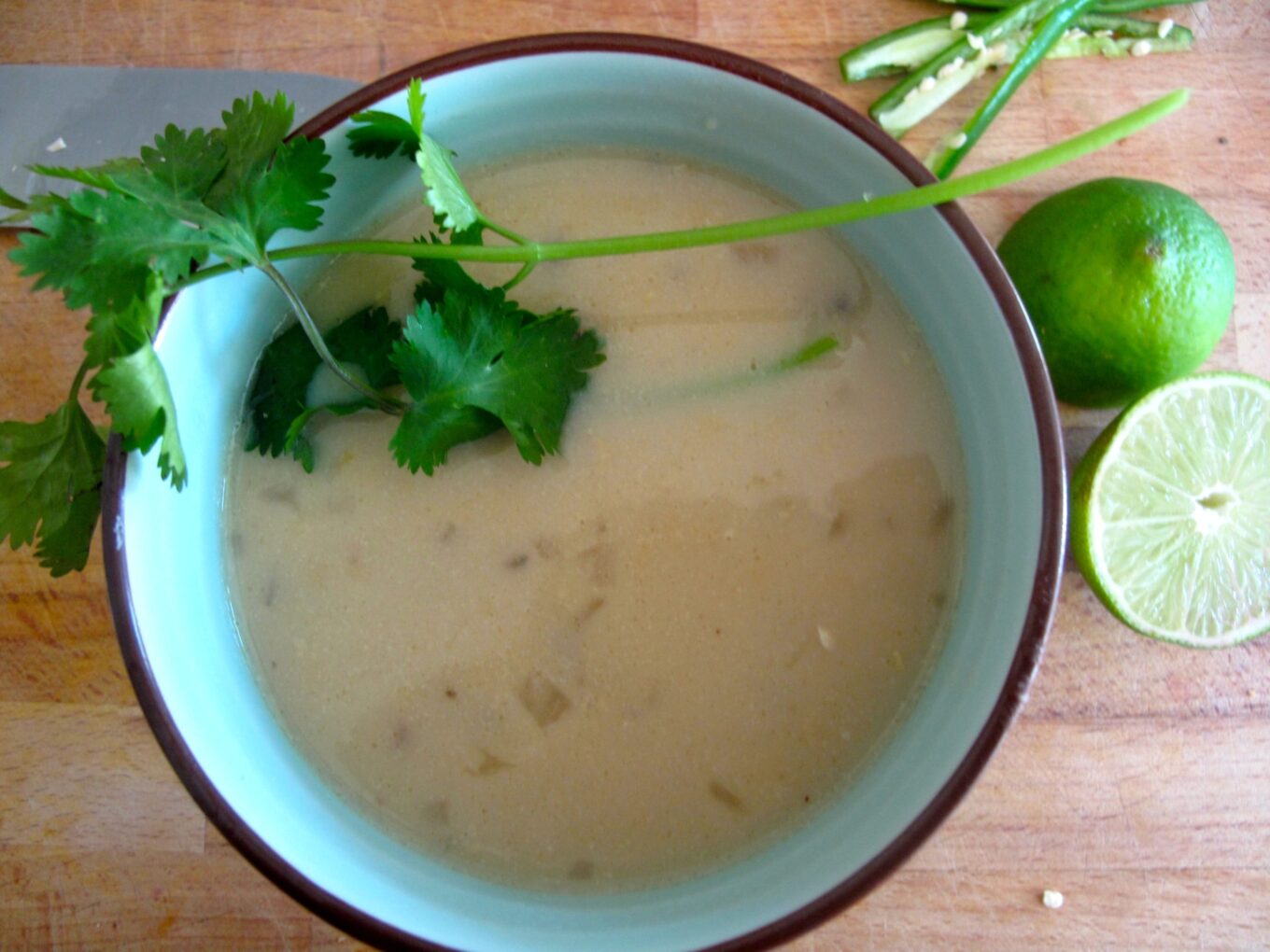 Idea three: the angles
It would be best if you defined the angle with which you are going to take the photo before styling and start taking pictures.
There are three main angles: overhead, full front, and 3/4.
Some dishes work better if we take them in an overhead shot: a pizza, for example.
Other foods are better if we take them full front, like a sandwich, for example, or a hamburger… The idea of this angle is to show everything about our true hero.
If a hamburger is our hero we choose to show the bread, the pattie, the lettuce, the ketchup, everything!
Other things look better taken with a three-fourths angle. Almost all the photos that I take are three-fourths shots.
What is a three-fourths angle? Imagine that you are standing next to a table, your hero is at the table. You take the photo looking down. That's a three-quarter photo a 45º angle.
A good tip is to LOOK FOR INSPIRATION EVERYWHERE
Look for inspiration everywhere. In nature, in museums, in fashion stores, in wedding photographs, in kids' photos, landscapes, search everywhere.
It is essential that you take courses and read all kinds of photography. In the end, all photography aims to capture moments and tell stories. I have taken classes in food photography, wedding photography, etc. And in the end, everything has made me a better photographer. And if you are super stuck:
I go to museums and see how artists combine colors, how they play with textures, etc.
Take a peek into photography books about animals, trees, plants, etc. Nature has the best shapes, colors, compositions, etc.
Invest in cookbooks, buy, and study food photographers like Ditte Isager.
BECOME AN expert using the camara that you have now
Make the most of all the photography equipment you have at home. Start with what you have, study, and learn all the functions of the camera so you can use it to the fullest. When you feel frustrated and can't get the shots that you want, start investigating what makes more sense on what to buy: a new lens or a camera body.
The camera and equipment is not the only thing needed to take good photos. Your eyes and your heart are just as important.
The camera and photography equipment are not the only things you need to take good food pictures. Your eyes and your heart as important.
My first camera was this, or probably and older version of it. My first camera was a handyme down from my dad.
Then I saved and bought this Canon 70D, which I still like a lot and film my videos with.
Now I use this camera: Canon 5D Mark iii with this lens de 100 mm 2.8 y and this other lens de 50 mm:
Conclusion
Ok, if you want to know more about my culinary photography or have doubts about how to take better food photos, let me know in the comments. I am happy to help you and share what I know.
Photography helps us tell the story of a moment in our lives, and that's what we have to learn to capture. Always the most important thing will be your taste, your eyes, your creativity, and your desire to learn.
Tablecloths, plates, and glasses are essential but never like your curiosity and your desire to grow.
Don't stop reading, taking courses, and asking questions. With each question, we all grow and discover new skills. Share this post on FB, Instagram or save it for later on Pinterest.

Latest posts by Alejandra Graf
(see all)