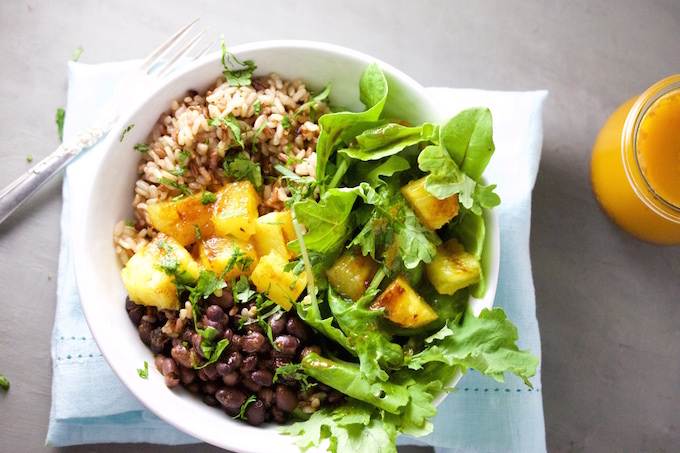 Last day before school starts! I'm so happy, yay! And not because I won't have my kids with me, I promise I love having them around, but I miss my time, my routine, my normal working hours, I love finishing stuff and not having an endless "to do" list.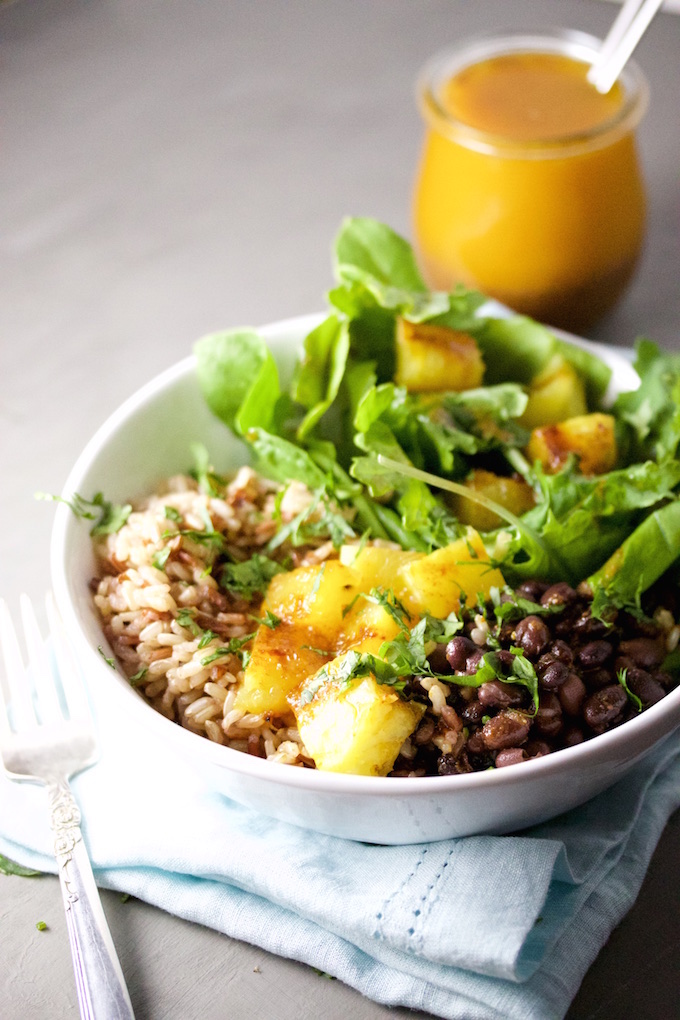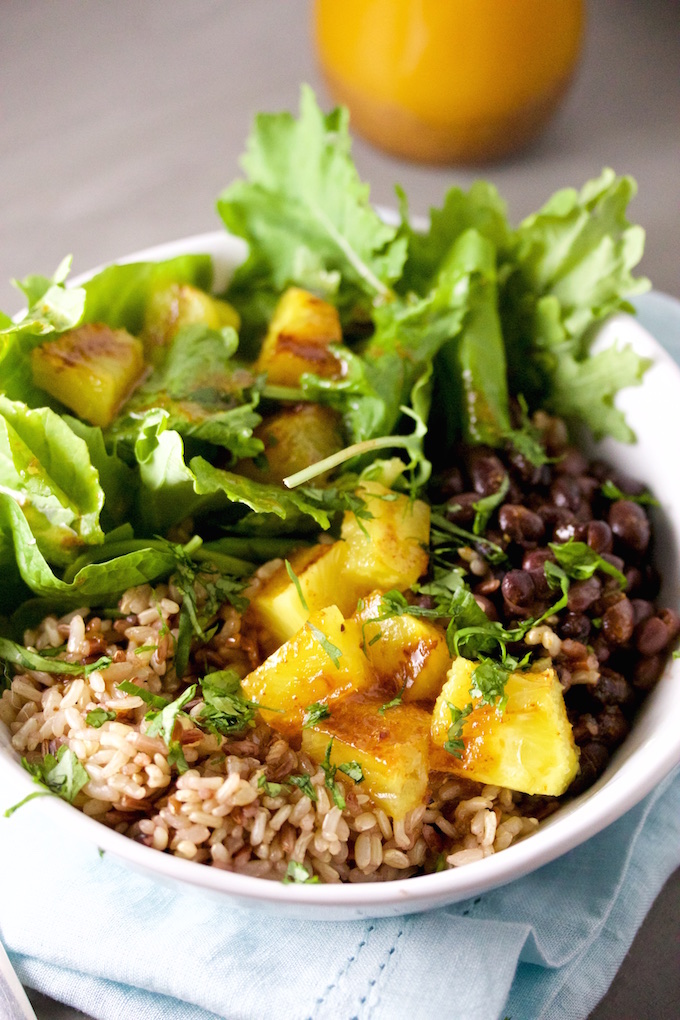 My kids have been on vacations for almost three months now, and I'm so sure I will miss them to death the first day of school, but I will be ok, they will be happy and nobody will interrupt me when I sit down and work!!!
I had a super fun summer, enjoyed every second of it, loved not running around and having super calm and slow dinners. But it all came to an end this week, yeap this week everything happened. Took Santiago to the doctor because he had a bad fall in a soccer game, took Miko to the vet because somehow he developed a skin infection, my garbage disposal and faucet broke, it was madness around here!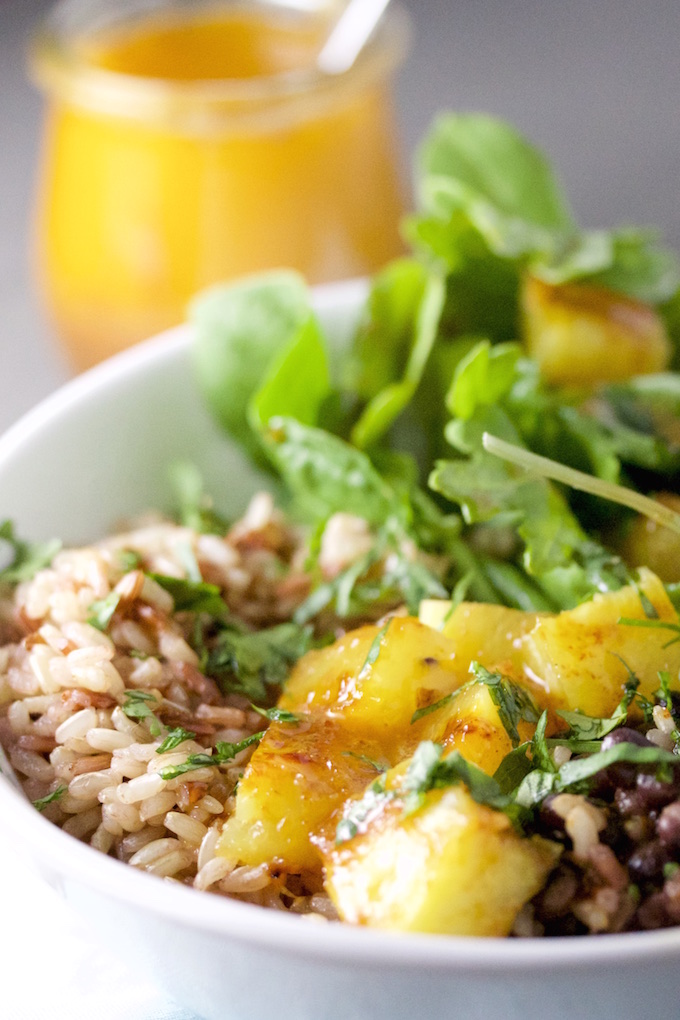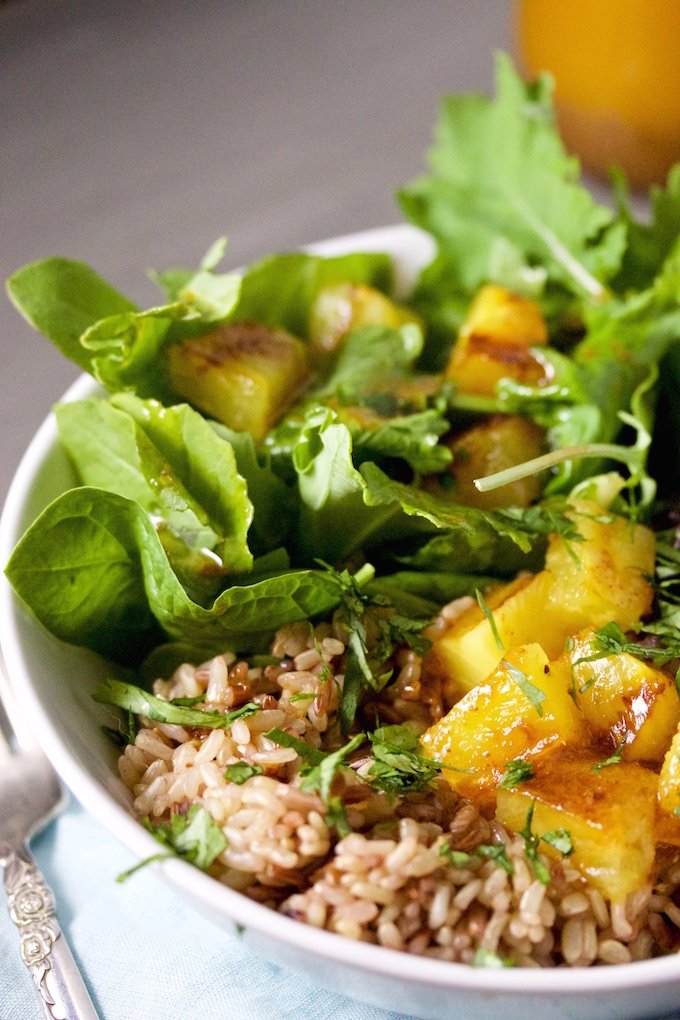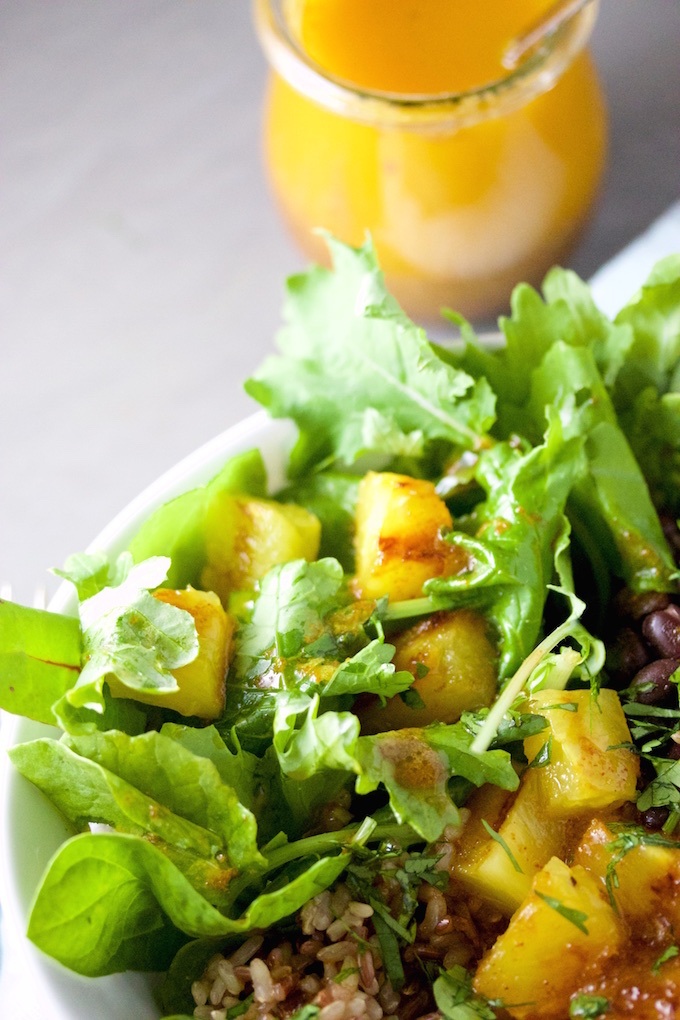 Ran and ran all week long, I do not know how I managed to do it all (Sergio was away for the enitre week), but I did it! So this week for lunch and dinner it was a leftover week or super simple dishes like this bowl. It is just a matter of throwing some ingredients in the blender for the dressing and mixing lettuce, beans and rice, and of course grilled pineapple.
Here is the recipe, on a Friday instead of a Thursday, but I thought it was better than nothing. This week I felt my day needed more hours :(. But well, here is the recipe, share it if you like it.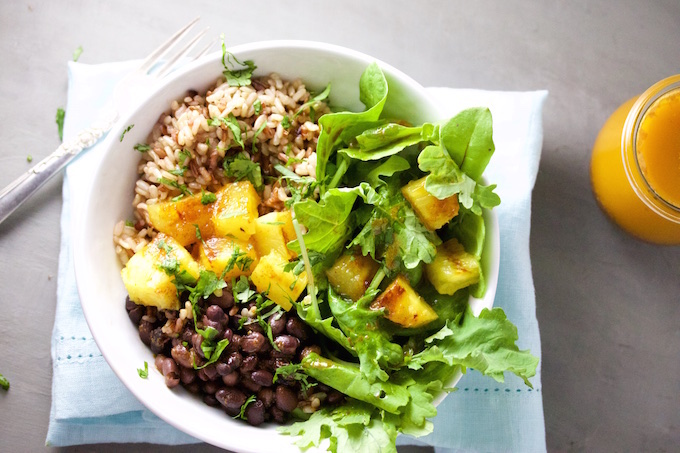 Brown rice, black bean, grilled pineapple and chile ancho dressing.
Chile ancho dressing in a brown rice, black bean and grilled pineapple salad.
Ingredients
dressing

3

small garlic cloves

3/4

cup

neutral tasting oil

1/4

cup

white wine vinegar or rice vinegar

1/4

cup

orange juice

1

tablespoon

ground chile ancho

1/2

to 1 teaspoon sea salt

2

teaspoons

agave nectar

optional

salad

2

cups

cooked brown rice

11/2

cup

black beans

4

large handfuls of mixed greens

4

slices

of pineapple

chopped cilantro
Instructions
To make the dressing blend the garlic, oil, vinegar, orange juice, chili powder and salt in a blender. Add the agave nectar in the end and after testing, add it only if you feel that it needs some sweetness. Test for seasoning and add more salt if needed.

Add the pineapple slices on a grill or grilling pan over the stove for about 15 minutes on each side. What you want is to get them lightly browned. When done dice them.

To serve, divide the mixture of green leaves, rice and beans into 4 bowls (bowls). Finish each dish with diced pineapple and chopped cilantro, drizzle the dressing over the whole thing.
information
Nutritional information of this recipe is only an estimate, the accuracy for any recipe on this site is not guaranteed.

Latest posts by Alejandra Graf
(see all)